Zucker Quits CNN After Cuomo Threatens to Expose 'Open Secret'
A scandal within a scandal.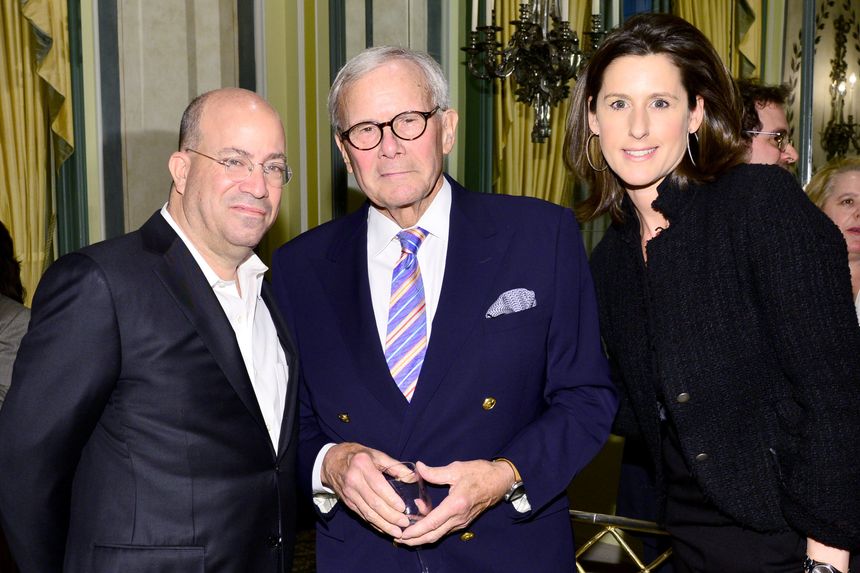 WSJ ("CNN President Jeff Zucker Resigns, Citing Relationship With Colleague"):
CNN President Jeff Zucker resigned from the TV news organization, citing his failure to disclose a consensual relationship with a close colleague, and cutting short a nine-year tenure during which he helped transform the network's role in the cable-news landscape.

Mr. Zucker's abrupt departure comes as CNN is grappling with declining ratings as it also prepares to jump into the streaming wars with a new subscription service, CNN+, under future owner Warner Bros. Discovery.

"As part of the investigation into Chris Cuomo's tenure at CNN, I was asked about a consensual relationship with my closest colleague, someone I have worked with for more than 20 years," Mr. Zucker wrote in an email he sent to staff on Wednesday. "I acknowledged the relationship evolved in recent years. I was required to disclose it when it began but I didn't. I was wrong."

[…]

The colleague Mr. Zucker referred to in his email is Allison Gollust, an executive vice president and chief marketing officer at CNN. In a statement, Ms. Gollust, who will continue in her job, said that she and Mr. Zucker have been friends for over 20 years and said that the relationship changed during the Covid-19 pandemic.

"I regret that we didn't disclose it at the right time," Ms. Gollust said. "I'm incredibly proud of my time at CNN and look forward to continuing the great work we do everyday."
I don't much care about who Jeff Zucker is sleeping with or, for that matter, who runs CNN. This, though, get my attention:
During the question-and-answer session, anchor Jake Tapper said that Mr. Cuomo hired a lawyer who seemed eager to leak damaging information about Mr. Zucker unless they gave Mr. Cuomo severance.

"An outside observer might say, 'Well, it looks like Chris Cuomo succeeded,'" Mr. Tapper said. "He threatened Jeff. Jeff said we don't negotiate with terrorists. And Chris blew the place up. How do we get past that perception that this is the bad guy winning?"
There's no more on that angle from WSJ but Vanity Fair's Joe Pompeo ("'IT'S LIKE THE ENDING OF RESERVOIR DOGS': INSIDERS SEE THE HAND OF CUOMO BEHIND JEFF ZUCKER'S ABRUPT DEPARTURE FROM CNN") is all over it.
Reading between the lines, everyone's interpretation of this is that Chris Cuomo knifed Zucker. Zucker fired Cuomo late last year over the former anchor's deep participation in the strategic response to the sexual harassment scandal of his brother, Andrew Cuomo—after Zucker initially stood by Chris Cuomo for months when the first revelations of his involvement came to light. (In a small-world twist worth noting, Gollust briefly worked for Andrew Cuomo between jobs at NBC and CNN.) Politico reported that, according to sources, Chris Cuomo's lawyers "raised issues about the relationship between Zucker and Gollust. Cuomo's legal team asserted that Zucker was hypocritical to suggest Cuomo had a personal conflict of interest when the relationship with Gollust represented a potential conflict as well."

I've heard similar things, including from someone with direct knowledge of Cuomo himself bringing up the relationship in conversation. Lawyers retained by CNN's parent company, WarnerMedia, have been conducting an investigation into the Cuomo matter for the past couple of months, since Coumo was fired, and I'm told they began asking about Zucker and Gollust in recent weeks. (A source close to Cuomo told me that his lawyers did not raise the relationship in an effort to gain any leverage in the discussions that followed Cuomo's firing.) Sources also told me Cuomo's team had been shopping the story around, which could explain how it ended up in a little-noticed gossip item published by Radar Online on January 4. (The source close to Cuomo denied that Cuomo's team shopped the story.) Cuomo's spokesman didn't have a comment on any of this when I got him on the phone early Wednesday afternoon, but basically everyone I've talked to is saying the same thing: Zucker has effectively become the latest casualty of the Andrew Cuomo scandal. As one former TV news honcho put it, "It's like the ending of Reservoir Dogs." Another media executive texted me: "I knew it from the minute they fired Cuomo."
Making a strange matter stranger is this from NY Magazine's Intelligencer ("The Mystery Behind the Zucker Shocker His office romance has been an open secret for years. So why is he really leaving?"):
At first, it seemed like Jeff Zucker was just another piece of collateral damage from Andrew Cuomo's demise, caught in the same blast radius that knocked Chris Cuomo out of CNN months earlier. It all seemed so rich, considering Zucker was the one who canned Chris for getting wrapped up in Andrew's own workplace scandal.

But for many CNN staffers, something isn't adding up about Zucker's surprise resignation on Wednesday. The network's president said in a statement that he failed to disclose a romantic relationship with his No. 2, Allison Gollust, before it was raised during an investigation into Chris Cuomo. (Gollust used to work as Andrew Cuomo's communications chief before she moved to CNN and was replaced by the notorious Melissa DeRosa.)

For starters, Zucker and Gollust's relationship was one of the biggest open secrets in media. CNN staffers awkwardly navigated the pairing, since every time they dealt with her, they were keenly aware that she was involved with the boss. They were rolling their eyes at Gollust's own statement that said "recently, our relationship changed during Covid." It had been going on for much longer: Page Six would wink at it from time to time, and the two have known each other since they worked together at NBC decades ago. As Katie Couric wrote in her dishy memoir: "I had to wonder why Jeff was angling so hard to bring Allison on board" at Couric's talk show, Katie. "She and her husband and kids had moved into the apartment right above Jeff and Caryn's — everyone who heard about the arrangement thought it was super strange."
Tom Gara rightly notes that it's odd for there to be "open secrets" in the news business given that their ostensible job is to report things to the public.
Regardless, Pompeo thinks the impending sale is why Zucker had to go:
I'm told that WarnerMedia CEO Jason Kilar made it clear to Zucker in a phone call within the past few days that he could not remain at the company. Calls were scheduled between Kilar and Zucker's direct reports on Wednesday afternoon, and Kilar told CNN staff in a memo that he'd appointed an interim leadership team comprising three of Zucker's deputies—Michael Bass, Amy Entelis, and Ken Jautz—who will run the network "through the close of the pending transaction with Discovery." Which brings us to the timing: It's bad. WarnerMedia's merger with Discovery is expected to close in the next few months. CNN is also gearing up for the launch of its direct-to-consumer streaming service, CNN+, in which it has invested heavily. And they're also still in the midst of figuring out a 9 p.m. replacement for Cuomo, who was the star of CNN's prime-time lineup. "Why would you want to hand Discovery a scandal-ridden CNN? There is no reason to do it this way," one of my CNN sources said. Sources acknowledged that speculation and rumors about Zucker and Gollust's relationship were no secret within CNN (or outside of it for that matter), but as one of them noted, "Once those facts are presented to corporate, it sort of ties their hands. It's just really unfortunate."
I'm not sure that Zucker sleeping with a VP that he brought with him from NBC and has clearly been in a relationship with for many years is that big a scandal, in the grand scheme of things.