Andrew Cuomo Easily Fends Off Challenge From The Left
As expected, New York Governor Andrew Cuomo easily fended off a challenge from actress Cynthia Nixon. Let the Presidential speculation begin.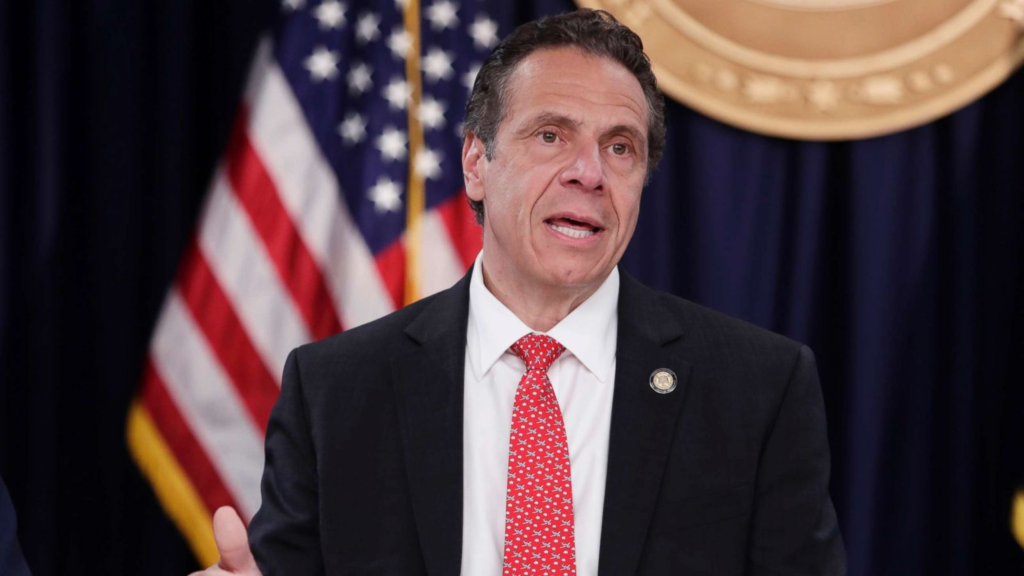 As expected, New York Governor Andrew Cuomo easily defeated his Democratic opponent, former Sex And The City star Cynthia Nixon, in yesterday's New York primary election:
Gov. Andrew M. Cuomo took a decisive step toward a third term on Thursday, quelling a liberal rebellion by turning aside the insurgent challenge of Cynthia Nixon to claim the Democratic nomination in New York.

Mr. Cuomo had marshaled the support of nearly all of the state and country's most powerful Democratic brokers — elected officials, party leaders, labor unions and wealthy real estate interests — to defeat Ms. Nixon, beating her by 30 percentage points.

The race cemented both Mr. Cuomo's standing as an unmatched force in New York politics and a merciless tactician with little regard for diplomacy.

Ms. Nixon had cast her first-time candidacy as a fight for the direction of the Democratic Party in New York and beyond, offering a pure brand of liberalism against Mr. Cuomo's more triangulating pragmatism, a style defined less by ideology and more by what he deemed possible.

In the end, the governor's record of achievements — on gun control, gay marriage, the minimum wage, paid-family leave and more — and his gargantuan fund-raising advantage spoke louder than Ms. Nixon's objections over legislation he sidelined in the byzantine corridors of Albany's capital.

The race was called about 30 minutes after the polls closed, with Mr. Cuomo watching the results roll in over dinner with senior staff at the Governor's Mansion in Albany. Mr. Cuomo never appeared publicly after the polls closed on Thursday, letting the results speak for themselves.

Ms. Nixon called to offer Mr. Cuomo a private concession before a fiery speech before her supporters in Brooklyn, where she and her two insurgent allies for statewide office, Zephyr Teachout and Jumaane Williams, had gathered. All three lost.

In the attorney general's race, Letitia James, the New York City public advocate and Mr. Cuomo's choice, won the Democratic nomination in a four-way race, with Ms. Teachout finishing second. Should Ms. James prevail in November, she would become the first black woman to ever hold statewide office in New York. In the lieutenant governor's race, Kathy Hochul, Mr. Cuomo's running mate, fended off a challenge from Mr. Williams, a New York City councilman, winning by the narrowest margin of the three.

The lone bright spot for liberal insurgents came down ballot, where Democratic challengers in State Senate contests had knocked off six of the eight members of a group of rogue Democrats who had broken with the party in recent years to form a coalition with Republicans in Albany.

Mr. Cuomo's victory ensures that no Democratic governor or senator in America lost a party primary in 2018, a sign of how steep a climb Ms. Nixon, an actress and activist, had faced, even before the governor's campaign unloaded a sum close to $25 million to blanket the contest in a blizzard of television ads and glossy mailers.

"When others were underestimating us, he did not," Ms. Nixon said in her concession speech. "And he spent accordingly."

In November, Mr. Cuomo, 60, will seek to match the three terms that his father, Mario M. Cuomo, achieved as governor. He has forcefully denied any presidential ambitions of his own, saying the only way he would not serve through 2022 would be death.

Mr. Cuomo himself had sought to mostly ignore Ms. Nixon in recent months, focusing repeatedly on President Trump. His campaign, meanwhile, methodically pushed to undermine Ms. Nixon's credibility in often-caustic terms, tapping into the concerns of New York Democrats that an experienced governor is needed while a hostile Republican occupies the White House.

After a six-month slog versus Ms. Nixon, Mr. Cuomo now faces a less than 60-day sprint of a general election against the Republican, Marcus J. Molinaro, the affable Dutchess County executive who was once the youngest mayor in the nation. He, like Ms. Nixon, is expected to be drastically outspent by Mr. Cuomo. And in a heavily Democratic state in what most strategists predict will be a Democratic year, Mr. Molinaro's bid is not seen as a top-tier race for Republicans nationally.
Masking the polls that have been taken in this race and the expectations for this race from the beginning, current numbers indicate that Cuomo ended up with roughly 65.6% of the vote to Nixon's 34.4%. In raw votes, Cuomo beat Nixon by a margin of more than 460,000 votes. Realistically, of course, it was obvious that Nixon never really had a chance in this race notwithstanding her celebrity. On the same day that Nixon entered the race, the Sienna poll showed the incumbent Governor with 66% of the vote compared to 19% for Nixon. Similarly, a Quinnipiac poll released about a week later gave Cuomo (64%) a 43 point lead over Nixon (21%) statewide and a 36 point lead among New York City Democrats, which have been the primary focus of Nixon's campaign. Another poll taken in June showed Nixon trailing Cuomo by 35 points and, finally, a poll taken just last week gave Cuomo more than a 40 point lead over his challenger. While Nixon has inevitably improved on those numbers somewhat overtime, there has never been any indication that she was likely to come close to being a serious challenge for the incumbent Governor.
From the beginning, it was clear that this race was not going to be competitive. Nixon was a candidate without any political experience, and without any experience in government whatsoever, who was taking on the relatively popular Governor of a deeply blue state in which the Cuomo name clearly still carries some degree of cachet. While it can't really be said that Cuomo's tenure as Governor has been marked by many notable accomplishments, those that he has achieved have been ones that would clearly be popular among Democrats. For example, Cuomo was a driving force behind the effort to legalize same-sex marriage via legislation several years ago, and he has also managed to adapt to the shifting tides inside the Democratic Party between the mainstream of the party and the "progressive" wing that Nixon sought to appeal to during her campaign. Additionally, for Democrats looking to hold on to the Governor's mansion in November Cuomo is clearly a sure-thing in the face of any Republican challenge while Nixon was a relative unknown on the political stage who likely would have been an easier candidate for Republican nominee Mark Molinaro to face in November. Finally, her rather blatant effort to base her campaign almost exclusively on appealing to the progressive wing of the party likely means that more mainstream Democrats were put off by her candidacy even before getting to the doubts inherent in nominating a candidate who has never run for office before.
From here, of course, Cuomo has a General Election race to worry about in November, but it does not appear that he has not much to worry about there. The Governor's main challenger in that race is Marcus Molinaro, who is currently the County Executive of Duchess County, New York and has previously served in various local offices, including as Mayor of a town called Tivoli, as well as in the state legislature. While Molinaro has an impressive resume, all the major political analysts rate the race as Solidly Democratic and the polling indicates that Cuomo would easily defeat Molinaro in November. As Jazz Shaw noted at Hot Air yesterday, the one complicating factor is that Cynthia Nixon is currently listed as a candidate on the Working Families Party, a small party in New York that has traditionally nominated the same candidate as the Democrats but has sometimes veered off course due to the fact that their platform is to the left of the Democratic Party.  Nixon, however, has stated that she would seek to remove her name from the ballot and would not campaign in the General Election if she ended up losing the Democratic nomination to Cuomo. Notwithstanding that caveat, it seems likely that Cuomo will be easily re-elected in November.
Despite Cuomo's promises to serve the full four years of his expected third-term, this victory is likely to put him near the top of the list when it comes to speculation about potential Democratic Presidential candidates:
Officially, Cuomo says he's not running, but with 88 percent of districts reporting Cuomo posted big numbers, beating Nixon roughly 65 to 35 percent, he has some momentum.

George McDonald, a Cuomo ally and founder of the Doe Fund, said he was holding out hope.

"He's by far the best candidate the Dems" could run and "I'm going to try to convince him of that, even though he said he's going to serve four more years," he said.

And unlike some Democrats, the primary showed Cuomo's willingness to move where the party is going.

"Even though he's been a centrist moderate Clintonista he has shown that he can be pushed to the progressive wing of the party rather swiftly and easily," Fordham political science professor Christina Greer told POLITICO.
Whether Cuomo actually does run in 2020 remains an open question, of course. While he did make a pledge to serve out the full four years of a thrid term, this is a promise that many politicians have made in the past, including President Obama at the time he was running for Senator from Illinois. Inevitably, the candidate who changes there mind will find some way to deal with the contradiction between their campaign promise and their later decision to enter the Presidential race notwithstanding the promise. Obviously, New York Democrats didn't seem to mind the speculation about a potential Presidential run, and it seems unlikely that New York voters as a whole will be all to bothered by it in November.
This is not the first time that Cuomo's name has come up with respect to a run for the White House. There was speculation that he might do so in 2016 but ultimately decided not to for largely the same reason that many other prominent Democrats made the same decision, due to the fact that Hillary Clinton entered the race and based on the polling appeared to be not only the overwhelming favorite to win the nomination that year but also the strongest potential candidate that Democrats could put forward in a General Election.
Notwithstanding his somewhat questionable record and the ethical issues that arose throughout New York State politics that arose during his second term, which Liz Mair documents at The Daily Beast, it's easy to see why Cuomo would be seen as an appealing Democratic candidate in two years.  Much of it has to do with nostalgia for his father, of course, who became the standard bearer of old-style Democratic liberalism during the Reagan years. Mario Cuomo, however, didn't run for President in 1992 despite the fact he seemed to have a clear path to the Democratic nomination if he did. Instead, he famously spent the weeks before the filing deadline for New Hampshire's primary "deciding" what he was going to do, to the point where on the final day there was a jet waiting on a runway in Albany should he have decided to run. Mario Cuomo earned the title "Hamlet on the Hudson" for his indecision that year, and while he has said that he doesn't regret his decision, one has to think that his father's experience is in the back of Andrew Cuomo's mind. If the Presidential suitors come knocking, I doubt Andrew Cuomo will spend much time deciding whether or not to answer the door.