The Great Nixonian Bagel Scandal Of 2018
With the Democratic Primary just days away, Andrew Cuomo's Democratic challenger in New York is making headlines thanks to a rather odd culinary choice.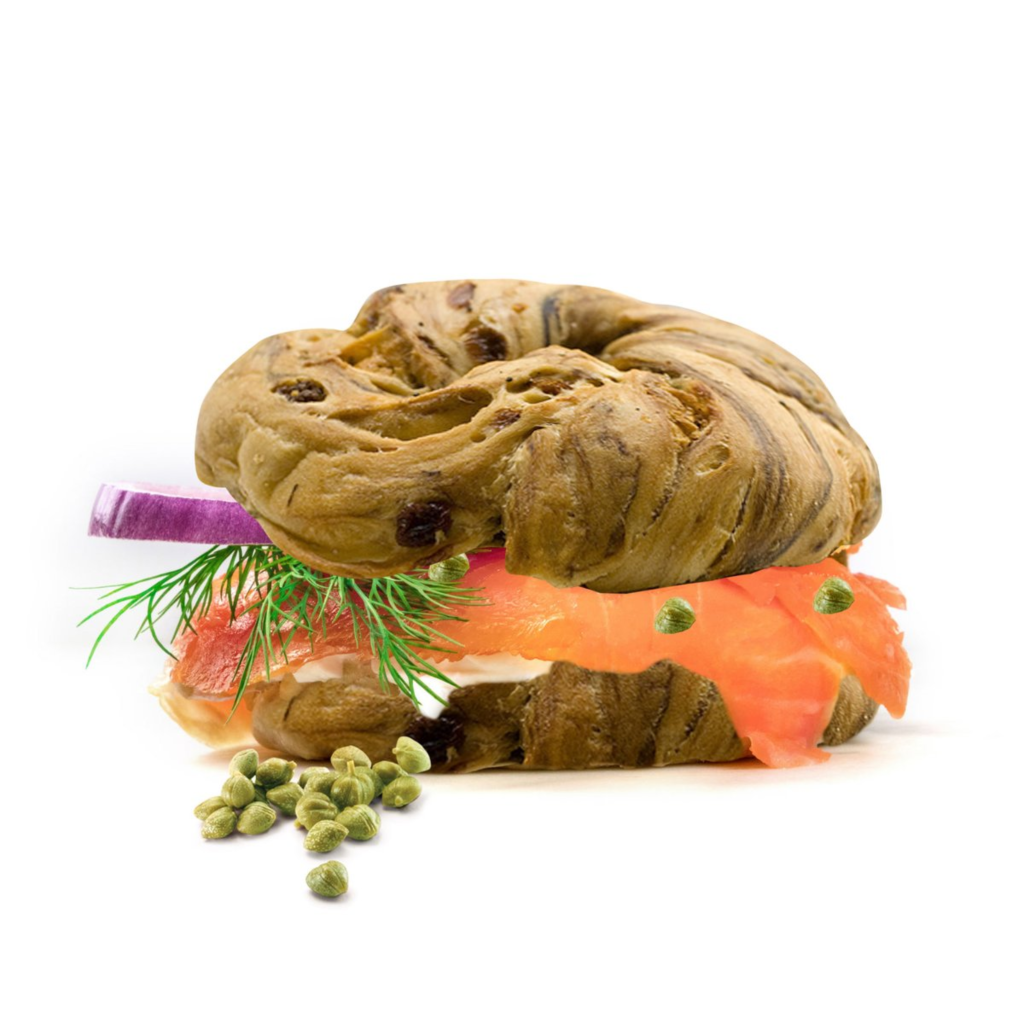 Cynthia Nixon, the former Sex And The City star who is challenging New York Governor Andrew Cuomo in Thursday's Democratic Primary, is horrifying New Yorkers with her bagel choice:
Can you really go wrong with a bagel in New York City? If you're most of Twitter weighing in on a gubernatorial candidate's certain "sweet and salty" order at a Manhattan institution, seems so.

Cynthia Nixon, who faces Gov. Andrew Cuomo in the Democratic primary Thursday, visited Zabar's on the Upper West Side Sunday morning and asked for a cinnamon raisin bagel with lox, complete with red onions, capers, tomato and plain cream cheese.

Chronicled by Gothamist, the bagel order sparked widespread horror on Twitter, which in turn drew her defenders, and then circled back around to Nixon standing firm in her bagel stance.

"I hope Nixon ordered it toasted cuz if she's gonna throw away the race for governor like this, she might as well go out guns blazing," tweeted one person.

"There are only 3 explanations for Cynthia Nixon's order: 1) She was born without taste beds. 2) She wanted free publicity. 3) She is a psychopath," tweeted @DrSCubed.

"Hi yes, I'd like a pumpkin spice latte. And why don't you go ahead and add some salmon syrup to that," mused another sarcastically.

Can you impeach someone who hasn't been elected?" wondered Noah Shactman.

Not everyone was grossed out. A sympathetic Simon Hernandez-Arthur jumped in: "Listen, we all make mistakes in the pursuit of bold, new flavors. I once asked for egg and cheese on a blueberry bagel."

Others with unusual bagel preferences were similarly emboldened, stepping forward to proclaim their own sweet and salty mash-ups.

@RanfPayl tweeted, "When I worked in a bagel shop, my all-time fav sandwich was a cinnamon-raisin bagel with turkey, cheddar, and spicy mustard. Mmm."

(…)

Finally, amid all the uproar Monday, Nixon defended her bagel choice, calling it her "go-to breakfast, whether I'm out or at home."

"It's pretty delicious, and I say, don't yuck my yum," she told reporters. "Don't knock it 'till you've tried it."

Seizing on a campaign opportunity amid the fierce online chatter, Nixon tweeted Monday night: "Yes, I like to eat a Cinnamon Raisin Bagel with… lox, capers, red onions, cream cheese, and tomatoes," linking to a donation page offering a chance to "have YOUR favroite bagel with Cynthia."
There's even video of this culinary atrocity:
Meanwhile, here's Nixon's tweet:
Yes, I like to eat a Cinnamon Raisin Bagel with… lox, capers, red onions, cream cheese, and tomatoes.

Give a few bucks to help support our campaign in the last days before the primary and enter for a chance to have YOUR favorite bagel with me: https://t.co/Q9Whsj4T6j. pic.twitter.com/pkfjRLNZuT

— Cynthia Nixon (@CynthiaNixon) September 11, 2018
Now, I'm generally a libertarian when it comes to someone's culinary choices. Unless we're talking about putting ketchup on a hot dog or pineapple on pizza, both of which I'm willing to reconsider my opposition to the death penalty to combat1, people are free to make whatever food choices they want no matter how bizarre they might sound. At the same time, though, this is one choice I just can't fathom. I love cream cheese, ox, onions, and capers on a bagel as much as the next guy, but the idea of mixing it with a Cinnamon Raisin bagel just doesn't sound right, and it was inevitably going to arouse strong responses among New Yorkers, especially since New York City is arguably the home to the best homemade bagels on the planet. Who on earth would make such a choice, and why would they do it? Heather Schwedel at Slate has her own theories, which I guess sound plausible, but whatever the reason it's just, well, weird. Salmon, capers, and onions are great together. Paired with the sweetness of a Cinnamon Raisin bagel, though? I just don't get it. One might argue that Nixon pulled this move to get some last -minute press attention ahead of the Democratic Primary, which is being held on Thursday this year due to Rosh Hashanah. but there's publicity and then there's bad publicity. And in New York, this is bad publicity.
Of course, given the results of the final poll headed into the primary, Nixon can hardly do worse:
Gov. Andrew Cuomo has expanded his lead heading into Thursday's gubernatorial primary, a new poll showed, as the incumbent Democrat and his challenger Cynthia Nixon make their final push for votes.

Mr. Cuomo, who is seeking his third term, was preferred by 63% of likely Democratic primary voters surveyed by the Siena Research Institute in a poll released Monday. Cynthia Nixon won the support of 22%, the poll showed. Siena's July survey had Mr. Cuomo leading 60% to Ms. Nixon's 29%.

"Cuomo has expanded his two-to-one lead in July and now seems poised to overwhelm Nixon," said poll spokesman Steven Greenberg. "With a lead of nearly 40 [percentage] points among all likely voters, Cuomo has a lead of at least 20 points with every demographic group and leads by at least 30 points in every region of the state."

Ms. Nixon's campaign down-played the results, noting that polls missed the insurgent victories of Alexandria Ocasio-Cortez over New York Rep. Joe Crowley in June's Democratic congressional primary, and Andrew Gillum's victory in the Florida's Democratic gubernatorial primary.

Lauren Hitt, a spokeswoman for Ms. Nixon, said the survey was taken before a "disastrous" weekend in which Mr. Cuomo drew criticism when his team sent a mail advertisement that implied Ms. Nixon was "silent on the rise of anti-Semitism." The mailer was sent by the New York State Democratic Committee, which Mr. Cuomo effectively controls.

Ms. Nixon—who noted that she attended Rosh Hashana services on Sunday and whose two oldest children are Jewish—said she was "appalled" and "really angry" at the flier. New York City Mayor Bill de Blasio—a friend and Democratic ally of Ms. Nixon who this weekend declined to make an endorsement in the gubernatorial primary—tweeted that the mailer is "beyond unacceptable" and "downright Trumpian."

At a Sunday news conference, Mr. Cuomo said he "didn't know" about the mailer, but called its wording "inappropriate." New York State Democratic Committee Executive Director Geoff Berman acknowledged that the mailer was "wrong and inappropriate," and promised he would "work with the Nixon campaign to send out a mailing of their choosing to the same universe of people."

During his upstate swing on Monday, Mr. Cuomo ignored Ms. Nixon and blasted Republican President Trump, with whom he has feuded on tax and immigration policy.
This is the largest lead that Cuomo has had over Nixon since April when she first entered the race, although it is not all that different from the leads he's head in subsequent polls which have generally been above 30 points. On the same day that Nixon entered the race, an earlier version of the Sienna poll showed the incumbent Governor with 66% of the vote compared to 19% for Nixon. Similarly, a Quinnipiac poll released about a week later gave Cuomo (64%) a 43 point lead over Nixon (21%) statewide and a 36 point lead among New York City Democrats, which have been the primary focus of Nixon's campaign. While Nixon has inevitably improved on those numbers somewhat overtime, there has never been any indication that she was likely to come close to being a serious challenge for the incumbent Governor. The poll released today only seems to confirm that further.
None of this should be surprising, of course. Notwithstanding her celebrity Nixon is a candidate without any political experience, and without any experience in government whatsoever, who is taking on the relatively popular Governor of a deeply blue state in which the Cuomo name clearly still carries some degree of cachet. While it can't really be said that Cuomo's tenure as Governor has been marked by many notable accomplishments, those that he has achieved have been ones that would clearly be popular among Democrats. For example, Cuomo was a driving force behind the effort to legalize same-sex marriage via legislation several years ago, and he has also managed to adapt to the shifting tides inside the Democratic Party between the mainstream of the party and the "progressive" wing that Nixon has been clearly seeking to appeal to during her campaign. Additionally, for Democrats looking to hold on to the Governor's mansion in November Cuomo is clearly a sure-thing in the face of any Republican challenge while Nixon is a relative unknown on the political stage who arguably may not be able to withstand a Republican challenge as strongly as a Democrat should in a state like New York. Finally, her rather blatant effort to base her campaign almost exclusively on appealing to the progressive wing of the party likely means that more mainstream Democrats are put off by her candidacy even before getting to the doubts inherent in nominating a candidate who has never run for office before.
Add the weird bagel choice to all of this and Nixon may as well cancel whatever "victory" party she has planned for Thursday night.
1 Yes, I'm kidding about the death penalty for ketchup on hot dogs and pineapple on pizza. Mostly.