August Jobs Report Disappoints
After several months of good news, the August Jobs Report was quite a disappointment.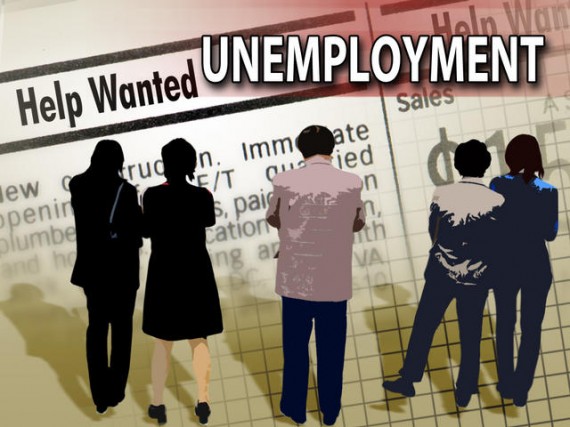 The jobs market in 2014 has been the healthiest that we've seen it since the end of the Great Recession. From the beginning of the year through July, the economy averaged nearly 230,000 new jobs created per month, and job growth for May, June, and July seemed to be pointing toward a strong close to the summer as we head into the Fourth Quarter at the end of September. Granted, the numbers themselves are far from the robust number north of 300,000 new jobs per month that we ought to be seeing, but they were certainly better than what we'd seen for most of the time since the recession ended in 2009. Because of that, and thanks in no small part to a series of healthy economic reports in last month, most analysts expected that we'd see another strong report for August, with the average estimate from economists calling for roughly 225,000 new jobs created. Instead, we got a rather disappointing report, but it's unclear if it's the start of a new trend or just a statistical blip:
Total nonfarm payroll employment increased by 142,000 in August, and the unemployment rate was little changed at 6.1 percent, the U.S. Bureau of Labor
Statistics reported today. Job gains occurred in professional and business services and in health care.

In August, both the unemployment rate (6.1 percent) and the number of unemployed persons (9.6 million) changed little. Over the year, the unemployment rate and the number of unemployed persons were down by 1.1 percentage points and 1.7 million, respectively. (See table A-1.)

Among the major worker groups, the unemployment rates in August showed little or no change for adult men (5.7 percent), adult women (5.7 percent), teenagers (19.6 percent), whites (5.3 percent), blacks (11.4 percent), and Hispanics (7.5 percent). The jobless rate for Asians was 4.5 percent (not seasonally adjusted), little changed from a year earlier. (See tables A-1, A-2, and A-3.)

The number of long-term unemployed (those jobless for 27 weeks or more) declined by 192,000 to 3.0 million in August. These individuals accounted for 31.2 percent of the unemployed. Over the past 12 months, the number of long-term unemployed has declined by 1.3 million. (See table A-12.)

The civilian labor force participation rate, at 62.8 percent, changed little in August and has been essentially unchanged since April. In August, the employment-population ratio was 59.0 percent for the third consecutive month but is up by 0.4 percentage point from a year earlier. (See table A-1.)

(…)

Total nonfarm payroll employment increased by 142,000 in August, compared with an average monthly gain of 212,000 over the prior 12 months. In August, job growth occurred in professional and business services and in health care. (See table B-1.)

Professional and business services added 47,000 jobs in August and has added 639,000 over the past year. In August, management of companies and enterprises gained 8,000 jobs. Employment continued to trend up over the month in administrative and support services (+23,000), architectural and engineering services (+3,000), and in management and technical consulting services (+3,000).

Employment in health care increased by 34,000 in August. Within the industry, offices of physicians and hospitals added 8,000 jobs and 7,000 jobs, respectively. Social assistance employment continued to trend up over the month (+9,000) and has expanded by 104,000 over the year.

Within leisure and hospitality, employment in food services and drinking places continued to trend up in August (+22,000) and is up by 289,000 over the year.

Construction employment continued to trend up in August (+20,000). This is in line with its average monthly job gain of 18,000 over the prior 12 months. In August, employment trended up in specialty trade contractors (+12,000) and construction of buildings (+7,000).

Manufacturing employment was unchanged in August, following an increase of 28,000 in July. Motor vehicles and parts lost 5,000 jobs in August, after adding 13,000 jobs in July. Auto manufacturers laid off fewer workers than usual for factory retooling in July, and fewer workers than usual were recalled in August. Elsewhere in manufacturing, there were job gains in August in computer and peripheral equipment (+3,000) and in nonmetallic mineral products (+3,000), and job losses in electronic instruments (-2,000).

In August, retail trade employment was little changed (-8,000). Food and beverage stores lost 17,000 jobs; this industry was impacted by employment disruptions at a grocery store chain in New England. Elsewhere in retail trade, automobile dealers added 5,000 jobs.

Employment in other major industries, including mining and logging, wholesale trade, transportation and warehousing, information, financial activities, and government, showed little change over the month.
In addition to these numbers, the BLS also revised the figures for the previous two months downward by 28,000 jobs, something that hasn't been done for several months. June's number was revised downward from 298,000 to 267,000, while July's number was revised slightly upward from 209,000 to 212,000. The top line unemployment rate itself did go down slightly, as did the long term unemployment rate, but that appears to be pretty much just a statistical anamoly. There was no change in the labor force participation rate, which remains at historically low levels, and the numbers of people employed part-time rather than full-time did not change significantly. It was, in other words, a fairly disappointing number, but it's unclear what that means:
Once again, the American economy has managed to frustrate the optimists.

After a series of positive economic reports in recent weeks, the Labor Department said Friday that hiring in August sank to its slowest pace since December, with employers adding 142,000 jobs last month.

The vast majority of economists had been looking for a gain of at least 200,000 in payrolls, coming off healthy indicators for durable goods orders, construction activity and manufacturing in July and August.

The unemployment rate did fall by 0.1 percentage point to 6.1 percent last month, but that was because more people dropped out of the work force rather than found jobs.

"It presents a reality check versus other data, which showed more significant economic momentum heading into the third quarter," said Michael Gapen, senior United States economist at Barclays.

Although the rate of economic growth rebounded to 4.2 percent in the second quarter after a contraction early in the year, Mr. Gapen said the latest jobs data suggested the economy was settling into a more moderate pace of growth of around 2.5 percent for the remainder of 2014.

As a result, he said, the Federal Reserve is likely to stick to its plan to raise short-term interest rates beginning in the middle of 2015, rather than move that timetable up, as some on Wall Street have speculated recently.

For anyone looking for a shift in tone when Fed policy makers meet this month, "this throws cold water on that," Mr. Gapen said.

Other economists speculated that the tepid data in August represented something of a timeout after six straight months of payroll gains of more than 200,000, the best run since before the recession.

"This looks like a breather, rather than a fundamental downshift," said Omair Sharif, senior United States economist at RBS. The month of August has a tendency to disappoint, he added, noting that of the last 10 August jobs reports, seven had come in below expectations.\
Given that, it would probably be best to wait for another month or two before declaring the trend that we've seen for most of 2014 at an end. We could see a revision for August that boosts numbers significantly, for example, or reports in September and October that put us back on the trend that we had seen for most of the year. That being said, it is somewhat disconcerting that this report seems to put us back into the same trend that we had seen for most of the past two years which, while better than nothing, certainly can't be said to have been overly positively. Indeed, even at the 200,000 per month number we've been seeing for most of the year, it would still take another two years to completely erase the job losses from a recession that has been over for five years now, which at the very least underscores just how weak this recovery has been, and just how vulnerable we are to being pushed back into a recession under the right circumstances.
Another concern is the fact that we may never actually recover from the losses that we suffered during the recession and the long, slow recovery. Many of the people that lost their jobs during this period seem to have simply given up looking for work altogether, a fact that is demonstrated most starkly in the fact that the Labor Force Participation Rate remains at rates that we last saw during the recessions of the late 1970s and early 1980s. To some extent, this drop off can be attributed to the fact that Baby Boomers are retiring, but that simply cannot account for all of the people who have given up looking for work and, as this chart that Ben Casselman shared on Twitter this morning shows, August was the 49th month of the past 50 in which the number of people who dropped out of the labor force exceeded the number looking for work: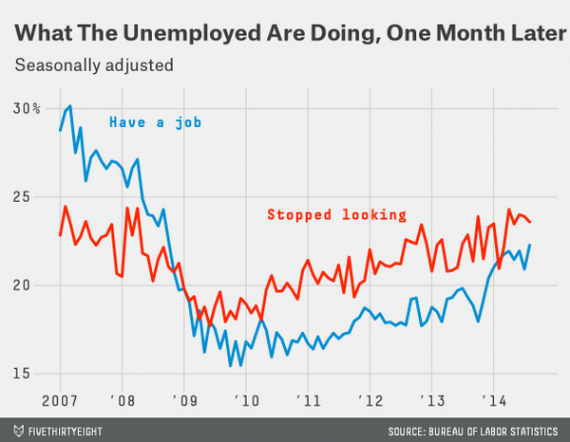 In this kind of environment, I have to wonder if we can really say there is such a thing as a "good" jobs report when there are more people dropping out of the labor force finding a job.