A Mostly Good Jobs Report, And A Milestone Finally Passed (Sort Of)
The May Jobs Report was fairly good, and it marks the end of a jobs recession that started six years ago. But things aren't entirely rosy.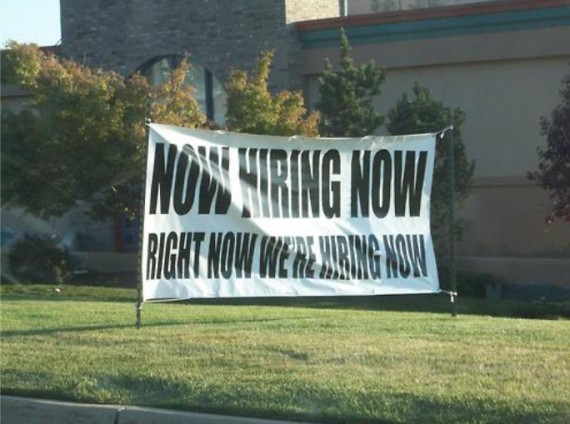 Coming after an April report that was among the best that we've seen since the Great Recession ended, it was unclear where things would be headed in May, which would give us a good idea of where they'd be headed in the summer and fall as we head toward the 2014 midterm elections. The last revision to Gross Domestic Product growth in the First Quarter of 2014, which actually showed the economy shrinking, certainly raised concerns among investors and economic analysts about what that might mean for the economy going forward. At the same time, underlying numbers for April and early May numbers seemed to indicate that the second three months of the year would be better. On the jobs front, we've seen initial unemployment claims shrinking slowly but steadily for the past several weeks as well. In the end, the May numbers, which showed 217,000 jobs created and the U-3 unemployment rate holding steady at 6.3%, was not as good as April, but still fairly decent:
Total nonfarm payroll employment rose by 217,000 in May, and the unemployment rate was unchanged at 6.3 percent, the U.S. Bureau of Labor Statistics reported today. Employment increased in professional and business services, health care and social assistance, food services and drinking places, and transportation and warehousing.
The unemployment rate held at 6.3 percent in May, following a decline of 0.4 percentage point in April. The number of unemployed persons was unchanged in May at 9.8 million. Over the year, the unemployment rate and the number of unemployed persons declined by 1.2 percentage points and 1.9 million, respectively. (See table A-1.)

(…)

The number of long-term unemployed (those jobless for 27 weeks or more) was essentially unchanged at 3.4 million in May. These individuals accounted for 34.6 percent of the unemployed. Over the past 12 months, the number of long-term unemployed has declined by 979,000. (See table A-12.)

The civilian labor force participation rate was unchanged in May, at 62.8 percent. The participation rate has shown no clear trend since this past October but is down by 0.6 percentage point over the year. The employment-population ratio, at 58.9 percent, was also unchanged in May and has changed little over the year. (See table A-1.)

(…)
Total nonfarm payroll employment increased by 217,000 in May, with gains in professional and business services, health care and social assistance, food services and drinking places, and transportation and warehousing. Over the prior 12 months, nonfarm payroll employment growth had averaged 197,000 per month. (See table B-1.)

Professional and business services added 55,000 jobs in May, the same as its average monthly job gain over the prior 12 months. In May, the industry added 7,000 jobs each in  computer systems design and related services and in management and technical consulting. Employment in temporary help services continued to trend up (+14,000) and has grown by 224,000 over the past year.

In May, health care and social assistance added 55,000 jobs. The health care industry added 34,000 jobs over the month, twice its average monthly gain for the prior 12 months. Within health care, employment rose in May by 23,000 in ambulatory health care services (which includes offices of physicians, outpatient care centers, and home health care services) and by 7,000 in hospitals. Employment rose by 21,000 in social assistance, compared with an average gain of 7,000 per month over the prior 12 months.

Within leisure and hospitality, employment in food services and drinking places continued to grow, increasing by 32,000 in May and by 311,000 over the past year.

Transportation and warehousing employment rose by 16,000 in May. Over the prior 12 months, the industry had added an average of 9,000 jobs per month. In May, employment growth occurred in support activities for transportation (+6,000) and couriers and messengers (+4,000).
Revisions for the previous two months were minimal. There were no revisions at all to the March numbers, and a small reduction of 6,000 jobs in the April numbers. Over the past three months then, we've averaged 234,000 jobs created per month, for the first five months we've averaged 213,600 jobs created, and for the last six months the average has been 192,000. The fact that the monthly average is on an upward trajectory is, of course, a very good sign in that it suggests that we're seeing the trend of job growth increasing, on average, rather than holding steady or decreasing. Assuming the economy continues to grow for the rest of the year, the job situation in the country should continue to improve, although there are still some indications that increased costs associated with the Affordable Care Act will hold employers back from adding new employees in the future unless those costs are outweighed by the revenue that could be generated by adding those new employees.
Nelson Schwartz of The New York Times strikes an optimistic note, and notes that we've passed milestone:
American employers added 217,000 workers in May, a bit more than the average monthly gain over the last six months and another sign that the economy may finally be gaining momentum after a weak start to the year.

The unemployment rate was flat at 6.3 percent, the Labor Department said Friday morning in its monthly report on hiring and joblessness.

The labor participation rate, which is closely watched by economists and the Federal Reserve as a yardstick for the overall health of the economy, was unchanged at 62.8 percent.

In recent months, the labor participation rate has been hovering at lows not seen since the late 1970s, a sign that increasing numbers of Americans have given up the search for jobs and dropped out of the work force entirely.

Over the last six months, employers have added an average of just over 200,000 people a month to their payrolls, with momentum rising recently after more anemic job gains in December and January. Average hourly earnings in May rose 5 cents, to $24.38, and are up 2.1 percent over the last 12 months. The length of the typical workweek, 34.5 hours, did not change.

The May figures do represent something of a landmark: Almost exactly five years into the recovery, total payrolls have finally surpassed where they were before the recession.

While the addition of nearly nine million jobs since hiring bottomed out in February 2010 is certainly good news, the number is still far from what is necessary to accommodate new graduates and millions of others who have entered the work force since payrolls last peaked in January 2008 at 138,365,000 jobs.

Private payrolls, which do not include public-sector workers at the federal, state and local levels, surpassed their prerecession level in March.
Indeed, it is the case that we've finally reached the point where we're "gotten back" the jobs lost in the Great Recession as the so-called "Scariest Jobs Chart Ever" from Calculated Risk confirms: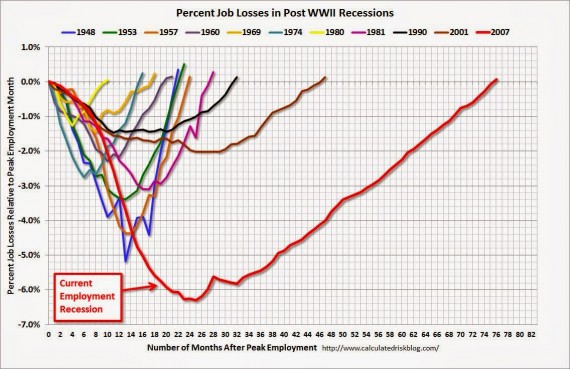 So, the longest jobs recession in post-war history is finally over. However, I would've exactly start popping champagne corks. The fact that it took some 80 months for us to get back to where we were in 2007 is a measure of both how deep the Great Recession was and how weak the recovery that began in 2009 has actually been. There are still millions of people who have been sitting on the sidelines of the economy for years, and are likely to remain there for some time to come. Additionally, as CNN's Annalyn Kurtz points out, the milestone doesn't look as impressive once you factor in population growth:
It took two years to wipe out 8.7 million American jobs but more than four years to gain them all back.

That's according to the Department of Labor's latest jobs report, which shows the U.S. economy added 217,000 jobs in May. With that job growth, there are now more jobs in the country than ever before.

The last time we were near this point was January 2008, just before massive layoffs swept throughout the country, leading the unemployment rate to spike to 10%. The unemployment rate is unchanged at 6.3% for May, and much has improved since the worst of the crisis.

Yet, this isn't the moment to break out the champagne. Given population growth over the last four years, the economy still needs more jobs to truly return to a healthy place. How many more? A whopping 7 million, calculates Heidi Shierholz, an economist with the Economic Policy Institute.

As of May, about 3.4 million Americans had been unemployed for six months or more, and 7.3 million were stuck in part-time jobs although they wanted to work full-time. Both these numbers are still elevated compared to historic norms, and are of concern to Federal Reserve officials, who will meet in two weeks to re-evaluate their stimulus policies.

Overall, this has been the longest jobs recovery since the Department of Labor started tracking jobs data in 1939. Economists surveyed by CNNMoney predict it will take two to three more years to return to "full employment," which they define as an unemployment rate around 5.5%.
CNBC's Jeff Cox meanwhile, points out that the jobs that have been created in the last four years aren't exactly the same as the ones that we lost:
Nonfarm payrolls grew at a pace in line with recent trends, rising 217,000 in May as the unemployment rate held steady at 6.3 percent, according to numbers released Friday by the Bureau of Labor Statistics.

Most of the job gains came on lower-paying industries as wages rose modestly, increasing 5 cents an hour to maintain the modest 2.1 percent growth over the past 12 months. Average hours worked came in flat at 34.5.

A broader measure of joblessness that includes those working part time for economic reasons and those who have quit looking remained elevated at 12.2 percent, though that was a low for the year and the best "U6" measure since October 2008.

Indeed, the internals of the report showed that while actual job growth continues in line with trends, there remains weakness in terms of job quality and other metrics.

Professional and business services along with health led the way in May, with both sectors creating 55,000 new jobs. Hospitality—primarily bars and restaurants—grew by 32,000.

Manufacturing and construction, by contrast, were about flat. Labor force participation, a key metric that whose sharp decline has played a major role in the falling unemployment rate, remained flat at 62.8 percent, matching the worst level since March 1978.
These are encouraging numbers, and it's good to see the job creation numbers moving upward. Hopefully that will continue. But let's not fool ourselves here. The labor force participation rate is at the same level it was when Jimmy Carter was President and the original Hawaii Five-O and Barnaby Jones were still on the air. Some of that is, of course, related to baby boomers retiring, but that doesn't account for all of it. There's a good segment of the population that has basically given up, and whether they are being supported by welfare, disability, or family, they certainly aren't leading the productive lives they once were. Additionally, a lot of the jobs that have been created are in lower paying industries than in the past. And a lot of those higher paying jobs simply aren't going to be coming back thanks either to offshoring, new technology, or increasing worker productivity that means that employers don't need to hire as many workers as they used to. That's all worth keeping in mind as we celebrate this milestone that we've finally reached.