July Jobs Report Not A Home Run, But Still Pretty Good
While not as big as previous months, the July Jobs Report was still mostly good news.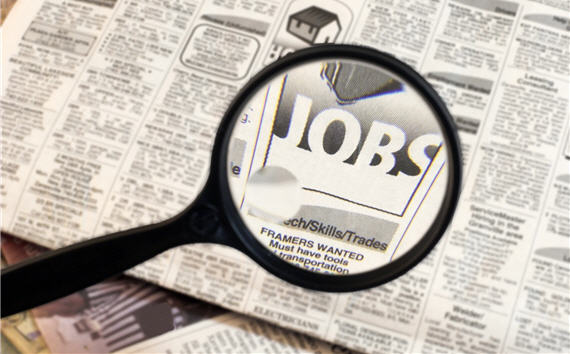 Heading into today's release of the July employment report from the Bureau of Labor Statistics, analysts were expecting a slightly less spectacular month that we had seen in May and June when we saw very strong job growth even in the face of disappointing reports about economic growth in the first three months of the year. Roughly speaking, the consensus going into the morning was that the unemployment rate would remain steady and that we'd see roughly 230,000 jobs created. As it turns out, the numbers were actually a little below those estimates, but still fairly good and indicative of a positive, albeit not very strong, trend:
Total nonfarm payroll employment increased by 209,000 in July, and the unemployment rate was little changed at 6.2 percent, the U.S. Bureau of Labor Statistics reported today. Job gains occurred in professional and business services, manufacturing, retail trade, and construction.

Both the unemployment rate (6.2 percent) and the number of unemployed persons (9.7 million) changed little in July. Over the past 12 months, the unemployment rate and the number of unemployed persons have declined by 1.1 percentage points and 1.7 million, respectively. (See table A-1.)

(…)

Total nonfarm payroll employment increased by 209,000 in July, the same as its average monthly gain over the prior 12 months. In July, employment grew in professional and business services, manufacturing, retail trade, and construction. (See table B-1.)

Professional and business services added 47,000 jobs in July and has added 648,000 jobs over the past 12 months. In July, employment continued to trend up across much of the industry, including a gain of 9,000 jobs in architectural and engineering services. Employment in temporary help services changed little over the month.

Manufacturing added 28,000 jobs in July. Job gains occurred in motor vehicles and parts (+15,000) and in furniture and related products (+3,000). Over the prior 12 months, manufacturing had added an average of 12,000 jobs per month, primarily in durable goods industries.

In July, retail trade employment rose by 27,000. Employment continued to trend up in automobile dealers, food and beverage stores, and general merchandise stores. Over the past year, retail trade has added 298,000 jobs.

Employment in construction increased by 22,000 in July. Within the industry, employment continued to trend up in residential building and in residential specialty trade contractors. Over the year, construction has added 211,000 jobs.

Social assistance added 18,000 jobs over the month and 110,000 over the year. (The social assistance industry includes child day care and services for the elderly and persons with disabilities.) Employment in health care changed little over the month, with job gains in ambulatory health care services (+21,000) largely offset by losses in hospitals (-7,000) and nursing care facilities (-6,000).

Mining added 8,000 jobs in July, with the bulk of the increase occurring in support activities for mining (+6,000). Over the year, mining employment has risen by 46,000.

Employment in leisure and hospitality changed little in July but has added 375,000 jobs over the year, primarily in food services and drinking places.

Employment in other major industries, including wholesale trade, transportation and warehousing, information, financial activities, and government, showed little change in July.
Revisions for the previous two months were minimal, but positive.  Net job growth in May was revised upward from 224,000 to 229,000, and June's numbers were revised upward from 288,000 to 298,000. While this month's numbers aren't on the level of these previous months, at least not until we see revisions in September and October, this is the sixth straight month in which we have seen job growth above 200,000 net jobs per month. Additionally, for the first seven months of the year we have averaged roughly 229,828 new jobs created per month. For the past three months, we've averaged  roughly 245,000 net new jobs per month.  This is the strongest average job growth we've seen for the entire recovery. In 2010, for example we averaged 88,000 net new jobs per month. In 2011, that number rose t0 173,000 jobs per month, then 186,000 per month in 2012, and 194,000 per month in 2013.  As Derek Thompson notes today at The Atlantic, so far 2014 has been the best year for job growth since the Great Recession, and that is an unqualified good thing, as this chart shows: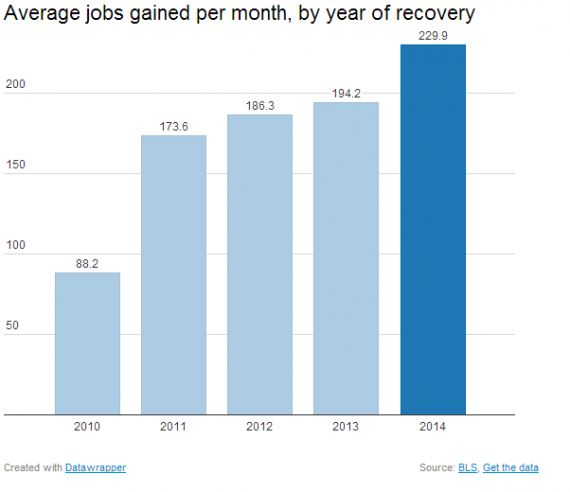 Looking deeper in to the report, there are still signs that the lingering effects of the jobs recession have yet to be healed, but still plenty of good signs. The abor force participating rate and total employment rates remain at rates unseen since the early 1980s, for example, and the long term unemployed still account for nearly one-third of the labor force. At the same time, average hourly earnings increased again last month, people working part-time for "economic reasons" decreased significantly, and the main reason that the U-3 unemployment rate increased was because of a large increase in the number of people seeking work, which is generally seen as a positive thing since it is indicative of the fact that people believe there are jobs worth looking for.
The New York Times notes that the report shows continued growth, albeit at a slower pace:
The economy continued to advance at a healthy pace in July, creating 209,000 jobs and adding to a string of positive economic news in recent weeks that suggests it is gaining strength after years of lackluster growth following the recession.

But the job gains were lower than in prior months and less than Wall Street had expected, perhaps helping to calm fears that the economy is accelerating too quickly.

The Labor Department said Friday that unemployment increased to 6.2 percent. Economists had been expecting the unemployment rate to hold steady at 6.1 percent. On the jobs numbers, the consensus among economists was an expectation of about 230,000 new jobs.

The number of jobs added last month was well below the revised 298,000 surge reported in June. The average monthly gain in payrolls has been above 200,000 for the last six months, a healthy pace of job creation.

"The job market is kicking into a higher gear; that's been the story line since the start of the year," Mark Zandi, chief economist for Moody's Economics, said in a telephone interview before the Labor Department's release. "We're gaining traction."

Such optimism was supported on Wednesday when the Commerce Department, in its initial estimate of the economy's overall output for April, May and June, reported that the gross domestic product grew at a seasonally adjusted annual rate of 4 percent for the quarter, surpassing expectations, rebounding from a 2.1 percent decline during the harsh winter quarter.
CNBC had a similar take:
The U.S. economy created 209,000 jobs in June, below expectations, as the unemployment rate climbed to 6.2 percent, reflecting a consistent but unspectacular level of employment growth.

Economists expected nonfarm payroll growth to hit 233,000 in July, down from an upwardly revised 298,000 in June, and unemployment to fall to 6.0 percent from 6.1 percent. An alternative measure of unemployment which includes the discouraged and those working part-time for economic reasons—the underemployed—rose slightly to 12.2 percent.

Traders liked the unemployment data, perhaps intuiting that it would keep the Federal Reserve on hold with its ultra-easy monetary policy. Stock futures had been under selling pressure earlier after Thursday's aggressive selloff

"That stocks should rise on the relief of a weaker than expected reading, possibly because it is a bond friendly report, suggests investors are clutching at the safety net of easier for longer Fed policy," said Andrew Wilkinson, chief market analyst at Interactive Brokers. "However, the basis of Thursday's worst day of the year was probably less centered on falling bond prices and had more to do with geopolitics and global equity price weakness. It all seems rather odd that stock futures have just about eliminated a double-digit slide ahead of the number."

Market experts said the numbers were right around the sweet spot that reflected economic growth that was solid but not strong enough to change the central bank's approach.

"It is calming fears of more aggressive hawkish Fed behavior," said Lawrence Creatura, portfolio manager at Federated Investors. "'Goldilocks' is a cliche that's been beaten to death, however, the cliche fits and this is a data points which supports the not-too-hot not-too-cold pattern of economic data."
On the whole, while not as spectacular as the previous two months, this is a decent jobs report that indicates that trends are continuing to move in the right direction. Hopefully, things will only get better.