Bernie Sanders Drops A 2020 Hint
To the surprise of absolutely nobody, Vermont Senator Bernie Sanders hints that he's thinking of running for President in 2020.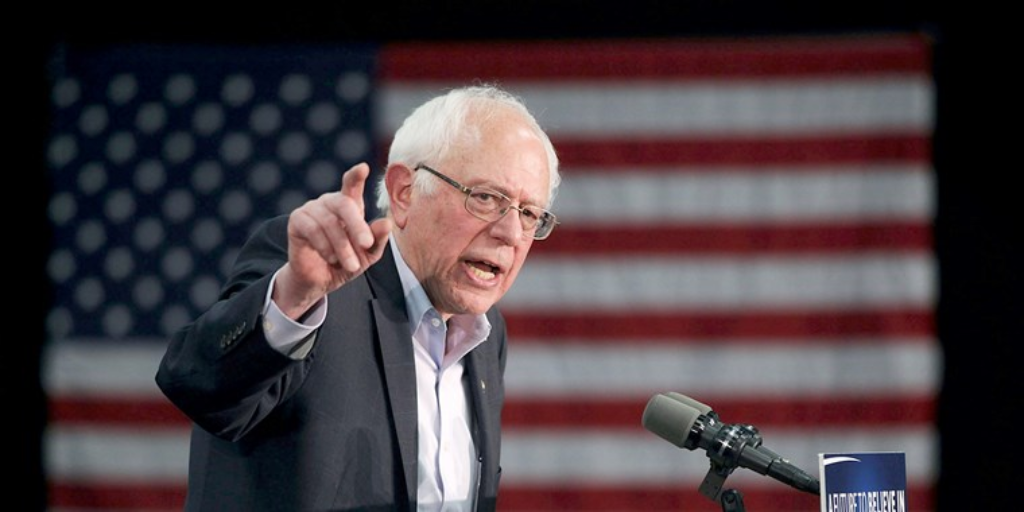 Vermont Senator Bernie Sanders is currently running for re-election, a race he is expected to win easily, but he won't promise that he'll serve for the full six years if he's re-elected:
Sen. Bernie Sanders (I-Vt.) declined to pledge to serve a full six-year term if he is reelected this November, as is expected.

"Right now, my focus is on the year 2018, but if you're asking me to make an absolute pledge as to whether I'll be running for president or not, I'm not going to make that pledge. The simple truth is I have not made that decision. But I'm not going to sit here and tell you that I may not run. I may. But on the other hand, I may not," he said at a forum Monday night in Vermont.

"If I'm elected president of the United States? Mmm. Probably impossible to be a senator and a president at the same time. So the answer to that is probably no. But I haven't made that decision as to whether I'll run … If I run and win, the likelihood is I will not be Vermont's senator" he responded when asked again if he would commit to serving a full term.

Sanders ran against Hillary Clinton in 2016 for the Democratic presidential nomination. Though he lost, he lit a fire underneath the progressive wing of the party.

Should Sanders run in 2020, he would likely join a crowded Democratic field.

Sanders himself has visited crucial states in a presidential campaign such as Iowa, New Hampshire and North Carolina.
The fact that Sanders is considering a second run at the White House is hardly surprising, of course. In many respects, he hasn't really scaled back his national presence in the media and on the campaign trail from what it was during the 2016 campaign. This year, of course, he has concentrated on traveling to states where candidates that support his agenda and the so-called "progressive" wing of the Democratic Party notwithstanding the fact that he is not officially a member of the Democratic Party and has, as he has done in the past, turned down the nomination of the Vermont Democratic Party and run solely as a so-called independent even though his voting record is as much in line with the Senate Democratic Caucus as the most loyal member of that party. Throughout all of these visits, though, it has been clear that Sanders has been trying to keep himself in the national conversation in the Democratic Party as he ponders whether or not he will actually run in 2020, when he would be 79 years old and 83 years old at the end of a hypothetical first term in office in the event he actually won the election. Sanders, of course, isn't the only potential Democratic candidate for President running for re-election who is leaving the door open to the idea of running. One month ago, Massachusetts Senator Elizabeth Warren said she would weigh her options regarding a 2020 bid after the 2018 election, which she will win easily over her Republican opponent.
As with Warren, 2020 is Sanders' best and last shot at becoming President. He is, as I noted above 77 years old and would be 79 when running for President, 83 at the end of a hypothetical first term, and 87 at the end of a second term. He is older than any of the other potential candidates, including Warren and former Vice-President Joe Biden. If he does want to run, either for a realistic shot at the nomination or for the purpose of advancing his agenda, then this would be his last hurrah. At the same time, though, he and Warren would obviously be competing for the same cohort of voters in the so-called "progressive" wing of the party. Additionally, the race could get more complicated for Democrats if other Democrats that appeal to the same wing of the party get in the race. Both California Senator Kamala Harris and New Jersey Senator Cory Booker, for example, have made no secret of their own desire to run for President, and both are openly appealing to the same wing of the party that Warren and Sanders would be competing for. Other candidates that could potentially seek the nomination, such as New York Senator Kristen Gillibrand, who has claimed she has no intention of running at this time, New York Governor Andrew Cuomo, and Wisconsin Senator Amy Klobuchar, also seem likely to try to make appeals to the "progressive wing" of the party. With so many potential candidates appealing to that wing of the party, that could arguably split the vote on that side of the party sufficiently that it would give a huge advantage to a candidate that appeals to more mainstream Democrats as well as the white, working-class voters that ended up picking Trump over Clinton in 2016. That, of course, naturally brings up the name Joe Biden as well as others.
In any case, whether he decides to run or not, the idea that Sanders is thinking about running isn't really a surprise, and the fact that he didn't commit to serving out his full term isn't likely to hurt him with Vermont voters.