Bernie Sanders To Seek Democratic Nomination, Won't Accept Nomination
As he has in the past, Bernie Sanders will seek the Democratic nomination for Senate in Vermont but won't accept the nomination if he wins.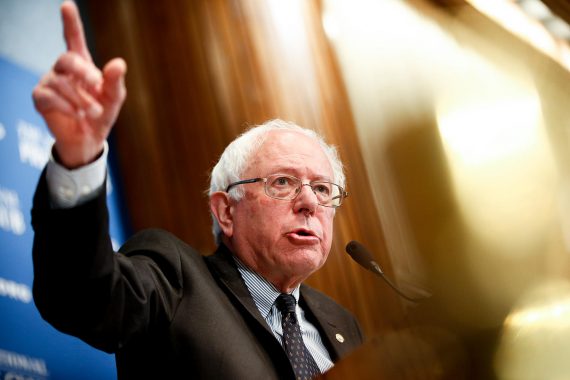 Vermont Senator Bernie Sanders, who is up for re-election to his third term as Vermont's junior Senator, announced today that he would seek the Democratic nomination in addition to running as an Independent, but that he would not accept the nomination should he win:
Bernie Sanders is running for the Democratic nomination in Vermont — but he won't accept it if he wins.

The famously independent senator, who briefly joined the Democratic Party to run in the 2016 New Hampshire presidential primary only to un-enroll later, officially announced Monday that he would seek a third term in the Senate this fall. He also said that he'll pull the same maneuver that he did in his 2006 and 2012 Senate races: Running as a Democrat, declining the nomination when he wins and then running as an independent.

The move makes it virtually impossible for another Democrat to seek the party's nod. And it allows Sanders to loom large in the party primary in August, but still preserve his independence.

But the move also comes at a time when Sanders supporters are pushing for changes to the presidential nominating process as part of the Democratic National Committee unity reform commission. One priority is to open up the party's primaries to voters who aren't registered as Democrats.

A Sanders spokeswoman did not answer when asked whether the senator considered doing things differently in light of his new party and Senate leadership roles.

The Vermont Democratic Party passed a resolution over the weekend supporting Sanders' move, proclaiming that he could still be considered a member of the party "for all purposes and entitled to all the rights and privileges that come with such membership at the state and federal level."

"It's hard to explain to people from out of state how we've made peace with it as a party, how Bernie's made peace with it. We're on board," said Vermont state chairman Terje Anderson.

Anderson pointed out that Sanders appears at party fundraisers, and participates in the coordinated campaign efforts with other Democrats. He acknowledged that the approach probably "intimidates people from running," but he said that the complaints about this among state Democrats have faded, and the role that Sanders has taken on nationally has helped with that.

"It's a minority, and it's a shrinking minority over time as he's done more and more for the party and with the party," Anderson said.

Still, Anderson said he's faced a number of tough questions about this arrangement at DNC meetings over the years.

In a statement, Sanders thanked the state party for the resolution, citing the work that he's doing pushing for a change in the economy in Vermont and around the country.

"I welcome the Vermont Democratic Party's work to build bridges and not walls," Sanders said. "Let's fight for our children's future and not over labels."
As noted, this isn't the first time that Sanders has utilized this tactic. In his first run for the Senate in 2006, Sanders ran for and won the Democratic nomination for Senate, but refused the nomination and ran as an Independent in the race to succeed Senator Jim Jeffords, who retired that year. This meant, of course, that there was no Democratic nominee on the ballot that November and Sanders ended up winning decisively over his Republican opponent. In 2012, he again ran for and won the Democratic nomination and also received the nomination of the Progressive Party. Again, Sanders refused the nomination of both parties, and against scored a decisive victory over his Republican opponent. From the results, it also appears that Sanders had used a similar tactic in many of his elections to the House of Representatives prior to becoming a Senator. Finally, of course, Sanders ran for the Democratic nomination for President in 2016 even while declining to join the Democratic Party, and even scored a speaking slot at the Democratic National Convention that year. He has also intervened in Democratic politics and primary races and encouraged his supporters to do the same.
As a political maneuver, this makes perfect sense from Sanders' point of view. Eliminating the possibility of a Democratic nominee on the ballot allows him to ensure that voters won't be tempted to vote for someone else and thus turn what would otherwise be an easy one-on-one victory against a Republican into a three-way race that could potentially put Sanders at risk in a General Election. Additionally, the Vermont Democratic Party appears to be fine with the move, no doubt largely because they know that Sanders will caucus with the Democrats notwithstanding his Independent status. That being said, there's something about a move such as this that seems just a bit hypocritical considering the rhetoric that Sanders consistently preaches to supporters. It seems to be little more than the same sort of insider game that he accuses others of playing, and not entirely different from the manner in which he and his supporters claim that the Democratic National Committee acted to undermine his campaign in 2016, charges that are largely unfounded and not based in fact. If Sanders wants to run as an Independent he should be free to do so, of course, but engaging in game playing like this to make it easier in the General Election seems especially cynical, especially from someone who speaks the way that he does.