Calls To "Abolish ICE" Could End Up Being A Gift To Trump And The Republicans
Democrats are rallying around the "Abolish ICE" slogan in response to the Trump Administration's immigration policies, but it could end up backfiring on them.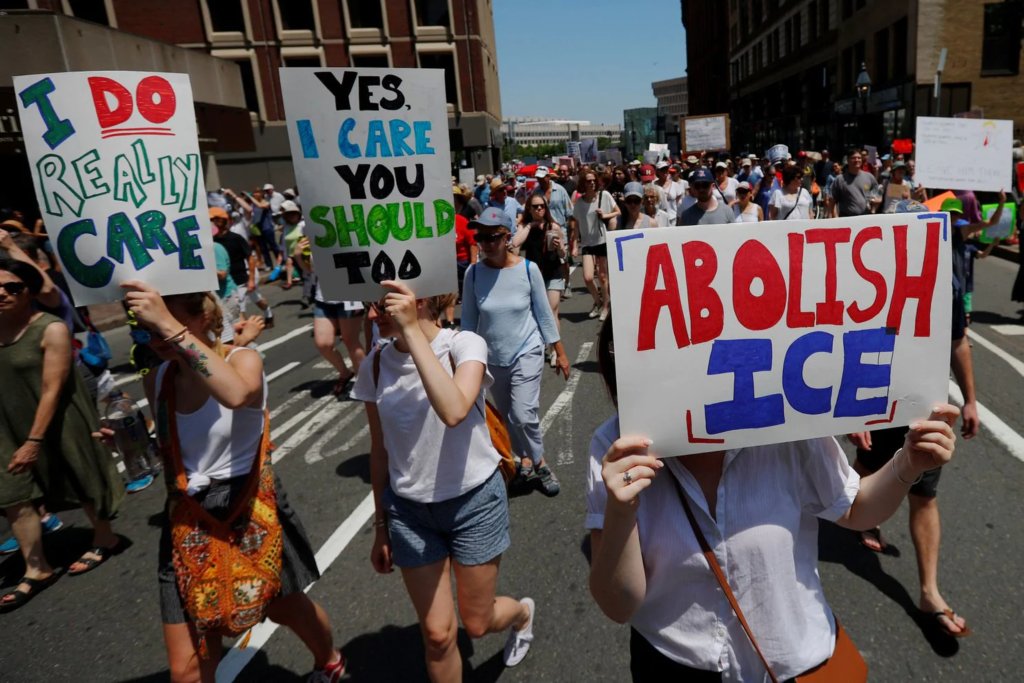 In the wake of the Trump Administration's "zero tolerance" policy in dealing with people attempting to illegally enter the United States at the Mexican border, which at least for a time led to the separation of parents and children in apparent violation of existing law, many on the left have taken up the cause of abolishing Immigration and Customs Enforcement (ICE), the agency charged with enforcing the nation's immigration laws and the policies aimed at doing so from the incumbent President. The call has gotten so popular on the left that many politicians who are seen as likely or potential candidates for the Democratic nomination are finding themselves compelled to join the call notwithstanding the fact that it is entirely unclear what "Abolish ICE" means beyond being a political slogan that resonates with a certain audience. In doing so, though, The Washington Post's Karen Tumulty warns Democrats that they may be handing a gift to Republicans:
Demonizing a government agency is an old, tired strategy — one that rarely if ever has worked.

Just ask the Republicans. They have more than a little experience in this regard.

Democrats "are drifting into a trap," Trump ally Newt Gingrich told me, acknowledging that he knows what it is like to fall into this one.

When the GOP took control of the House under then-Speaker Gingrich in 1995, its right wing vowed to eliminate no fewer than four federal departments: Education, Energy, Commerce, and Housing and Urban Development. Republicans saw those departments as symbols of everything that had gone awry in a sprawling, increasingly intrusive federal government.

"We learned that every one of those agencies have interest groups that desperately want them to survive," Gingrich said. "We just weren't clever about it."

(…)

There are fair criticisms that ICE has become unwieldy and that its reputation sometimes interferes with its ability to do its job. Detention and deportation, which grew sharply under President Barack Obama, have also become more common since ICE's creation.

But ICE is not responsible for what we've seen at the border in the past few months, particularly the heinous practice of separating parents from their children.

To blame a faceless agency is to give a pass to Trump's "zero-tolerance" policies and to the hateful rhetoric that has helped create a political environment in which some Americans find this acceptable.

What's more, Democrats are making it all too easy for Trump and his allies to falsely portray a call to abolish ICE as another way of clamoring for open borders.

"How can the Democrats, who are weak on the Border and weak on Crime, do well in November," the president tweeted Tuesday. "The people of our Country want and demand Safety and Security, while the Democrats are more interested in ripping apart and demeaning (and not properly funding) our great Law Enforcement!"

This is the fight that Trump wants to have, over security and law enforcement, rather than massive detention centers and frantic parents who cannot find their children. It is one he can win — and Democrats calling to eliminate ICE will have given him a potent weapon with which to do it.
Tumulty is largely correct here, and Democrats would be well-advised to heed her warnings. The "Abolish Ice" slogan and Twitter hashtag may be something that will rally the base, and that will certainly be an important issue in the upcoming midterm elections. At the same time, though, it also leaves Democratic candidates and the party in danger of handing what ought to be a good issue for them over to President Trump and the Republicans because of the way that it is being framed and the fact that it is seemingly easy for the GOP to turn a simplistic slogan into something that sounds as if they are essentially advocating for an end to the enforcement of immigration laws. That's exactly how Trump and Republicans are framing the debate right now, of course, and if they succeed then Democrats could find that they've given Republicans a potent weapon come November notwithstanding the fact that, objectively speaking, this is an issue that should work against the GOP given all the polling on the issue.
As I've said before, abolishing ICE doesn't really solve the problems that we're dealing with at the border right now, and which are likely to continue as long as Republicans control Congress and Donald Trump remains President. Whatever one calls the agency, the laws and policies it enforces will still be on the books and will still need to be enforced. Therefore, it's rather obvious that the calls to "Abolish ICE" aren't going to accomplish anything unless and until those underlying laws are changed. In order for that to happen, though, Democrats are going to have to win elections not only at the Congressional level but also at the Presidential level. Then, they're going to have to do what the Obama Administration largely failed to do and make a concerted push for the passage of a comprehensive change to the nation's immigration laws that addresses the issues that are creating the problems that the "Abolish ICE" protesters are complaining about. In all likelihood that effort will require at least some Republican input and support since it's unlikely that Democrats (or Republicans for that matter) are going to have a filibuster-proof majority in the Senate at any point in the foreseeable future. So far, though, the people behind the "Abolish ICE" slogan haven't really offered any coherent proposals in that area and, until they do, focusing on the slogan does not accomplish much of anything and, as Tumulty notes, poses the danger of allowing Republicans to shift the focus of the immigration debate that has been taking place since the family separation policy became a public issue toward the issue of border enforcement, which clearly would benefit them.