The Trump Administration's Family Separation Policy Is Cruel And Inhumane
A Trump Administration policy announced in April has resulted in roughly 2,000 children being taken from their parents at the border.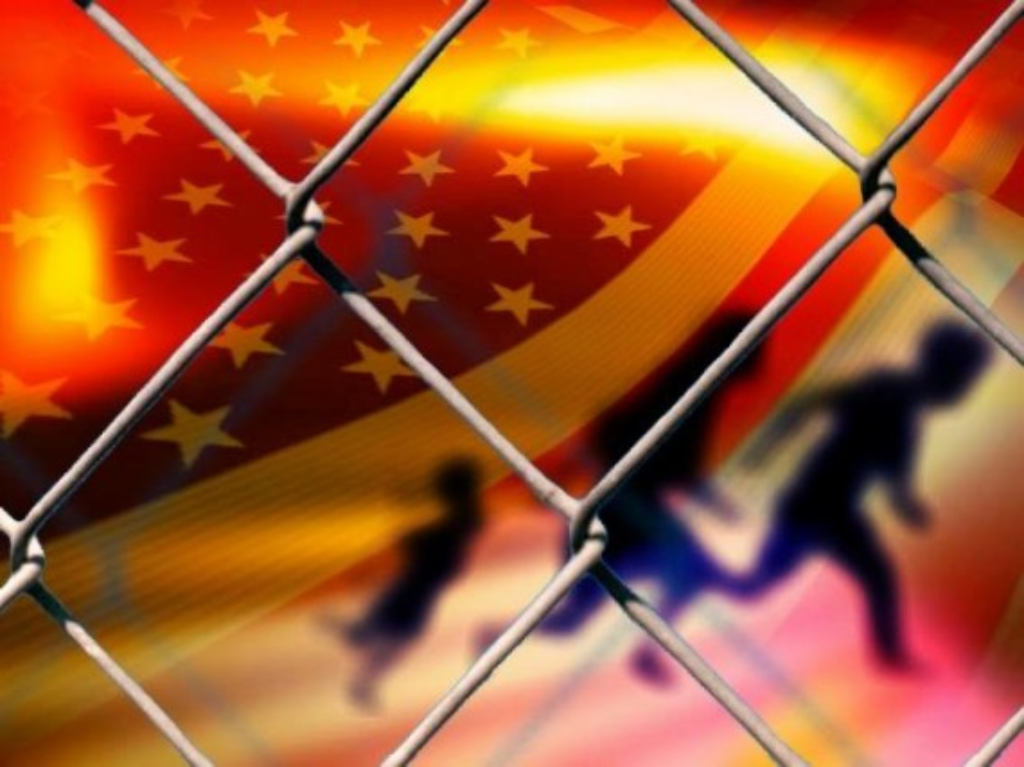 Back in April, the Trump Administration announced a new "zero tolerance" policy purportedly aimed at stemming the tide of migrants showing up at the U.S.-Mexican border. Part of that policy included a change in the way that children who were accompanied by parents or other family members were treated when they arrived at the border. Previously, under both the Bush 43 and Obama Administrations, it was the policy of the Federal Government to keep parents and children together in family detention centers or to process the parents and children and release them with a notice to appear on a subsequent date for a hearing that would deal with either their illegal entry or, as is the case in most of these situations, their claim to be refugees, which would mean under both American law and international agreements to which the United States is a signatory, that they would be permitted to stay in the country on a provisional basis. In those cases where children arrived at the border unaccompanied or accompanied by people who were not family members, they would be taken into custody and either placed in foster care or, more commonly, in government-run temporary housing. (Source)
All of that changed in April, though, when the Trump announced its new policy. Under that policy, the practice of keeping families together was largely abandoned and, even in situations where parents could prove that they were, in fact, related to the children accompanying them, border authorities began the process of separating children and families and placing the children in facilities not unlike those previously exclusively used for children who arrived at the border unaccompanied. The result of that policy has been numerous reports of parents and children being separated and parents not being told the truth about what was happening to their children, as well as reports about children being held in close quarters and indoors for the better part of the day rather than being allowed to interact with others. So far, according to The New York Times, this has resulted in nearly two thousand children being held in custody, far higher than what was seen under previous Administration:
WASHINGTON — The Trump administration said on Friday that it had separated 1,995 children from parents facing criminal prosecution for unlawfully crossing the border over a six-week period that ended last month, as President Trump sought to shift blame for the widely criticized practice that has become the signature policy of his aggressive immigration agenda.

From April 19 to May 31, the children were separated from 1,940 adults, according to a spokesman for the Department of Homeland Security, who spoke during a conference call with reporters that had been described as an effort to correct the record about immigrant families being split up at the border.

Administration officials insisted on anonymity to explain the president's policy and deny many of the damaging stories that have appeared about it in recent days. That included an anecdote about a 4-month-old taken away from her mother by immigration authorities as the baby was breast-feeding, which one official said the department had tried unsuccessfully to verify.

"I hate the children being taken away," Mr. Trump told reporters on Friday morning in front of the White House. "The Democrats have to change their law — that's their law."

A short time later, he wrote on Twitter, "The Democrats are forcing the breakup of families at the Border with their horrible and cruel legislative agenda."

But Mr. Trump was misrepresenting his own policy. There is no law that says children must be taken from their parents if they cross the border unlawfully, and previous administrations have made exceptions for those traveling with minor children when prosecuting immigrants for illegal entry. A "zero tolerance" policy created by the president in April and put into effect last month by the attorney general, Jeff Sessions, allows no such exceptions, Mr. Trump's advisers say.

The president's efforts to deflect blame for the practice reflected the degree to which it has become politically unpopular, with Democrats, civil rights and immigrant advocacy groups and religious leaders condemning it as inhumane. Republicans have also begun to express unease about the practice. Speaker Paul D. Ryan, Republican of Wisconsin, said on Thursday that he was not comfortable with it, and Gov. John Kasich of Ohio tweeted on Friday: "Quit separating families. It's that simple."

The number released on Friday suggests that thousands of children have been taken from their parents at the border since late last year. The New York Times reported in April that about 700 children had been separated from their parents as they were processed at stations on the southwest border, including more than 100 under the age of 4. As the number of children in its custody grows beyond the capacity of existing detention centers, the Trump administration reportedly plans to erect a tent city in Tornillo, Tex., to house them.

The homeland security official said that the administration had drawn a "bright line" against taking babies from their parents because the government was unable to appropriately care for children that young, but could not immediately provide information about the age cutoff below which they would decline to take a child.
As a preliminary matter, it's important to note that the Trump Administration and its supporters are simply not telling the truth about the current policy. As I stated above, the previous policy up until the "zero tolerance" policy was announced in April was that children and family members would not be separated at the border and that they would either be placed in a detention center that catered to families or they would be released with a notice to return at a later date for a hearing on their status. The only situation in which children would be held in a detention facility designed for children was in situation where they arrived at the border unaccompanied or in the company of people who were obviously not family members. That policy was largely dictated by a law that was passed in 2008 that places restrictions on what Federal authorities can do with people who arrive at America's borders from nations either than Canada or Mexico, especially children not accompanied by a family member. Under that law, the William Wilberforce Trafficking Victims Protection Reauthorization Act of 2008, unaccompanied minor children from one of these "noncontiguous nations" cannot simply be deported immediately the way a minor from Mexico or Canada can be. Instead, they must be taken into custody and processed through the immigration system to determine whether or not they are eligible for asylum under the U.S. law. Given the fact that the U.S. immigration hearing system has always been incredibly backlogged, this meant that these unaccompanied children were often held for extended periods of time.
Contrary to the claims of the Trump Administration and its supporters, though, that law does not require and arguably was never intended to authorize, the separation of children from their parents at the border. This is why, under previous Presidents, such children were not separated from their parents and were treated differently that arrived at the border unaccompanied. The decision to begin a policy of separating parents and children is one that was created by this Administration via the "zero tolerance" policy announced in April, and it has led to numerous reports of crying children literally being ripped from their parents arms, of parents being told that their children were simply being taken to a facility where they could be checked out medically and permitted to take a shower or bath, and children being lied to by Federal authorities who told them they would soon be reunited with their mother or father.
Kathleen Parker writes in The Washington Post that this policy is, at its heart, un-American:
On Friday, the Department of Homeland Security said the Trump administration separated 1,995 children from the adults they were traveling with at the U.S. border between April 19 and May 31.

Appalling.

Maybe some hardcore Trump supporters, who elected him president on a promise to get tough on immigration, can swallow this collateral cruelty as a necessary unpleasantness. But I can't imagine that many of them are parents. As a mother, my heart breaks at the thought of a frightened and confused child being taken away from his or her parents and stashed like an orphaned animal in what amounts to a holding pen.

To be blunt, I don't recognize this country anymore.

This "solution" to stanching the human exodus from Latin America across our border takes a toll not only on those arrested and detained but also on our own humanity. To insist that traumatizing children is the way to deal with the problem is a failure of imagination. To not anticipate the consequences of children being detained under a zero-tolerance policy that imprisons their parents is a failure of leadership.

Most troubling is the inherent lack of empathy — as policy — and what that not only reveals but also possibly foreshadows. The only way to rationalize these events is to view these immigrants as less than human. In the abstract, some Americans may be able to convince themselves that "they asked for it." Or, "nobody invited them. What were they expecting, a parade?"
As the Administration made clear when it announced the new policy in April, the entire purpose behind the policy is to punish people coming to the United States to seek refugee status and to make it clear that they shouldn't even try to come to the United States notwithstanding the fact that we have an obligation to receive these refugees and give their claim a fair hearing. Before April, the policy was far different and far more humane. Either parents and children were kept together in a family-appropriate facility or they were released and given a notice to appear for a refugee hearing at a date in the future. On that note, it's worth noting that this so-called "catch and release" policy, known officially as the Family Case Management Program, set up specifically for families seeking asylum, had a 99% rate of attending court hearings and ICE check-ins. The Trump Administration ended that program in July of last year. Trump ended the program in July 2017. Aside from the vindictiveness that the Trump Administration's "zero tolerance" policy represents, there was no rational reason to change that policy, and it was not required by existing Federal law. Everything that is happening now is the doing of the Trump Administration and it can be fixed either via executive action stepping back from the April policy or by Congressional action. So far neither has been forthcoming, and the Administration seems intent on continuing what can only be called a cruel, cynical, inhumane, and immoral policy.