No, Democrats Aren't Responsible For Trump's Family Separation Policy
President Trump and his supporters are blaming the policy of separating parents and children at the border on Democrats. This is, simply put, a lie.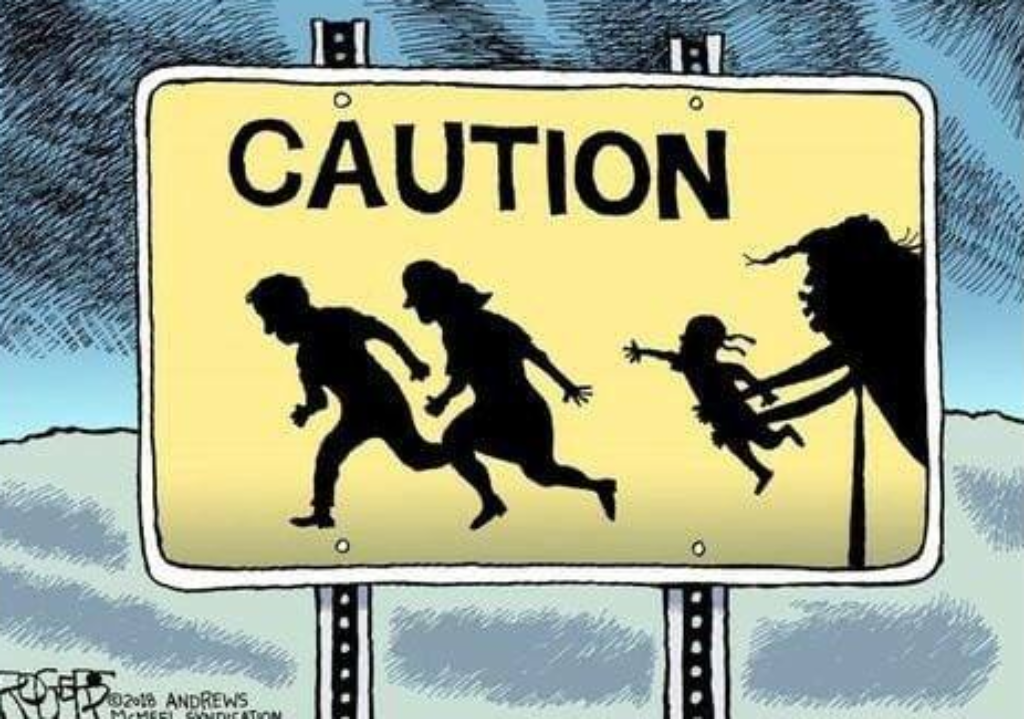 President Trump is blaming Democrats for the lack of action on the policy established by his Administration that is resulting in thousands of children being separated from their parents at the U.S.-Mexican border, and it's an argument that is predictably being repeated by Republicans on Capitol Hill and pundits in the media. There's just one problem, it's completely untrue:
WASHINGTON — President Trump on Saturday repeated his false assertion that Democrats were responsible for his administration's policy of separating migrant families apprehended at the border, sticking to a weekslong refusal to publicly accept responsibility for a widely condemned practice that has become a symbol of his crackdown on illegal immigration.

"Democrats can fix their forced family breakup at the Border by working with Republicans on new legislation, for a change!" Mr. Trump said in a morning post on Twitter.

It came the day after his administration said that it had taken nearly 2,000 children away from their parents in a six-week period ending last month, as part of a new "zero tolerance" policy that refers for criminal prosecution all immigrants apprehended crossing the border without authorization.

The White House defended the practice this week, saying the president was merely enforcing the law. And in recent speeches around the country, Jeff Sessions, the attorney general, has made a spirited case for it, arguing that a strict approach is a vital tool for deterrence.

But Mr. Trump has steadfastly tried to deflect blame for the separation of children from their parents, consistently dissembling about why it is occurring. His comments are the latest example of his asking the public to discount what it sees with its own eyes and instead believe his own self-serving version of reality. They also reflect how politically poisonous the issue has become, as photographs and news articles circulate about the effects of the practice.

"I hate the children being taken away," Mr. Trump told reporters on Friday in front of the White House during a 45-minute impromptu question-and-answer session on a wide range of topics. "The Democrats have to change their law — that's their law."

In fact, there is no law that requires families to be separated at the border. There is a law against "improper entry" at the border, as well as a consent decree known as the Flores settlement that limits to 20 days the amount of time that migrant children may be held in immigration detention, which a federal judge ruled in 2016 also applies to families. A 2008 anti-trafficking statute — signed into law by a Republican president, George W. Bush — also requires that certain unaccompanied alien minors be transferred out of immigration detention in 72 hours. None of those laws or precedents mean that children must be taken away from their parents.

An official from the Department of Homeland Security who insisted on anonymity to discuss the policy said on Friday that there are, in fact, exceptions for babies, but could not provide an age cutoff above which a child may be taken from his or her parent. Data reviewed by The New York Times in April indicated that of more than 700 children separated from their parents since October, over 100 had been under the age of 4.

(…)

"The loopholes, both legal and judicial, are now wholly owned and belong to Democrats," Stephen Miller, the president's senior policy adviser and top immigration hand, said in a recent interview, "because they alone oppose their changing."

"No one in our government is willing to take moral lectures from people who support and perpetuate policies that grievously harm innocent Americans," Mr. Miller added.

Mr. Trump, however, has not tried to justify the family separation policy, preferring to pretend that it is being forced upon him by his political rivals, and sometimes to ignore it altogether. While the president's Saturday radio address was about the need to pass legislation — slated for votes in the House next week — that would overhaul immigration laws, he never mentioned the zero tolerance policy that has led to immigrant children being separated from their parents.
Here are Trump's Tweets on this issue:
The Democrats are forcing the breakup of families at the Border with their horrible and cruel legislative agenda. Any Immigration Bill MUST HAVE full funding for the Wall, end Catch & Release, Visa Lottery and Chain, and go to Merit Based Immigration. Go for it! WIN!

— Donald J. Trump (@realDonaldTrump) June 15, 2018
Democrats can fix their forced family breakup at the Border by working with Republicans on new legislation, for a change! This is why we need more Republicans elected in November. Democrats are good at only three things, High Taxes, High Crime and Obstruction. Sad!

— Donald J. Trump (@realDonaldTrump) June 16, 2018
Until the "zero tolerance" policy was announced in May by Attorney General Sessions, the policy of the Federal Government under preceding Administrations was that children and family members would not be separated at the border. Instead, they would either be placed in a detention center that catered to families or they would be released with a notice to return at a later date for a hearing on their status. In that regard, it should be noted that, over the years, 99% of the people claiming asylum who were given such notices returned for the hearing, thus refuting the argument that has been made by some on the right that this amounted to a "catch and release" policy under which people simply disappear and never show up for their hearing. Prior to early May and the implementation of the new policy, the majority of the children held in a detention facility designed for children were those who arrived at the border alone or with people who were not family members. That policy was required pursuant to a law that was passed in 2008 under the Administration of George W. Bush restricts how authorities can treat those who arrive at the border from nations other than Canada and Mexico, and even further restricts the government's discretion with regard to children who arrive from those nations without a parent or other family member. Under that law, the William Wilberforce Trafficking Victims Protection Reauthorization Act of 2008, unaccompanied minor children from one of these "noncontiguous nations" cannot simply be deported immediately the way a minor from Mexico or Canada can be. Instead, they must be taken into custody and processed through the immigration system to determine whether or not they are eligible for asylum under the U.S. law. Since it seems obvious that unaccompanied minors cannot simply be released into the general population unless they have family members who can be located in the United States, the unfortunate result of this is that these children would have to be placed in some kind of mass detention facility. In other words, the claims of the Trump Administration and its supporters that current American law requires the separation of children from their parents is a lie. 
Even if this assertion were true, though, the further representation by President Trump, his Administration, or his supporters that Democrats are responsible for the current policy and that only they can change it is an even more ridiculous lie. First of all, the only provision of Federal law that even comes close to governing this issue is a law that was passed under a Republican President whose primary aim was to combat cross-border trafficking in children and women for illegal purposes, including prostitution. Second, the Congress is currently controlled by Republicans. If they wanted to pass a law tomorrow barring the Administration from separating families at the border, they could easily do so. A clean bill on such an issue would pass the House with nearly unanimous support from House Democrats and would obviously receive enough support in the Senate to get past the sixty votes necessary to invoke cloture and avoid a filibuster. Finally, the Administration itself could stop this policy today with the simple stroke of a pen, just as they began it six weeks ago when Attorney General Sessions announced the new policy.
This is on your shoulders, President Trump and the rest of the Republican Party. You can stop it immediately if you want to.
Political Cartoon by Rob Rogers, formerly employed by the Pittsburgh Post-Gazette