Cook Report Moves Texas Senate Race To 'Toss-Up'
While one must give the benefit of the doubt to Ted Cruz, the Senate race in Texas is getting very interesting.
One of the most surprising races of the summer has been the match-up in Texas pitting Republican Senator Ted Cruz against Congressman Beto O'Rourke, who represents the area around El Paso in far-western Texas. Notwithstanding the fact that Texas has been a deeply red state for at least the past twenty-five years, the three-term Democratic Congressman has been running a very close race with the freshman Republican Senator. After O'Rourke won his party's nomination, there was at least some indication that Cruz could be in for a real challenge in the form of polling that showed Cruz with only a three-point lead over the Congressman, which was within the poll's margin of error. Polling taken about a month later, though, seemed to show that the initial bounce in O'Rourke's favor had fizzled out and that Cruz was well-positioned to be comfortably re-elected notwithstanding the fact that national Democrats were pouring money into O'Rourke's campaign. More recent polling, such as a poll taken just under a month ago, though, showed the race back to being a close race and an indication that Cruz could be in real trouble in a race that he should be winning easily.
More recent polling has been somewhat confusing, A recent poll from Emerson College, for example, shows Cruz with just a one-point lead over O'Rourke. A Reuters/Ipsos poll, meanwhile, actually gives Congressman O'Rourke a two-point lead over Cruz, the first poll showing Cruz trailing even within the margin of error. Another poll from Quinnipiac, though, gives Cruz a nine-point lead over O'Rourke, which is far more normal for what one might expect from a race in Texas.  Another recent poll from Public Policy Polling puts the race at 48% for Senator Cruz to 45% for Congressman O'Rourke. Finally, a poll from an outfit called Vox Populi Polling has the race tied at 50% apiece. In the RealClearPolitics average, which includes most but not all of these polls, Cruz (47.0%) with a +4.5 point lead over O'Rourke (42.5%) in a race that, as the chart shows is exceedingly close: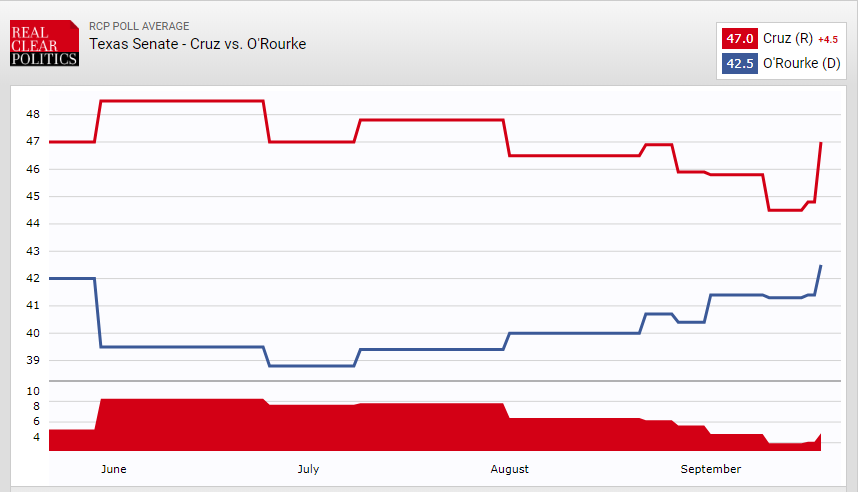 As I've said before, these numbers are best viewed in contrast to other statewide races in Texas such as Greg Abbott's bid for his own second term in office where Abbott has an average lead of 19.3 points over his Democratic opponent. The polling for other statewide races in the Lone Star State, such as Lt. Governor, Attorney General, and Commissioner of the General Land Office, a position currently held by George W. Bush's nephew George P. Bush, shows Republicans with similarly strong leads.
In the midst of all this, The Cook Political Report has officially moved the Texas Senate Race into the Toss-Up category:
The Cook Political Report on Friday updated its rating for Texas's heated Senate race, moving it from leans Republican to toss-up amid new polls showing Rep. Beto O'Rourke (D-Texas) in a tightening race with Sen. Ted Cruz (R).

The change in rating Friday came amid two other Senate race changes, with the prediction website changing the race for Sen. Jon Tester's (D-Mont.) seat from "likely" to "leans" Democratic, while the West Virginia Senate race moved from a toss-up to leaning in favor of incumbent Sen. Joe Manchin (D).

Cook's authors did not immediately give any explanation for the ratings change, but the move follows a series of polls showing Cruz with a small single-digit lead over his insurgent opponent, who has outraised Cruz by millions since the campaign began.
Most other rating services continue to list the Cruz-O'Rourke race as either leaning or likely Republican but it has been some time since they have updated their ratings, so it's possible we'll be seeing changes there.
As I've said before, I'm still skeptical about the idea of a Democrat winning statewide in Texas even in a year such as this when anti-Republican animus appears to be motivating Democrats to vote in numbers not typically seen in midterm elections. This, after all, is a state that has not gone for a Democrat in a Presidential Election since the 1976 Presidential Election,  has not elected a Democratic Governor since Ann Richards in 1990, has not elected a Democratic Lt. Governor since Bob Bullock in 1994, and which has not elected a Democrat to the Senate since Lloyd Bentsen won re-election in 1988. While this trend of Republican wins is bound to come to an end at some point, I'm still not convinced that this year, and this race, is when it will happen. That being said, the fact that this race is as close as it is in a state like Texas is something that should have Republicans nationwide worried. For one thing, it could be an indication of how things like likely to go in states that aren't nearly as Republican as Texas and an indication that the national Republican Party will have to expend resources in states previously believed to be safe rather than concentrating their resources in states that they hope to flip this year. Even if it's a matter of just a few million dollars, it could make all the difference.