Ted Cruz Vulnerable? A New Poll Says It's Possible.
A new poll shows Ted Cruz in a much tighter than expected race for re-election, but it's going to take more to consider Texas a state that Democrats could pick up in the fall.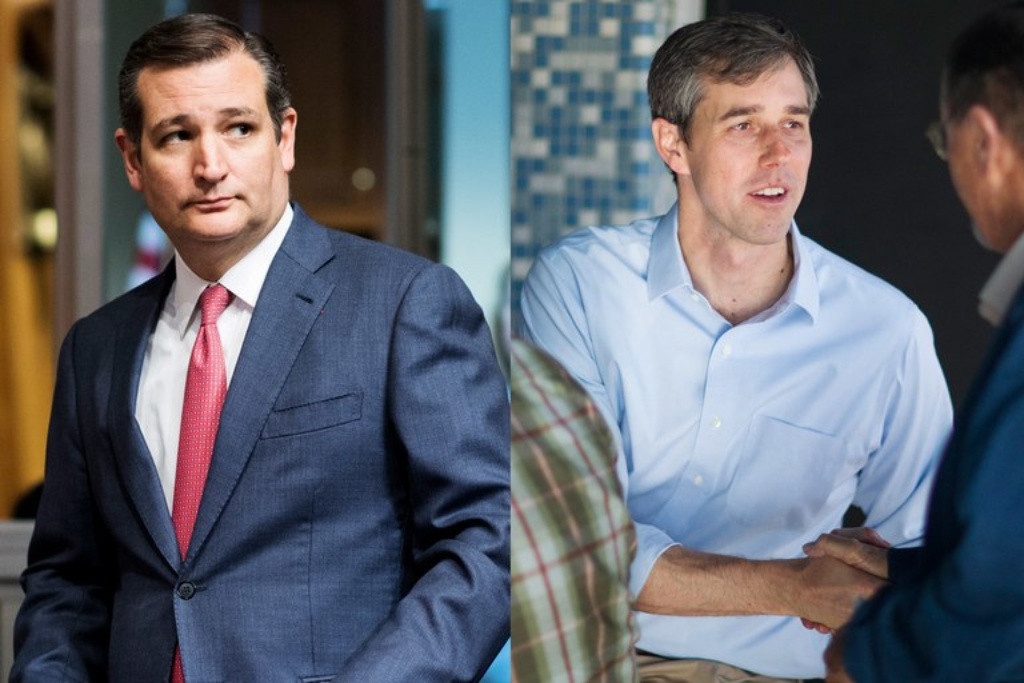 Earlier this year, shortly after Congressman Beto O'Rourke won the Democratic nomination to take on Senator Ted Cruz in November, there was at least some indication that Cruz could be in for a real challenge from the three-term Congressman from the Lone Star State's 16th Congressional District. Polling taken about a month later, though, seemed to show that the initial bounce in O'Rourke's favor had fizzled out and that Cruz was well-positioned to be comfortably re-elected notwithstanding the fact that national Democrats were pouring money into O'Rourke's campaign in the hopes of unseating Cruz, or at least outperform where a Democrat might otherwise be expected to end up in a non-Presidential election year. Now, at least one new poll shows the race between Cruz and O'Rourke closer than might be expected at this point in the race:
As Texas Democrats attempt to win a major statewide contest for the first time in almost three decades, a new NBC News/Marist poll finds Democrat Beto O'Rourke trailing Republican Sen. Ted Cruz by just 4 percentage points.

O'Rourke, a congressman from El Paso who has ignited Democratic hopes with his impressive fundraising, has 45 percent support among registered voters compared with Cruz's 49 percent. Six percent of voters remain undecided.

While both candidates have largely consolidated their bases — with O'Rourke capturing the support of 90 percent of Democrats and Cruz securing 91 percent of Republicans — independents in the state are equally split: Forty-six percent of them back O'Rourke, while 45 percent support Cruz.

Looking at the race geographically, Cruz has majority support by about a 2-1 margin in both the more rural eastern and western parts of the state. But O'Rourke is holding steady with Cruz in Dallas/Fort Worth (both at 48 percent) and besting him in Houston (51 percent to 42 percent).

Among those firmly in Cruz's camp are conservatives (81 percent support), white evangelicals (79 percent), whites without a college degree (67 percent) and rural voters (66 percent).

O'Rourke's strongest constituencies include liberals (84 percent support), African-Americans (82 percent), moderates (62 percent), and voters under 45 (52 percent).

Among Latinos, who make up 20 percent of the registered voters sampled in the poll, O'Rourke gets 53 percent support compared with Cruz's 42 percent.

Both candidates share similar levels of intensity among supporters, as well. More than six-in-10 voters say they strongly support their candidate — 63 percent for O'Rourke and 65 percent for Cruz.

They also both enjoy net favorable ratings among registered voters, although O'Rourke is still unknown to about a third of them (36 percent).

Cruz's favorability stands at 49 percent favorable and 41 percent unfavorable, while O'Rourke's is 41 percent favorable and 23 percent unfavorable.
The most interesting thing about these numbers is the fact that this same poll shows that Texas Governor Greg Abbott, who is also up for re-election this year, has a nineteen point lead over his Democratic challenger, a strong indication that he and the other state-level officials who will be on the ballot in November, all of whom are Republican, will coast to an easy win and a second term in office. For whatever reason, though, those numbers are not translating over into Cruz's race against O'Rourke and that, even if he manages to pull out a win in November, it's going to be by a far narrower margin than those of his fellow Texas Republicans. This can especially be seen in the RealClearPolitics averages for these respective races. In the Governor's race, Abbott (49.5%) leads Democratic nominee Lupe Valdez (35.8%) by an average of 13.7 points. In the Senate race, meanwhile, Cruz (46.9%) leads O'Rourke (40.7%) by an average 6.2 points. If nothing else, this shows that many of the people who intend to vote for Abbott and other Republicans running for statewide office are inclined to cross over the aisle and vote for O'Rourke for Senate. Right now, that number isn't nearly high enough to put O'Rourke inside the margin of error in the polling average, but it could very easily get to that point if Cruz is unable to win back the support of the Republican-leaning voters who seem to be gravitating toward his Democratic opponent.
One other interesting data point in this most recent poll is what it tells us about the President's popularity and job approval in what is traditionally seen as a solidly red state. Among registered voters, the poll shows that 47% of respondents approve of the President's job performance while 45% disapprove. Among all adults, though, 46% disapprove of the job the President is doing while 43% approve. This is something of a remarkable change given the fact that Trump won the Lone Star State by more than 800,000 votes and nine percentage points in November 2016. While his numbers in Texas are better than they are nationwide, this is still a fairly significant change in a state that was a relatively easy win for Republicans just two years ago.
All this being said, I'm still not willing to say that Cruz is vulnerable or that O'Rourke is a real contender who could pull off a surprise win over a candidate that, by all accounts, ought to win easily. In part, this is due to the fact that even the polls that have shown O'Rourke closer than expected in a head-to-head match against Cruz, those same polls also show that Cruz is still far enough ahead to suggest that he's likely to pull off a win in November. Additionally, there's the fact that this is Texas, that on a statewide level Texas is a very Republican state, and that there is no reason to believe that will change any time soon. No Democratic has won the state in a Presidential election since Jimmy Carter won the state by just over one million votes in 1976. On the Senate side,  Ted Cruz's seat has been in Republican hands since Kay Bailey Hutchinson won the seat to succeed Lloyd Bentsen in 1993 and John Cornyn's seat has been in Republican hands since John Tower won a Special Election to succeed Lyndon Johnson in 1961. (Source) Additionally, the state has had a succession of Republican Governors since George W. Bush defeated Ann Richards in 1994 and Republican Lt. Governors since Rick Perry was elected to that position in 1998. While there has been much talk about the state turning "purple" at some point due to the influx of Latino voters, there hasn't been enough evidence of that in the election results to believe that it is going to happen this year, or any time in the foreseeable future. Perhaps this will be the year that the dam breaks, and Beto O'Rourke manages to unseat a Republican who is obviously not entirely popular even among his fellow Texas Republicans, but we're going to need to see a lot more evidence before I'll believe that.