Donald Trump Invites Russia To Commit Espionage To Help His Presidential Campaign
Donald Trump suggests Russia engage in espionage to help his Presidential campaign.0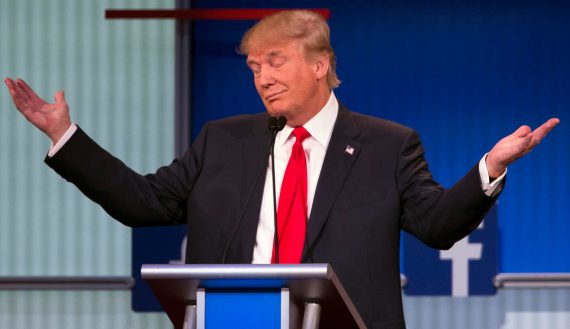 At a news conference today, Donald Trump essentially called on Russia to commit espionage to help his Presidential campaign, although his campaign moved fairly quickly after he spoke to try to backtrack from his initial comments:
DORAL, Fla. — Donald J. Trump said Wednesday that he hoped Russia had hacked Hillary Clinton's email, essentially encouraging an adversarial foreign power to cyberspy on a secretary of state's correspondence.

"Russia, if you're listening, I hope you're able to find the 30,000 emails that are missing," Mr. Trump said, staring directly into the cameras during a news conference. "I think you will probably be rewarded mightily by our press."

Mr. Trump's call was an extraordinary moment at a time when Russia is being accused of meddling in the United States' presidential election. His comments came amid questions about the hacking of the Democratic National Committee's computer servers, which American intelligence agencies have told the White House they have "high confidence" was the work of the Russian government.

Later in the news conference, when asked if he was really urging a foreign nation to hack into the private email server of Mrs. Clinton, or at least interfere in the nation's elections, he dismissed the question. "That's up to the president," Mr. Trump said, before finally saying "be quiet" to the female questioner. "Let the president talk to them."

The Clinton campaign immediately accused Mr. Trump of both encouraging Russian espionage against the United States and meddling in domestic politics.

"This has to be the first time that a major presidential candidate has actively encouraged a foreign power to conduct espionage against his political opponent," said Jake Sullivan, Mrs. Clinton's chief foreign policy adviser. "This has gone from being a matter of curiosity, and a matter of politics, to being a national security issue."

And a spokesman for Speaker Paul D. Ryan, a Republican, responded to Mr. Trump's remarks by criticizing Russia's behavior.

"Russia is a global menace led by a devious thug," said Brendan Buck, the spokesman. "Putin should stay out of this election."

Mr. Trump has largely dismissed assertions that Russia was behind the Democratic committee breach as conspiracy theories — a view he reiterated again when he said the hack was "probably not Russia."

But at one of his Florida golf courses, as the third day of theDemocratic National Convention was set to begin in Philadelphia, the Republican presidential nominee refused to unequivocally call on Vladimir V. Putin, Russia's president, to stay out of the election.

"I'm not going to tell Putin what to do," Mr. Trump said. "Why should I tell Putin what to do?"

He added that if Russia, or any foreign government, was, in fact, behind the hack, it simply showed just how little respect other nations have for the current administration.

"President Trump would be so much better for U.S.-Russian relations" than a President Clinton, Mr. Trump said. "I don't think he respects Clinton."

In a series of Twitter messages, Jason Miller, a campaign spokesman, tried to clarify Mr. Trump's comments.

"To be clear, Mr. Trump did not call on, or invite, Russia or anyone else to hack Hillary Clinton's emails today," Mr. Miller wrote.

In a Twitter post of his own, Mr. Trump added: "If Russia or any other country or person has Hillary Clinton's 33,000 illegally deleted emails, perhaps they should share them with the FBI!
While Trump's campaign is trying to say otherwise, it seems fairly clear that he is asking a foreign power to commit cyber espionage, which itself is potentially an act of war and at the very least not the act of a friendly nation, in order to help his campaign. There is no other way to parse what Trump said in his initial comments, and the follow-on efforts of his campaign to change the subject would seem to make it clear that they realize that he made a mistake. On some level, I tend to think that this is another example of Trump playing with the media and with his opponents by making outrageous comments without regard to the consequences, but given his past comments about Vladimir Putin, in which he sometimes seems to be virtually begging for the Russian dictator to see him as a potential friend, one does have to wonder about Trump and his odd obsession with impressing Putin. There have been some suggestions that the reason for this is rooted in the fact that at least some of the financing for recent Trump real estate ventures has come from Russian banks and oligarchs, but there's been no proof of that claim and it's not clear how one would go about proving or disproving such a claim to begin with since it's likely to be hidden somewhere deep within the financing arrangements for the projects themselves, which is not something that would be included in Trump's personal tax forms even if he did make them public. In any case, the fact that Trump seems eager to please Putin is quite odd, and perhaps something that enterprising investigative reporters ought to be pursuing.
Given Donald Trump's long history of controversial statements just during the course of his Presidential campaign, it's almost come to the point where it's difficult to get worked up about yet another such comment on his part. This is especially true when the media uses the comment as yet another opportunity to bring up the question of whether or not Trump has 'gone too far' this time and whether he will end up paying a price for his comments in the polls. As we know from the race for the Republican nomination, there really doesn't seem to be anything that Trump can say that will get him in trouble with his supporters. The answer to that question is, quite obviously, an emphatic no. Whether it's been disparaging comments about Mexicans and Muslims, mocking disabled people, attacking women like Megyn Kelly and Carly Fiorina in the most crass and demeaning manner, encouraging his supporters to engage in violenceagainst supporters, or demonstrating utter disdain for the Rule of Law and Freedom of the Press, virtually nothing that Trump has said that has been seemingly outrageous or controversial has done much to diminish his rising star, and it seems unlikely that this will be the straw that breaks the camel's back, at least among the Trump true believers. What impact it will have with the rest of the electorate is something we'll have to wait until we get more polling to try to figure out.