Donald Trump Says He Might Sue Ted Cruz Over Citizenship
Donald Trump says he might sue Ted Cruz over his citizenship if Cruz continues attacking him.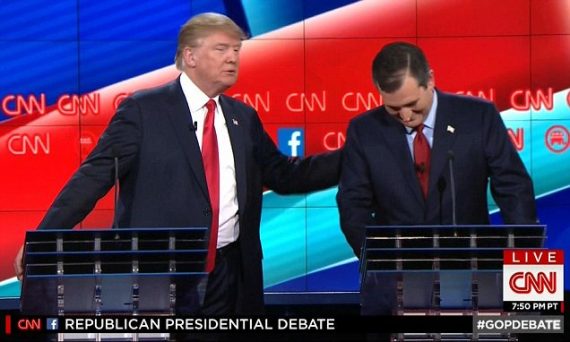 Donald Trump is threatening to sue Ted Cruz over his eligibility to serve as President of the United States:
Donald Trump on Friday threatened to sue Ted Cruz for "not being a natural born citizen" if the Texas senator "doesn't clean up his act" and stop running negative ads against him.
"If @TedCruz doesn't clean up his act, stop cheating, & doing negative ads, I have standing to sue him for not being a natural born citizen," he tweeted.

Trump has previously argued that if Cruz won the Republican nomination, Democrats would argue that the Canada-born Texas senator was ineligible for the presidency. Last month, Trump asked a rally if he should sue Cruz "just for fun" over the issue.

Earlier Friday, Trump questioned the sincerity of Cruz's faith, accusing his opponent of being "so dishonest."

"How can Ted Cruz be an Evangelical Christian when he lies so much and is so dishonest?" the Republican front-runner tweeted

Trump also had called Cruz's honesty into question in a tweet Thursday night.

"Lying Cruz put out a statement, 'Trump & Rubio are w/Obama on gay marriage.' Cruz is the worst liar, crazy or very dishonest. Perhaps all 3?" Trump said.

"There is more than a little irony in Donald accusing anyone of being nasty given the amazing torrent of insults and obscenities and vulgarities that come out of his mouth," Cruz told reporters in Greenville, South Carolina. "Being attacked by Donald, it is always colorful. I will give him this: he's not boring."

Cruz communication director Rick Tyler said Trump was having a "Trumpertantrum," a line the Texas senator has used in recent weeks.

"He needs to go to the time-out chair and think about his choices. That's what you would do with any 3-year old having a Trumpertantrum," Tyler said.

Trump and Cruz are in a tight race in South Carolina heading into the state's primary later this month. Evangelicals are a key voting bloc in the Bible Belt state and Trump is leading with white evangelicals in the state, according to an NBC/WSJ/Marist poll last month.

But to keep Cruz, a Southern Baptist, from faring well, Trump has increasingly portrayed Cruz as fundamentally dishonest.
This isn't the first time that Donald Trump has delved into the issue of Ted Cruz's status as a "natural born citizen," of course. He first brought the issue up back in December when Cruz began to threaten him in Iowa and, at least as measured by the polls, it seemed as though the attack was working to increase the doubts of voters in the Hawkeye State regarding Cruz to the point where Cruz's rise in the polls was stopped and reversed. Ultimately, of course, Cruz ended up winning the Iowa Caucuses but it may be that the Trump campaign's theory is that the relatively unrepresentative nature of the caucuses may have served to undercut the impact of the attacks on Cruz while giving greater weight to his campaign's ability to organize relatively small groups of evangelicals and other voters to get to the caucuses.  Whether that works or not is something that should be reflected at least somewhat in the polls in the coming days. Additionally, to the extent that it is tied to Trump's complaint that Cruz is lying about him and other candidates in his ads and stump speeches, it is obviously part of a strategy to cause evangelical and other conservative voters in South Carolina to doubt Cruz's trustworthiness, a strategy that several other candidates are engaging in as well. For now at least, the appears to be to try to injure Ted Cruz sufficiently that his organization outside the February primary states becomes less relevant.
Trump's threat isn't the only news on the Cruz eligibility front. In the past two weeks there have been lawsuits filed by individuals in both Alabama and Texas alleging that Cruz must be removed from the ballot because he is not a "natural born citizen." These lawsuits are similar to those filed against President Obama in advance of the 2008 and 2012 elections, and like those lawsuits, the likelihood is that these suits will be dismissed for lack of standing before a court even gets to the merits of the matter. Even Donald Trump, a candidate in the race for the Republican nomination running against Cruz, would not have standing to maintain a lawsuit because he cannot demonstrate a discreet injury unique to himself from having Cruz on the ballot. Indeed, it's worth nothing that the Constitution says that only a natural-born citizen may serve as President, it does not say that someone who isn't a natural-born citizen can't run for President. In any case, as I have noted before, and as several legal scholars have convincingly argued, there is no question that Cruz is a 'natural-born citizen' under the Constitution and the law that was applicable at the time he was born. Arguing otherwise is a waste of time.