The 'Birther' Attacks On Ted Cruz Appear To Be Having An Impact In Iowa
The attacks on Ted Cruz's eligibility to be President have no legal merit, but they appear to be having an impact with at least some Iowa voters.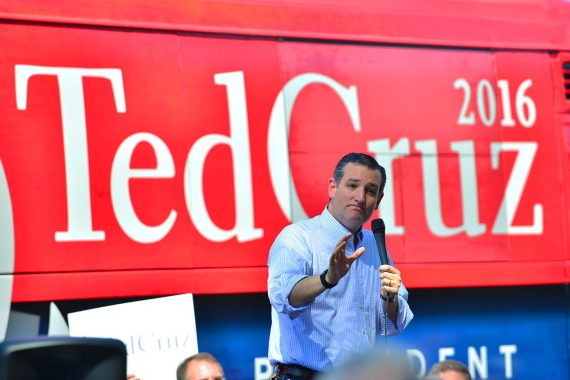 I noted yesterday that Ted Cruz seems to have peaked in Iowa based on the polls that have been released since the campaign resumed from the holiday break at the beginning of the month. That fact was brought home again today with the release of a Des Moines Register poll that showed that, while Cruz was still leading in the Hawkeye State his numbers had fallen six points in the month since the last DMR poll in early December. With that poll, Cruz's lead in the RealClearPolitics poll average is now down to half a point over Donald Trump, who saw his number in the poll tick poll while Marco Rubio and Ben Carson both also gained some ground even though they remained far behind in third and fourth place respectively. As Bloomberg's Joshua Green notes, at least part of the reason for this rapid change in Cruz's fortune seems to be the fact the 'birther' attacks on Cruz that began shortly after the New Year when Trump began raising questions about the issue are working:
Donald Trump has been needling his main rival for the Republican presidential nomination, Ted Cruz, about his Canadian origins, suggesting this disqualifies him from the presidency. Many legal scholars disagree (though not all of them do). But the "birther" attack clearly bothers Cruz, and now he's striking back.

"It is more than a little strange to see Donald relying on as authoritative a liberal, left-wing, judicial activist Harvard law professor who is a huge Hillary supporter," he said in New Hampshire Tuesday, apparently referencing Harvard Law professor (and Democrat) Laurence Tribe. "It starts to make you think, 'Gosh, why are some of Hillary's strongest supporters backing Donald Trump?'"

Why has Cruz switched from lavishly praising Trump to attacking him? It may be because the birther charge is having an effect on the ground in Iowa.

In the latest Bloomberg Politics/Des Moines Register Iowa Poll of Republicans, which shows Cruz narrowly leading Trump, 15 percent of respondents say they are "bothered" that Cruz was born in Canada.

"Fifteen percent in Iowa, when you have this many candidates, if that's part of what's taking people to Trump, it's not nothing," said J. Ann Selzer of Selzer & Co., which conducted the poll of 500 likely Republican caucusgoers in Iowa between Jan. 7-10. It has a margin of error of plus or minus 4.4 percentage points.

Concerns over Cruz's Canadian birthplace are especially strong among Trump supporters, 32 percent of whom report being bothered by it. "This is primarily the Trump-Cruz battleground [in Iowa]," says Selzer, "and the people it bothers are Trump people more than anybody else."

Cruz's support has fallen by 6 points since the last Bloomberg Politics/Des Moines Register poll a month ago, while Trump's has risen by 1 point. But it's impossible to measure whether Trump's birther charge eroded Cruz's support because respondents weren't asked about it in the last poll—it wasn't an issue until Trump made it one. "You can't know for sure that it's a factor," says Selzer. "But you can't rule it out either."

At the very least, the question Trump has raised could make it harder for Cruz to lure away Trump's supporters.
Since the birther question wasn't asked in previous polling, it's hard to say whether that is the reason, or even a significant reason behind Cruz's decline in the polls, and it's always important to remember not to fall into the "correlation equals causation" trap when examining news items and the impact they have on the polls like this. Nonetheless, the fact that Cruz's decline in Iowa seems to have come on suddenly, when combined with the fact that this issue about the impact of his Canadian birth suggests that it might have had at least some impact on the Senator's campaign. At the very least, this poll would seem to establish that the Senator's eligibility to be President, which seems to me to be easily established under the relevant law, is something that at least fifteen percent of the Iowa Republican electorate has concerns about. While that's hardly a majority, it's also a fairly significant amount of the electorate in a race where the margins between the candidates have been, and will likely continue to be, quite close.
Given this it becomes easy to understand why candidates such as Rand Paul, Carly Fiorina, Mike Huckabee, and Rick Santorum have joined Trump in saying that Cruz's Canadian birth raises questions that he needs to get resolved, and why other Republicans such as John McCain and Republican National Committee Chairman Reince Priebus, who are part of the Republican 'establishment' that Cruz has repeatedly attacked during his time in the Senate, are saying essentially the same thing. To be blunt about it, there is a perception that the 'birther' attack on Cruz is working, or at least that it is raising sufficient doubt in the minds of at least some Iowa voters to blunt his rise in the polls. Because of that, many of Cruz's opponents have decided that it's worthwhile to join in with Trump in his rather idiotic suggestion that nominating Cruz without first getting the question of his eligibility resolved in Court would cause problems for the party down the line. It's idiotic, it's somewhat distasteful, but it's also politics, and candidates have a habit of seizing on arguments that appear to be working. Add into this the fact that Cruz has a reputation for not being entirely well-liked by his fellow Republicans, something demonstrated by the fact that nobody is jumping to his defense the way they did when similar questions were raised about John McCain's eligibility during the 2008 campaign, and it's easy to see what's going on here. Ultimately, it will be up to the voters of Iowa to decide whether or not this is a real issue or not, but as long as the candidates think it's impacting how the voters perceive Cruz they are going to continue bringing it up.