Has Ted Cruz Already Peaked In Iowa?
There are signs that Ted Cruz's rise in the Hawkeye State will be short-lived.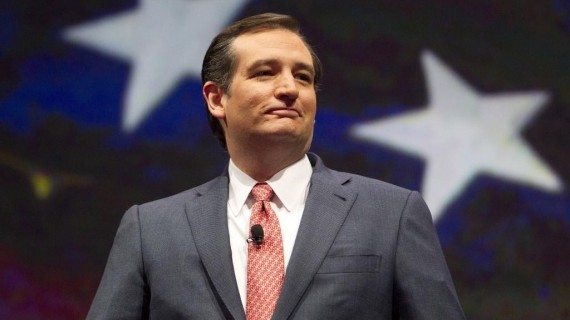 Heading into the holidays last month, the big news in the Republican race appeared to be the fact that Texas Senator Ted Cruz was proving to be a serious challenger to Donald Trump in the race for the Republican nomination. At that point, he had pulled into second place in the national polling thanks in no small part to the fact that Ben Carson's poll numbers began a dive in early November from which that campaign has not yet recovered, and which seems unlikely to reverse itself. Cruz had also began a slow up-tick in South Carolina which can still be seen in the RealClearPolitics chart of the race since there has yet to be any new polling in the Palmetto State since the start of the year. Cruz's rise also wasn't quite so obvious in New Hampshire, where he was fighting for space with Marco Rubio, Chris Christie, and others as 2015 drew to a close. In Iowa, though, it seemed as though, the Texas Senator had established something of a beachhead that, if it held through January, would guarantee that he'd be a factor in the race going forward. By mid-December shortly before essentially shut down for the holidays, for example, Cruz was leading in Hawkeye State polls by the  Des Moines Register, Fox News, and CBS News and running a close second to Trump in a Quinnipiac poll. A Gravis poll at the end of the year, meanwhile, showed Trump and Cruz tied in the state, while a PPP poll had Trump with a modest lead. All of this meant that, by the end of the year, Cruz effectively had a modest four point lead in the RealClearPolitics polling average in Iowa and a slightly smaller average lead according the Pollster.
Just twelve days into the new year, there are signs that Cruz may have peaked in Iowa, or at least that the recent attacks on him from several corners are having an impact that may or may not last through to the caucuses on February 1st. Consider the polls that have been released since the start of the year as recognized by RealClearPolitics:
All of this has changed the race in the Hawkeye State significantly in the short period of time, with Trump and Cruz tied in the poll average, and creating this rather notable trend line for Cruz, whose numbers are represented by the black line: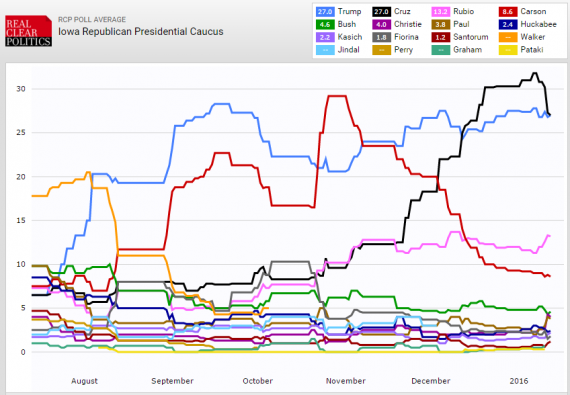 To be fair, it may be premature to call what we're seeing here a trend. Five polls that show results that are still largely within the margin of error don't necessarily indicate much of anything. At the same time, though, it seems clear that the resumption of campaigning in the wake of the holidays has had an impact on Cruz's campaign in the Hawkeye State at least in the short time. The most notable news item over the past week regarding Cruz, of course, has been all of the speculation about his birth in Canada and the question of whether or not that impacts his legal eligibility to serve as President of the United States. As I've made clear in the past, it seems clear to me that that the law on this issue, though untested in Court, is clear enough that Cruz's eligibility should not be a real question. Nonetheless, led by Donald Trump, and encouraged by the likes of John McCain, Rand Paul, Carly Fiorina, and Republican National Committee Chairman Reince Priebus, all of whom have said in one sense or another that Cruz's status is a question that they don't know they answer to, the question has been one that has distracted Cruz's until-now well-disciplined campaign, which arguably was Trump's strategy all along. Additionally, Cruz continues his back and forth battle with Florida Senator Marco Rubio over issues of immigration reform and national security, a fight that has resulted in Cruz being caught in several seemingly contradictory statements that he made several years ago and positions he is taking today. By way of comparison to the well-honed operation that had been the hallmark of Cruz's Iowa campaign until now, the past week has been a bumpy ride for Cruz in the state that will host the first contest of 2016 and, if this trend continues, it could pose problems for him going forward.
There's still time for Cruz to turn this around, of course, but the early events of 2016 seem to suggest that the battle in Iowa is far from over and that Senator Cruz may end up suffering the fate of having peaked too earl. This seems especially true given the fact that, throughout the time that Cruz was leading in Iowa, Donald Trump's numbers barely moved, and the fact that Cruz's declined seems to be accompanied by what clearly seems to be a slight up-turn in Marco Rubio's numbers. If that's the case, then it's going to be quite an interesting January.