Donald Trump Suggests Ted Cruz's Canadian Birth Could Be A Problem For The GOP
In response to questions from reporters, Donald Trump suggested that Ted Cruz's Canadian birth could pose problems for the GOP if Cruz won the party's nomination.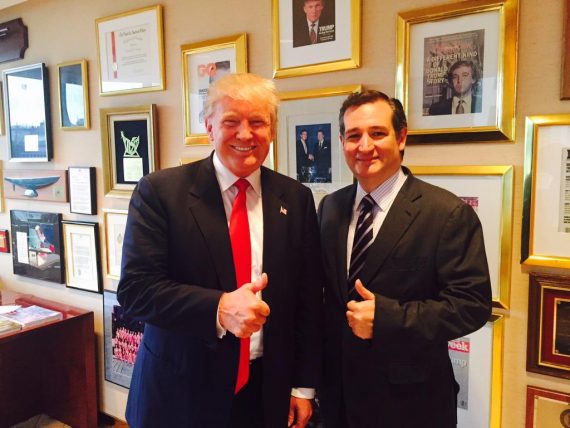 Donald Trump said last night that the fact that Ted Cruz was born in Canada could be an issue if the Texas Senator ends up being the Republican nominee:
LOWELL, Mass. — Donald Trump said in an interview that rival Ted Cruz's Canadian birthplace was a "very precarious" issue that could make the senator from Texas vulnerable if he became the Republican presidential nominee.

"Republicans are going to have to ask themselves the question: 'Do we want a candidate who could be tied up in court for two years?' That'd be a big problem," Trump said when asked about the topic. "It'd be a very precarious one for Republicans because he'd be running and the courts may take a long time to make a decision. You don't want to be running and have that kind of thing over your head."

Trump added: "I'd hate to see something like that get in his way. But a lot of people are talking about it and I know that even some states are looking at it very strongly, the fact that he was born in Canada and he has had a double passport."

Cruz responded to Trump's comments on Twitter later Tuesday evening by referring to an iconic episode of the sitcom "Happy Days," in which the character Fonzie jumps over a shark on water skis. The image has become a symbol of something shopworn and overdone.

Trump's remarks — part of a backstage interview before a rally here Monday night — come as Cruz is rising as a serious threat in the presidential campaign, especially in Iowa, where some polls have shown Cruz eclipsing the billionaire mogul. The two have had a cordial and at times even friendly relationship over the past year, but they are competing intensely for the support of conservatives as the Feb. 1 Iowa caucuses draw near.

There have been recent signs of tension. At a rally last month in Iowa, Trump told voters of Cruz: "Just remember this — you've got to remember, in all fairness, to the best of my knowledge, not too many evangelicals come out of Cuba, okay? Just remember that . . . just remember."

In the interview with The Washington Post, Trump said he was providing a candid assessment of his leading opponent rather than initiating a personal attack and reviving the "birther" debate that he once led against President Obama. He repeatedly said he is hearing chatter on the topic among voices on the right. "People are bringing it up," he said.

Trump has veered from shrugging off the issue to raising more questions himself. In an interview with ABC News in September, Trump said he did not think Cruz's birthplace was an issue. "I hear it was checked out by every attorney and every which way and I understand Ted is in fine shape," he said.

But months earlier in Iowa, Trump told reporters that it could be a "difficult problem."

"He's a friend of mine. I have great respect for him. . . . certainly it's a stumbling block, and he's going to have to have it solved before he goes too far," Trump said, according to the Dallas Morning News.

Speaking late Tuesday in Sioux Center, Iowa, Cruz laughed off questions about Trump's comment, saying he would let his campaign's "Happy Days" tweet speak for itself.
To be fair to Trump, it's worth noting that he did not bring up the issue of Cruz's birth himself, but instead was responding to questions asked by reporters on the campaign trail regarding the matter, nor has be brought up the issue of either Cruz's Canadian birth or the campaign he led during the 2012 election cycle regarding specious claims that the President was not born in the United States during the course of his campaign, Indeed, when he has been asked about the latter issue on over the course of the past six months Trump has dismissed questions about the President's birth by essentially saying he's not talking about that any more. If Trump starts raising the issue of Cruz's birth in his speeches, that would mark a decided turn from the way he has handled Cruz up until now. Indeed, even if Trump chooses to start taking on Cruz directly the way he has run his campaign this time around suggests he's likely to stay away from the birther nonsense.
As for the issue of Cruz's Canadian birth and his eligibility to serve as President, as I noted in March when the issue came up shortly after Cruz officially entered the race, it is clear that Cruz does qualify as a "natural born citizen" and is therefore eligible to serve as President of the United States. While it is true that Cruz was born in Canada, his mother was an American citizen at the time he was born and had lived in the United States for at least fourteen years after her fourteenth birthday to giving birth to her son, a fact which is relevant since it was one of the requirements under the relevant law for her to be able to pass on American citizenship to her son notwithstanding the fact that he was born abroad. This makes him an American citizen from birth, or a "natural born citizen" as the Constitutional language goes, and therefore fully eligible to serve as President.
This analysis is supported by a piece earlier this year in the Harvard Law Review by Neal Kaytal and Paul Clement, two of the best appellate litigators in the country, that answers this question quite definitively and makes it clear that Cruz is indeed a "natural born citizen" as that term is used in Article II of the Constitution:II
While some constitutional issues are truly difficult, with framing-era sources either nonexistent or contradictory, here, the relevant materials clearly indicate that a "natural born Citizen" means a citizen from birth with no need to go through naturalization proceedings. The Supreme Court has long recognized that two particularly useful sources in understanding constitutional terms are British common law. Both confirm that the original meaning of the phrase "natural born Citizen" includes persons born abroad who are citizens from birth based on the citizenship of a parent.

As to the British practice, laws in force in the 1700s recognized that children born outside of the British Empire to subjects of the Crown were subjects themselves and explicitly used "natural born" to encompass such children. These statutes provided that children born abroad to subjects of the British Empire were "natural-born Subjects . . . to all Intents, Constructions, and Purposes whatsoever." The Framers, of course, would have been intimately familiar with these statutes and the way they used terms like "natural born," since the statutes were binding law in the colonies before the Revolutionary War. They were also well documented in Blackstone'sCommentaries, a text widely circulated and read by the Framers and routinely invoked in interpreting the Constitution.

No doubt informed by this longstanding tradition, just three years after the drafting of the Constitution, the First Congress established that children born abroad to U.S. citizens were U.S. citizens at birth, and explicitly recognized that such children were "natural born Citizens." The Naturalization Act of 1790 provided that "the children of citizens of the United States, that may be born beyond sea, or out of the limits of the United States, shall be considered as natural born citizens: Provided, That the right of citizenship shall not descend to persons whose fathers have never been resident in the United States . . . ." The actions and understandings of the First Congress are particularly persuasive because so many of the Framers of the Constitution were also members of the First Congress. That is particularly true in this instance, as eight of the eleven members of the committee that proposed the natural born eligibility requirement to the Convention served in the First Congress and none objected to a definition of "natural born Citizen" that included persons born abroad to citizen parents.

(…)

The original meaning of "natural born Citizen" also comports with what we know of the Framers' purpose in including this language in the Constitution. The phrase first appeared in the draft Constitution shortly after George Washington received a letter from John Jay, the future first Chief Justice of the United States, suggesting:

[W]hether it would not be wise & seasonable to provide a . . . strong check to the admission of Foreigners into the administration of our national Government; and to declare expressly that the Command in chief of the american [sic] army shall not be given to, nor devolve on, any but a natural born Citizen.

As recounted by Justice Joseph Story in his famous Commentaries on the Constitution, the purpose of the natural born Citizen clause was thus to "cut[] off all chances for ambitious foreigners, who might otherwise be intriguing for the office; and interpose[] a barrier against those corrupt interferences of foreign governments in executive elections." The Framers did not fear such machinations from those who were U.S. citizens from birth just because of the happenstance of a foreign birthplace. Indeed, John Jay's own children were born abroad while he served on diplomatic assignments, and it would be absurd to conclude that Jay proposed to exclude his own children, as foreigners of dubious loyalty, from presidential eligibility.
As with President Obama, the legal and factual issues clearly establish that there are no legitimate questions about Cruz's eligibility. The interesting question will be whether Trump makes an issue out of this beyond the questions he's already been asked.