Donald Trump Suggests Marco Rubio May Not Be Eligible To Be President
Donald Trump is trolling the depths of the Internet's conspiracy dungeons once again. This time to raise the largely absurd argument that Marco Rubio may not be eligible to serve as President.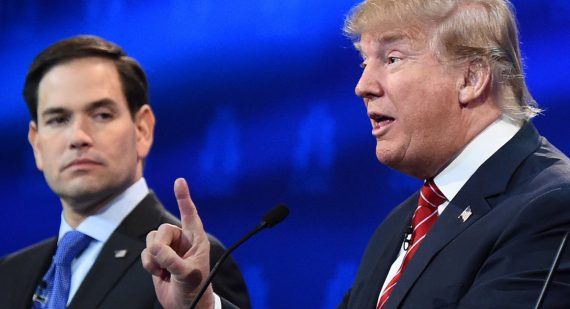 Nearly two months after he questioned Ted Cruz's eligibility to be President, Donald Trump is now doing the same thing to Marco Rubio:
Donald Trump is now raising questions about Marco Rubio's ability to legally run for president.

On Saturday, Trump retweeted a tweet that suggested the Florida senator was not a citizen, George Stephanopoulos asked him about it on ABC's "This Week" Sunday morning

Rubio was born in Florida on May 28, 1971. His parents had come to the United States from Cuba in 1950s. Trump retweeted a tweet on Saturday that suggested both Rubio and Texas Sen. Ted Cruz were ineligible to be president.

There is a lawsuit pending in Broward County, Florida, challenging the eligibility of both Cruz and Rubio — Cruz because of where he was born, Rubio because of where his parents were born.

"I think the lawyers have to determine that that — and not— it was a retweet, not so much with Marco. I'm not really that familiar with Marco's circumstances," Trump said Sunday morning.

"But then why retweet it?" Stephanopoulos asked.

"Because I'm not sure. I mean, let people make their own determination. I know Ted is being now — I think he's being sued by somebody having nothing to do with me, by the way," Trump said.

"You're really not sure that Marco Rubio is eligible to run for president? You're really not sure?" Stephanopoulos asked.

"I don't know. I really — I've never looked at it, George. I honestly have never looked at it. As somebody said, he's not. And I retweeted it. I have 14 million people between Twitter and Facebook and Instagram and I retweet things, and we start dialogue and it's very interesting," Trump said.
Shortly after the New Year, of course, Donald Trump hinted that Ted Cruz might not be legally eligible to run for President due to the fact that he was born in Canada. At the time, Trump claimed he was merely trying to be helpful in seeking to avoid a crisis in which Cruz became the nominee and was subsequently the subject of lawsuits regarding his eligibility. In reality, of course, the attacks coincide with a point at which Cruz was rising in the polls in both Iowa and nationally. Trump's attacks on Cruz's birth, which were parallel to other attacks on Cruz coming from Trump and his supporters were obviously calculated to raise doubts about Cruz in the minds of voters and, to a large degree, those attacks worked as we saw Cruz's poll numbers decline while Trump's rose yet again despite his descent into a new form of birtherism. More recently, as the Trump and Cruz campaigns were involved in the back and forth of the battle that took place between the New Hampshire and South Carolina primaries, Trump suggested that he might sue Cruz over his citizenship on his own. Trump's threats about a lawsuit, of course, are basically empty threats but the back-and-forth between Trump and Cruz on the birth issue, along with the media attention it garnered have resulted in a series of lawsuits across the country challenging Cruz's eligibility to be on the Presidential ballot that remain outstanding at this point. In any case, those lawsuits will likely go nowhere since the parties bringing them have no standing and, even if the Court does get to the merits in any of these cases, it's clear that Cruz is in fact a 'natural born citizen' as that term is used in the Constitution.
In Rubio's case, the arguments against his citizenship are, if anything, more meritless than those that were directed at President Obama and Senator Cruz. In Obama's case, of course, the argument was largely based on the false assertion that the President was not born in Hawaii as all of the evidence clearly demonstrated, but was in fact born in Kenya, and that he was therefore not eligible to claim citizenship from birth due to the fact that, although his mother was an American citizen, she had not spent enough of her life as a resident of the United States as required by the citizenship statute in place at the time. All of this, of course, was thoroughly discredited in April 2011 when the White House released a certified copy of the President's Hawaiian birth certificate. In Cruz's case, the claim was the Cruz was not eligible to be President because of his birth in Canada, but it is clear that Cruz became a citizen at birth due to the fact that his mother was a both a citizen of the United States and, although she lived in Canada at the time she gave birth to Senator Cruz, had been a resident of the United States for the time required under the law prior to his birth.
Marco Rubio, though, doesn't suffer from any of these problems. There is no question whatsoever that Marco Rubio was born on May 28, 1971 in Miami, Florida. Based on that fact alone, that made him a citizen at birth pursuant to both the relevant citizenship law in effect at the time and the provision of Section I of the Fourteenth Amendment which provides that all persons born in the territory of the United States are citizens from birth. The only exceptions are for those situations where the child, through its parents, are not "subject to the jurisdiction" of the United States, such as when someone in the U.S. on a diplomatic visa gives birth on U.S. soil, an exception that does not apply to Rubio. Therefore, the argument that he isn't a 'natural born citizen' would seem to be dead in the water.
As with all things related to the fringe conspiracy theories that inhabit the world in which birthers dwell, however, the argument doesn't stop there.
In Rubio's case, the claim that he is not a 'natural born citizen' relies upon a definition of that term given by a  Swiss legal philosopher named Emmerich de Vatel. Under this definition, in order for a child to be a 'natural born citizen,' both parents must have been citizens at the time of the child's birth. Since Rubio's parents were, at the time of his birth, still simply legal resident aliens who had not yet attained citizenship, this argument claims, Rubio cannot be a 'natural born citizen.' Moreover, it's worth noting that, under this de Vatel definition, and not counting Obama, the United States has had four Presidents since 1820 who had at least one parent who was not an American citizen at the time of their birth — Andrew Jackson, James Buchanan, Chester Alan Arthur, and Herbert Hoover. At no time did anyone make the argument that any of these men were not 'natural born citizens.'
An argument that bases itself on Vatel's definition of 'natural born citizen', though, is fatally flawed because there is no evidence at all that it served as the basis for the eligibility provision in Article II of the Constitution. For one thing, the edition of the work in which de Vatel developed this definition of the phrase wasn't translated into English and published outside of Switzerland until ten years after the Constitution was drafted. More importantly, there is no indication in any of the notes of the debates from the 1787 Constitutional Convention kept by James Madison, or the less detailed notes kept by other participants in the debate, that there was ever any mention made of Vatel's work during the course of the debate. Instead of the work of a Swiss philosopher, it's obvious from contemporaneous notes that the Founders were most influenced by English Common Law, which recognized citizenship at birth for children born within the territory of England, subject to exceptions that are not relevant to Rubio's case. Additionally, the very first law dealing with citizenship passed by the First Congress, which include many of the same men who had helped draft the Constitution, provided that a child could claim citizenship if only one of their parents was a citizen at birth. With the exception of the children of slaves and Native Americans, the law at the time also provided that children born in the United States were considered citizens at birth.  Given this, it defies logic to believe that the Founders had some other definition of citizenship in mind when they used the term 'natural born citizen' in the Constitution. Either you are a citizen from the time you are born or you become a citizen through the process of naturalization. There is no other class of citizenship, and no special class of citizenship granted by the law to people who happen to have  two parents who are U.S. citizens as opposed to just one.  Obviously, the term "natural born citizen" as it is used in the Constitution was meant to refer to the first kind of citizen, the person who is a citizen from the time of their birth, and that since Rubio was a citizen merely because he was born in the United States, it's obvious that he's eligible to serve as President.
As with the attacks on Cruz, it's obvious that Trump has ulterior motives in unleashing this suggestion about Rubio at this time. With the winnowing process in the race for the GOP nomination nearly complete, we are now at the point where a Trump-Rubio battle for votes is more and more likely. Raising this issue now has the same purpose as raising the argument about Cruz did back in January, to raise doubts about the candidate in the minds of voters in an effort to blunt his momentum in the polls. Whether it will work or not remains to be seen.