Republicans Clash At Sixth Debate, And The Trump-Cruz 'Bromance' Comes To An End
With less than three weeks to go before voting starts, the Republican candidates for President clashed in their most contentious debate so far.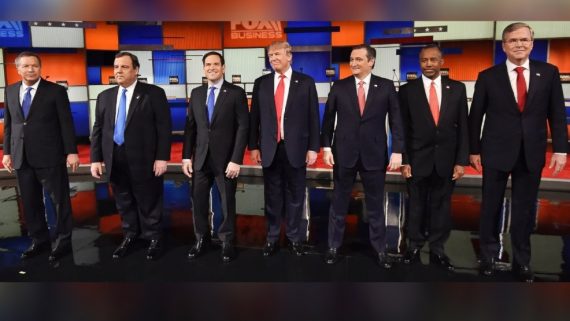 With less than a month to go until voting starts for the 2016 election cycle, and several candidates trying to break through in a race that has been dominated by Donald Trump for for the better part of six months, it was inevitable that the first of the last two Republican debates prior to the Iowa Caucuses would prove to be more contentious than any of the others we've seen so far. For candidates at the bottom of the field but still doing well enough to get on the main stage, such as Jeb Bush, Ben Carson, and John Kasich, this is essentially their last chance to make a case to voters in Iowa and New Hampshire in the hope that they'll perform strongly enough to be able to maintain a credible campaign going forward into South Carolina, Nevada and the early March primaries. Candidates such as Marco Rubio and Chris Christie, meanwhile, needed to push their campaigns forward so that they are seen as two of the alternatives to the current frontrunners, as well as to try to build support in states outside New Hampshire, which currently seems to be the only state where the two of them seem to be doing very well at the moment. Finally, the two men at the top of the field, Donald Trump and Ted Cruz, needed to avoid any serious errors while attempting open up a lead over the rest of the field that would make it less likely that any challengers would find catching up with them all the more difficult. In the end, what we got was a debate where all of these pressures and priorities combined to produce a debate where the candidates engaged with each other in far more vigorous way than they have to date:
NORTH CHARLESTON, S.C. — Donald J. Trump and Senator Ted Cruz of Texas sharply attacked each other on Thursday night over the Canadian-born Mr. Cruz's eligibility to be president and Mr. Trump's "New York values," shedding any semblance of cordiality as they dominated a Republican debate less than three weeks before the Iowa caucuses.

Their exchanges showcased the intense and unpredictable new phase of the race as polls tighten and 11 candidates jockey for political advantage — not only over issues like imposing tariffs on Chinese goods and fighting the Islamic State, but also over matters of character and integrity that drew some of the hardest punches of the race so far.

In many ways, it was the darkest debate of the campaign, as the Republicans tried to paint the grimmest possible portrait of an America in decline economically, despite rapid job growth, and militarily, though they praised service members. The ferocity onstage reflected the pressure in the race as it distills into a contest between the anti-establishment Mr. Trump and Mr. Cruz, followed by other candidates like Senator Marco Rubio of Florida and Gov. Chris Christie of New Jersey.

Mr. Rubio and Mr. Christie, along with Jeb Bush and John Kasich, are vying to emerge as the leading candidate of mainstream Republicans, yet they struggled to be heard on Thursday night.

Mr. Cruz, who has gained ground against Mr. Trump recently and is now virtually tied with him in the polls in Iowa, charged that Mr. Trump was turning desperate because his standing as front-runner had turned shaky.

After months as Mr. Trump's closest ally in the race, Mr. Cruz pointedly noted that Mr. Trump had dismissed questions in the fall about Mr. Cruz's constitutional eligibility given his birth to an American mother living in Calgary, Alberta.

"The Constitution hasn't changed, but the poll numbers have," Mr. Cruz said. "Donald is dismayed that his poll numbers are falling in Iowa." Mr. Cruz added that the law was on his side, noting that Senator John McCain, while born in the Panama Canal Zone, was eligible to run for president. By Mr. Trump's standard, Mr. Cruz asserted, Mr. Trump himself might not be eligible to run for president because his mother was born in Scotland.

"But I was born here — big difference," Mr. Trump said.

Mr. Cruz gave his most aggressive performance so far as he sought to protect the support he has built among social conservatives and evangelical Christians. He was relentless in trying to put Mr. Trump in his place, in part to appeal to establishment Republicans who are deeply uncomfortable with Mr. Trump's candidacy.

The debate turned from a reality show into a comedy as Mr. Trump mused that if he chose Mr. Cruz as his running mate, Democrats would sue to challenge Mr. Cruz's eligibility — as they would, he said, if Mr. Cruz won the presidential primary.

"If you become the nominee, who the hell knows if you can even serve in office?" Mr. Trump said.

Mr. Cruz, a pugnacious, polished debater as a Princeton undergraduate, gave no quarter.

I'm not going to take legal advice from Donald Trump," he said to laughter. And he offered to make Mr. Trump his running mate, so he could assume the presidency if a theoretical legal challenge against Mr. Cruz's eligibility were successful.

Mr. Rubio, seeing an opening to position himself above the spat, eventually interjected, mocking his rivals.

"I hate to interrupt this episode of 'Court TV,' " he said, drawing laughs and applause. He then sought to refocus the conversation on President Obama's shortcomings and what he said was a need to revive the country, safe terrain for Republican primary voters.

Neither Mr. Rubio, who spent most of the debate delivering rehearsed lines that seemed to come out of speeches, nor the other four Republicans on the debate stage left nearly as big an impression during the night as Mr. Trump and Mr. Cruz.

Mr. Cruz seemed more comfortably in command with his needling of Mr. Trump, who was booed frequently. But then he was asked to elaborate on his suggestion earlier in the week that Mr. Trump embodied "New York values."
While these exchanges between Trump and Cruz seemed to dominate the debate, and at the very least to signal that the months-long peace between the two candidates was officially over, there were times when other candidates had their moments:
Other candidates yearned to cut in. Several attacked Mr. Trump's recent comment to the New York Times editorial board that he would favor a 45 percent tariff on Chinese exports to the United States. Mr. Trump denied making the comment, though he had been recorded saying that he "would tax China on products coming in" and that "the tax should be 45 percent."

"This would be devastating for our economy," said Mr. Bush, a former governor of Florida. He added, "We need someone with a steady hand being president of the United States."

Mr. Trump shot back, "And we don't need a weak person being president of the United States — and that's what we would get with Jeb."

Mr. Bush — who had his best debate last month when he doggedly criticized Mr. Trump, but saw little bounce in his poll numbers in New Hampshire — took another pass at Mr. Trump when he urged him to "reconsider" his proposal for a temporary ban on Muslims entering the country.

But Mr. Trump refused. "I want security for this country, O.K.? I want security," he said. He denounced the shootings last month in San Bernardino, Calif., and said it was a "serious problem" that no one had reported suspicious activity by the Muslim couple under investigation for the killings.

(…)

Mr. Rubio also seized an opportunity to challenge Mr. Christie's conservative credentials on a host of issues important to party activists.

"I like Chris Christie, but we cannot afford to have a president of the United States that supports Common Core," he said, referring to the education standards. "We cannot afford to have a president of the United States that supports gun control."

Saying Mr. Christie had also contributed to Planned Parenthood and backed Justice Sonia Sotomayor's appointment to the Supreme Court, Mr. Rubio added: "All I'm saying is our next president has to be someone that undoes the damage Barack Obama has done to this country. It cannot be someone that agrees with his agenda."

Mr. Christie responded with ridicule, recalling that Mr. Rubio had repulsed an attack from Mr. Bush at an earlier debate by suggesting that Mr. Bush had been told to criticize him out of desperation.

Though Mr. Christie ridiculed senators as all talk, no accountability, he largely avoided responding with specific critiques of Mr. Rubio's views — though he recalled that Mr. Rubio had once lauded him as a "conservative reformer that New Jersey needed."

While Mr. Cruz and Mr. Rubio have turned their attention to their most immediate threats, Mr. Trump and Mr. Christie, they clashed after Mr. Cruz claimed that the immigration overhaul Mr. Rubio helped put together in 2013 had made it easier for Mr. Obama to bring Syrian refugees to America. Mr. Rubio accused Mr. Cruz of shifting to the right on immigration, saying Mr. Cruz had once supported increasing legal immigration levels. He also said that Mr. Cruz had reversed himself on crop supports because "it would help you in Iowa."

"That is not consistent conservatism," Mr. Rubio said. "That is political calculation."
Seemingly missing from the debate, and largely absent from any of the debate coverage this morning were Jeb Bush, Ben Carson, or John Kasich. In some sense, it was as if these three candidates were relegated to the largely forgettable, and totally unnecessary undercard debate that aired at 6pm last night rather than making it on the main stage. They participated in the debate, of course, but to a large degree it seems as though they have become the kind of afterthought that candidates nearing the end of their viability generally end up being before the inevitable end comes. Carson, of course, has been headed in that direction since he started declining rapidly in the polls in November, a trend that has only continued notwithstanding his recent efforts to reorganize his campaign operation. Kasich, meanwhile, has not made much of an impression outside of New Hampshire and seems to be fading there in the wake of the rise of Chris Christie. As for Bush, it's hard to completely discount someone who has the biggest campaign war chest of anyone in the Republican field if you include SuperPAC money, but as we've learned before money doesn't always guarantee success in politics and Bush has never caught fire. With so little time to go before voting starts, he needed to do something in this debate to turn his campaign around and, once again, it would appear that he failed.
If anything, this debate seems to have re-enforced the idea that the race for the Republican nomination has narrowed down to four people. At the top, of course, we have Donald Trump, who has consistently led in national polling since July, and most recently seems to have doubled his lead in an NBC News/Wall Street Journal poll released prior to the debate, as well as leading in polling in New Hampshire and South Carolina. Next, there's Ted Cruz, who had been leading the field in Iowa prior to the New Year but now seems to have peaked in the Hawkeye State as his poll numbers have declined in the wake of questions about his eligibility to serve as President and finds himself in a what amounts to a tie with Donald Trump with less than three weeks to go before the caucuses. After Cruz, there's Marco Rubio, who is in a solid third nationally as well as in Iowa, and a solid second in New Hampshire, and who seems to have done a good job defending himself and attacking Cruz at several points during the debate last night. Finally, the last spot in the top four could be filled by either Ohio Governor John Kasich or New Jersey Governor Chris Christie. Technically, I suppose, Kasich has a better claim to that position than Christie since he's doing better in the polls in New Hampshire at the moment, but last night's debate proved yet again that Christie is far better at fighting his way through a crowd of candidates and that arguably makes it more likely that he'll be the one in the top four when the smoke clears at the end of February. At the very least, it's clear that Christie did a far better job of making his case last night than Governor Kasich did, so I'd put my money on him.
With the race coming down to the wire, these final debates are taking on increasing importance for the campaigns. While you can't discount the importance of the on the ground campaigning that will be going on over the next three weeks, or the ground operations of the candidates that will be needed to get people to the polls, this debate and the one scheduled for January 28th will set impressions in the minds of voters that will have a huge impact going forward. For better or worse, the general consensus seems to be that Donald Trump had his best debate of the entire election cycle last night and its hard to disagree with that given the fact that Trump made few of the "mistakes" that we've seen from him in the past and that he seemed to score some major points against Ted Cruz at several points during the night. For his part, Cruz did well while responding to the inevitable questions about his eligibility to serve as President but not so well on his effort to "otherize" Trump by equating him with "New York values." Rubio, meanwhile, continued his recent history of being a strong debater but it's unclear if this will be enough for him to be able to get past Cruz to become the serious challenger to Trump going forward. Finally, as noted above, Chris Christie handed in a strong performance as well that at several points seemed to hearken back to the pugnacious Christie that made him nationally famous after his election victory in 2009. What impact all of this will have on the race going forward remains to be seen, but we should start to see that in the polls that are likely to be released starting early next week.
If you missed the debate you can watch the full video here, or you can just wait until January 28th when we do all of this all over again.