Elizabeth Warren Isn't Talking As Much About 'Medicare For All'
"Medicare For All" is the centerpiece of Elizabeth Warren's campaign for President, but she's not talking about it as much as she used to.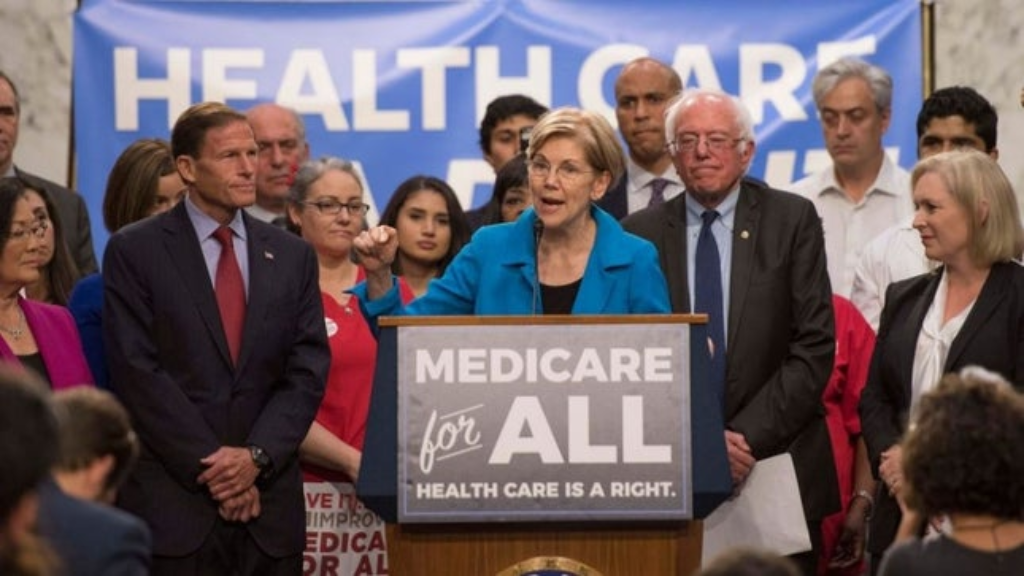 After months of making it the centerpiece of her campaign for President, Elizabeth Warren has interestingly gotten very quiet about her plan for 'Medicare for All,' which appears to be an indication that the idea has proven to be more of a liability than an asset:
In warm-up remarks introducing Senator Elizabeth Warren at campaign rallies, young volunteers often say they are supporting her because of her plan to transform the health care system through a single-payer "Medicare for all" program. It happened in Des Moines on Saturday and Oklahoma City last week, and in western Iowa cities like Clarinda and Council Bluffs on Sunday.

But Ms. Warren herself is barely speaking of the proposal. After months of attacks from other candidates, and questions and some blowback from both liberals and moderates, the most ambitious and expensive of Ms. Warren's many plans — and the one most likely to transform the lives of voters — is just a passing mention in her standard stump speech, rarely explored in depth unless a questioner brings it up.

"I expected her to talk more about the health care for all stuff, definitely," said Max Goldman, 53, who attended Ms. Warren's rally in Clarinda. Referring to her campaign, he added, "I think they know it's controversial."

Austin Thornton, a 32-year-old Iowan who works in film production, said he noticed Ms. Warren largely outsourced Medicare for all to another speaker. Mr. Thornton said it was a notable difference between her events and those he attended for Senator Bernie Sanders, who is vying with Ms. Warren for liberal voters in Iowa and elsewhere.

"Bernie, he's strong on Medicare for all, and she didn't really bring it up," Mr. Thornton said. "She was a little more scattered on it than I expected."

With five weeks left before the Iowa caucuses, Ms. Warren is tailoring her closing message in the state to focus on rooting out Washington corruption, a potentially resonant theme with a Senate impeachment trial of President Trump expected in January. In a speech in Boston on Tuesday, she reiterated her case against corruption and asked voters to "imagine" a post-Trump era; she did not delve into many policy specifics, and mentioned Medicare for all only once.

Her campaign aides insist that fighting corruption has always been the message, and Ms. Warren has long argued that, more than any individual proposal, her suite of plans is rooted in an overarching vision of changing how Washington works, including reforms in campaign finance and lobbying.

Yet this approach, which includes shorter opening remarks and more time for audience questions, has also allowed Ms. Warren to keep her own health care plan at arm's length at a time when she has been facing significant scrutiny. It is a clear indication that, in a tight multicandidate race in Iowa, Ms. Warren has not become fully comfortable with staking her candidacy on her plan for health care, even as many Democrats cite the issue as their top priority.

(…)

"I'm still with Bernie and we're still there on Medicare for all," Ms. Warren said in Council Bluffs. "I still think it's the right place."
But there are signs that her campaign is proactively seeking to calm fears about her health care proposal. Denise O'Brien, a rural community activist and prominent supporter of Ms. Warren's from Atlantic, Iowa, said she and other supporters have been coordinating with the campaign to hold Medicare for all "listening sessions" in her town.

Ms. O'Brien said that she will soon hold her third event, and that community members have had several questions, particularly since Ms. Warren was pressed during the Democratic debate in October. The typical running order of the sessions, she said, is that a doctor who supports Medicare for all explains the health care insurance system and its pitfalls, while a campaign staff member lays out Ms. Warren's position.

They also take questions, in an attempt to quell concerns.

"People don't like to hear 'free,'" Ms. O'Brien said. "And we kept getting questions, so that's why we're having more meetings."
This shift in strategy away from putting 'Medicare For All' front and center comes after her plan has come under increasing fire from fellow Democratic candidates as being too far afield and too unrealistic to be a viable platform. As I noted in November, there were signs after the October debate that Democratic voters were becoming skeptical of the idea, which stands at the center of both Warren's campaign and that of her fellow New England Senator Bernie Sanders, with many concerned about both the cost of the proposal and the impact it could have on the General Election. Specifically, many raised the question of how the idea would go over with working-class voters covered by employer-based plans that they are, on balance, quite satisfied with. Putting a plan in front of them that would mean losing that coverage for something new is, to say the least, a huge political risk. Additionally, as I've noted in the past, Warren's plan is both utopian and potentially unconstitutional at least with respect to the manner she claims she would fund it.
In response to these concerns, many of Warren's fellow candidates began to feel freer to criticize both Warren and Sanders for health insurance coverage plans that could prove to be political liabilities and which, realistically speaking, probably would not make it through Congress even if Democrats retake the Senate in November. Most prominent among these have been former Vice-President Biden, Minnesota Senator Amy Klobuchar, and former Mayor Pete Buttigieg.
What each of these candidates has in common, of course, is the fact that their health care plans are radically different from those proposed by Warren or Sanders. Biden, for example, is proposing a plan that would essentially preserve the core elements of the Affordable Care Act with legislative changes designed to fix issues that have become apparent since it was implemented. Buttigieg, meanwhile, has a plan that would keep much of the existing system in place, with changes to address known problems with the ACA, and also establish what he calls "Medicare for all who want it," which essentially amounts to the same kind of public option that was originally part of the ACA when it was being debated in Congress at the beginning of former President Obama's first term, That provision was removed from the bill when it proved to be too politically controversial, but has obviously not been forgotten. Klobuchar's plan also includes a public option and fixes to the PPACA. All three candidates have criticized Warren and Sanders and "Medicare For All," and it appears that the Warren campaign at least has reacted to this pushback by deemphasizing what was once a centerpiece of her campaign.