Federal Government Enters Third Partial Shutdown Of 2018
The government entered its third shutdown of the year with little sign of an immediate resolution.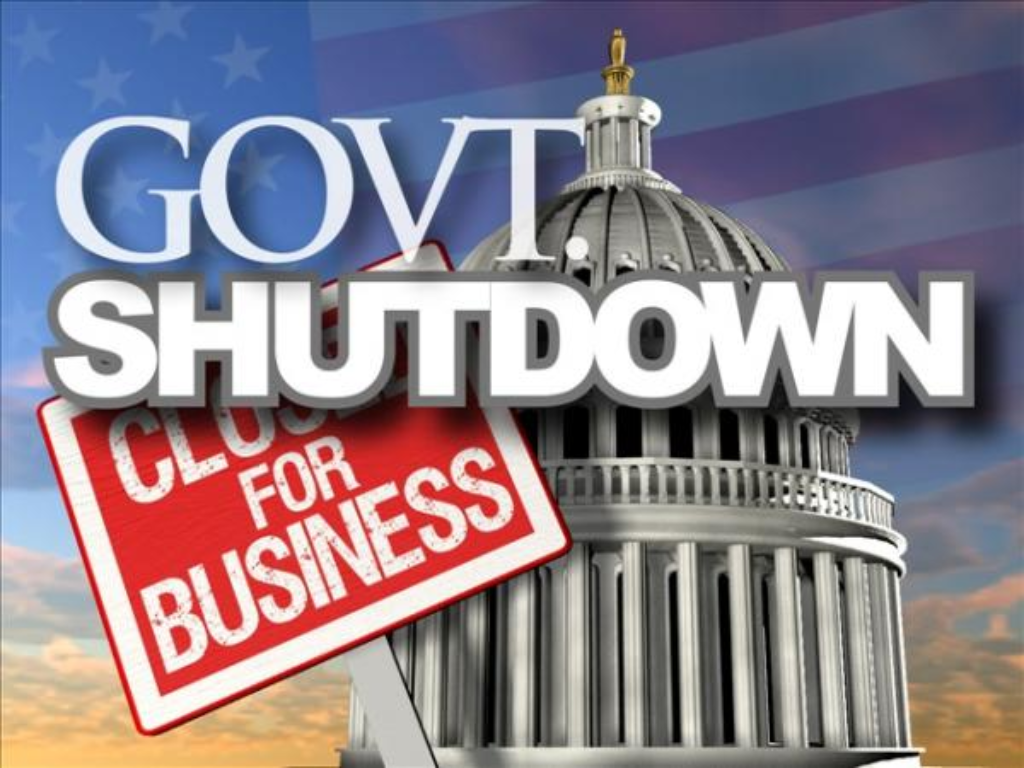 The Federal Government entered a partial shutdown at midnight last night after negotiators on Capitol Hill and in the White House failed to come to an acceptable agreement that kept the remaining unfunded agencies open and satisfied the President's demand for money for "border security":
WASHINGTON — The federal government shut down early Saturday after congressional and White House officials failed to find a compromise on a spending bill that hinged on President Trump's demands for $5.7 billion for a border wall.

It is the third shutdown in two years of unified Republican rule in Washington, and it will stop work at nine federal departments and several other agencies. Hundreds of thousands of government employees are affected.

Any hope of a compromise ended about 8:30 p.m. Friday, when both the House and the Senate had adjourned with no solution in sight. Talks are expected to begin again on Saturday.

A burst of late-afternoon activity could not break the deadlock, even as Vice President Mike Pence met with Senator Chuck Schumer of New York, the Democratic leader, and senior House Republicans, searching for a solution to a logjam that Mr. Trump has shown little interest in breaking.

While the president has been unwilling to consider dropping his demand to fund his signature campaign promise, Mr. Pence and other White House officials were discussing a number of potential compromises that would force him to do just that, omitting spending on a wall and instead adding money for other security measures at the border, according to several officials with knowledge of the talks.

Late Friday, as his budget director ordered the carrying out of shutdown plans, President Trump told the country in a video on Twitter that "we're going to have a shutdown."

"There's nothing we can do about that because we need the Democrats to give us their votes," he said in the video.

As in previous government shutdowns, it will not affect core government functions like the Postal Service, the military, the Department of Veterans Affairs and entitlement programs, including Social Security, Medicaid, Medicare and food stamps.

But about 380,000 workers would be sent home and would not be paid. Another 420,000 considered too essential to be furloughed would be forced, like the Border Patrol officers, to work without pay.

The Departments of Agriculture, Commerce, Homeland Security, Housing and Urban Development, Interior — which includes national parks — Justice, State, Transportation and Treasury would all be affected. NASA would also be hit.

There had been a glimmer of progress late in the day when the Senate voted, 48 to 47, with Mr. Pence breaking a tie, to begin debating stopgap spending legislation passed Thursday night by the House that would keep the government running through Feb. 8 and provide $5.7 billion to begin construction of the wall on the southwestern border.

But the vote was more a repudiation of Mr. Trump's proposal than an endorsement of it. Senators in both parties conceded that the measure could not pass the chamber, where major legislation requires bipartisan support, and said they were advancing it only to allow negotiations between the White House and congressional leaders in both parties to proceed on a compromise that all sides could accept.

Senator Mitch McConnell, Republican of Kentucky and the majority leader, said the Senate had approved the measure "in order to preserve maximum flexibility for productive conversations to continue between the White House and our Democratic colleagues."

Mr. Schumer said the vote only underscored what Democrats had been telling Mr. Trump since last week, when the president declared during a combative Oval Office meeting that he would be proud to shut down the government and shoulder the blame if he could not win support to fund his border wall.

"His wall does not have 60 votes here in the Senate, let alone 50 votes — that much is now clear," Mr. Schumer said. "We are willing to continue discussions" on proposals to keep the government funded, he added.

(…)

There was no clear sense of where talks might lead on Saturday. The House and Senate remained on standby, planning to reconvene but devoid, for the moment, of any measure that would reopen the government and bridge the divide.

Friday's Senate vote unfolded as Mr. Pence, along with Mick Mulvaney, Mr. Trump's budget director and incoming chief of staff, and Jared Kushner, his son-in-law, huddled in the Capitol to jump-start negotiations. The prospect of a deal has been hampered by the president's refusal to budge on the wall, or to indicate what alternatives he would be willing to accept to keep the government open.

Among the options discussed behind closed doors were proposals that would allocate $1.6 billion to a total of $2.5 billion to border security, none of which could be spent on a wall. But it was not clear that conservatives in the House, who insisted on Thursday on adding the $5.7 billion for the physical barrier the president has demanded to the stopgap spending measure, would back that solution.

"What I want is real money for the wall," said Representative Jim Jordan of Ohio, a founder of the conservative House Freedom Caucus, who declined to say how much funding he would consider sufficient, but said $1.6 billion was not enough.

In a meeting in his office just off the Senate floor, Mr. Schumer flatly told Mr. Pence, Mr. Mulvaney and Mr. Kushner, who had requested to meet with him, that any measure that included money for the wall could not pass the Senate, and urged them to consider agreeing to one that omitted it but included funding for other forms of border security, according to a spokesman.

Complicating the chances of such a deal was the president's own refusal to detail his bottom line in negotiations. During a meeting with Republican senators on Friday morning, Mr. Trump would not provide specifics about what kind of plan he could support, including how much money he would accept for fortifying the border, despite their repeated efforts to ascertain his conditions for a deal, according to a Senate official briefed on the session who insisted on anonymity to describe it. The president talked at length about the wall and repeatedly pressed the senators about eliminating the filibuster so they could fund it with 51 votes.
Politico's Burgess Everett and John Bresnahan have an inside look at the negotiations that proved to be mostly fruitless in averting a shutdown last night, while The Washington Post has more regarding the shutdown and the prospects for a solution:
Large parts of the federal government shut down overnight after President Trump torpedoed a bipartisan spending deal because it lacked the money he demanded for a wall along the U.S.-Mexico border.

Funding for numerous agencies, including those that operate parks, homeland security, law enforcement, tax collection and transportation, expired at midnight. Close to 400,000 federal workers are expected to be home without pay until a deal is reached, and numerous services will be halted in that time, with the impacts broadening the longer the funding lapse lasts.

The shutdown intensifies a standoff between Trump, who is demanding $5.7 billion for a border wall, and congressional Democrats, who have vowed to block any wall funding and have the votes to do so. It marks a deflating final chapter for Republicans as they complete two years of unified GOP control in Washington — as well as an acrimonious prelude to the upcoming era of divided government, after Democrats take the House in January.

Trump saw the final days of this year as his last chance to try to extract funding for the wall, while Democrats, united against the wall and buttressed by big wins in the midterm elections, showed no signs of buckling to his demands amid a flurry of attacks this week.

The White House and congressional leaders continued negotiations late Friday, but by 8:30 p.m., the House and the Senate had adjourned for the night. That made it impossible to vote on any spending agreement until Saturday, and it remained unclear whether any deal would materialize by then.

It is unclear how long a shutdown might last. Trump predicted earlier Friday that it could drag on for a "very long time."

About two hours before the shutdown was set to take effect, Trump distributed a video on Twitter in which he blamed Democrats but expressed hope that the lapse in government funding would be brief.

"We're going to have a shutdown," he said. "There's nothing we can do about that because we need the Democrats to give us their votes. . . . Let's be bipartisan, and let's get it done. The shutdown hopefully will not last long."

The Senate on Friday considered legislation to fund the government agencies through Feb. 8 and appropriate $5.7 billion to build 215 miles of wall structures along the Mexico border.

The House passed that legislation Thursday evening, but Senate Democrats successfully unified on Friday and refused to back that measure.

Senate Minority Leader Charles E. Schumer (D-N.Y.) said Friday that Democrats were open to talks with the White House and Republicans but would not agree to any measure that funded the construction of a new border wall.

Democrats tried to make clear to the White House for weeks that they had the votes to block any measure that contained money for the wall.

As their power became clear to White House officials, White House press secretary Sarah Sanders signaled Tuesday that Trump was planning to withdraw his request for the funds in an effort to keep the government open.

But he received a torrent of criticism from conservative lawmakers and commentators following this decision, and he reversed course on Thursday, scuttling a temporary, bipartisan spending bill that would have extended funding through Feb. 8 but did not contain wall money.

Trump on Friday urged Senate Majority Leader Mitch McConnell (R-Ky.) to change long-standing Senate rules to pass the House's measure providing $5.7 billion for the wall. McConnell refused, making it impossible for Senate Republicans to push the measure through because Democrats control 49 seats in the 100-member chamber.

"We're going to be working very hard to get something passed in the Senate," Trump said earlier Friday in the Oval Office. "Now it's up to the Democrats as to whether or not we have a shutdown tonight. I hope we don't, but we've very much prepared for a long shutdown."

Republicans were frustrated by the reversal, and Democrats warned Friday that the president's erratic and unvetted decisions in recent days were unsettling financial markets, foreign allies and even members of his Cabinet.

"This is tyranny of talk radio hosts, right? And so, how do you deal with that?" said Sen. Bob Corker (R-Tenn). "You have two talk radio hosts who completely flipped the president. And so, do we succumb to tyranny of talk radio hosts?"
The immediate impact of the shutdown is likely to be minimal with respect to Federal employees. The last Federal paychecks were issued on December 14th, and the next pay period ends on December 28th so theoretically at least there's time for Congress to find a way to resolve this matter before we reach the point where Federal workers are forced to work without being paid. Additionally, Monday is already a holiday for most non-essential Federal employees thanks to an Executive Order signed by President Trump earlier this week closing the Federal Government for Christmas Eve. Moreover, a large number of workers are on vacation. Due to all this, the shutdown would only really start having an impact if it lasts through the end of next week and into the New Year, at which point, of course, the Democrats will be taking control of the House of Representatives.
From a political point of view, it seems equally unlikely that this shutdown will have much of an impact at all. The fact that it is occurring over the holiday period likely means that large numbers of Americans likely aren't even paying attention to what's going on in Washington and likely won't be doing so over the next week or so. Additionally, it's worth noting that, historically speaking these shutdowns don't really seem to have the kind of long-term political impact that pundits like to predict that they will. The two shutdowns that occurred earlier this year in January and February took place over a weekend, meaning that they were barely noticeable. Before that, the long shutdown in October 2013 did have a negative impact for Republicans initially, but that didn't last very long. After all, it was a year later that the GOP managed to capture nine Senate seats and win back control of the Senate for the first time since the 2006 elections. Indeed, as I remarked earlier this morning, the last shutdown that really had a long-term political impact was the one that lasted from late 1995 through early 1996 and that's largely because it was during that shutdown that Bill Clinton and Monica Lewinsky began the relationship that eventually led to the President's impeachment. Given that, I would not expect that this shutdown will have much of an impact for any of the players.
Because of that, the House, Senate, and White House have at least some breathing room to try to work out a deal or, more likely, kick the can down the road to February or so as was provided for in the original bill that passed the Senate earlier this week. Such an agreement would likely include some amount of money allocated for "border security" but not specifically for the border wall, a solution that would theoretically at least allow the White House, Republicans on Capitol Hill, and Democrats on Capitol Hill to all mutually claim some kind of victory. The question is when they might be able to come to such an agreement.
As things stand, members of the House and Senate are being told to stay close to Congress and that they'd likely be given at least 24 hours notice of any votes in the near future. This would mean that the earliest we might see a vote at this point would be at some point tomorrow, but that could change if the leadership in both bodies were able to reach an agreement that allows for unanimous consent to bypass existing rules. All of that is up in the air at this point, though, and it likely won't be until some time later today that we get a better idea of where things stand.
Until then, as they say, stay tuned.