Freedom Of Speech Doesn't Mean Freedom From The Consequences Of That Speech
The First Amendment protects the rights even of the people who gathered in Charlottesville to promote hatred and violence, However, it does not shield them from the consequences of that speech.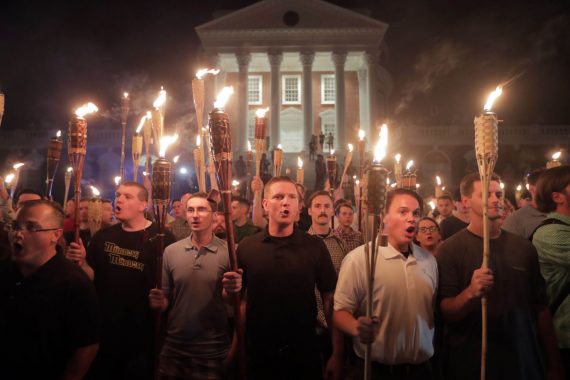 In the week that has followed the violence in Charlottesville and the remarks about the violence and the nature of the protests from President Trump that have created so much controversy, there have also been several reports of people who attended the rally to "protect" Confederate statues facing the consequences of their words and actions. In several cases, men who were identified via the videos of the Nuremberg-like rally the night before the violence where Nazi-era slogans like "Blood and Soil!" and "The Jews will not replace us!" were chanted by torch-bearing men facing the consequences of their actions. In several cases, people lost their jobs as employers found out what these people were doing on their free time. In several cases, a young man who attended the torch rally and participated in the rally the next day was repudiated in public by his own father, who said the family did not support what he believed in and wanted nothing to do with him. In another case, one of the organizers of the rally named Christopher Cantwell, who was initially defiant about what happened and ever defended the actions of the man of ramming a crowd of counter-protesters and killing one young woman while injuring more than a dozen others, ended up becoming something of an emotional wreck after facing blowback from his community for his involvement in the events. Social media, most especially Twitter and Facebook, played a large role in this outing of rally participants as many people shared photographs of people taken during the protests and asking for help identifying the people who were there.
All of this led to a broader discussion of whether these campaigns to shame people who attended the rally were appropriate, with strong feelings about the matter on both sides of the argument. At The Forward, for example, Bethany Mandel argued that we ought to stop using social media to out people who have political opinions we disagree with no matter how offensive they might be:
[E]ven if these white nationalists are being properly identified, firing individuals based on their political beliefs, no matter how repugnant, creates an incredibly slippery slope. Writing about hate speech on Twitter, the ACLU warned, "Restricting any group or individual's speech jeopardizes everyone's rights. The same laws used to silence bigots can be used to silence you." In other words, the rights of every single one of us depends on, well, the rights of everyone single one of us, even – especially – those we disagree with.

This is far from a defense of nazism, or alt rightism, or white supremacy. Quite the opposite – these guys make me as sick as the next person. I'm not asking that you feel sorry for these guys. I'm arguing that their right to believe and say horrible, racist things with impunity is actually the grounds upon which my rights and your rights depend. It is absolutely crucial that certain inalienable rights, like the right to privacy and the right to free speech, apply across the board. Free speech isn't just allowing speech with which you agree.

What I'm arguing for is extending the legal rights we all share to the social — and social media — sphere that we now share, too. It is a sacred American belief that people should not be persecuted for their beliefs, no matter how repugnant they are. While it's true that legally, every workplace is entitled to employ or fire whomever they wish barring discrimination, as a society, we must put a stop to punishing people for their beliefs.
Earlier in the column, Mandel correctly notes some of the danger that comes from these social media crusades against people who hold strong political opinions on controversial issues. The brief history of social media is replete with examples of people who were mistakenly identified after events such as what occurred in Charlottesville and ended up suffering consequences, including job loss and other pressures that can come from the madness of crowds, that they did not deserve to happen to them. In other cases, people have suffered what is arguably unduly harsh punishment for having a political opinion that the majority disagrees with. One such example of this which Mandel cites in her column is former Mozilla CEO Brendan Eich who ended up resigning from his position after it was revealed that he was among the people who contributed money to the campaign to pass Proposition 8 in California, which overturned the California Supreme Court's decision legalizing same-sex marriage but which it was itself overturned by the Federal Courts in a case that ultimately went to the United States Supreme Court. As I argued at the time, even though I disagreed with Eich on the issue of same-sex marriage, the consequences of hounding everyone who disagrees with you on a political issue are fairly severe, and something that could come with real blowback if public opinion were to ever change significantly. I made much the same point two years earlier when talking about the campaign against Chik-Fil-A due to the fact that the company's owner and founder was a well-known opponent of same-sex marriage. Public shaming can be a powerful tool, and in some cases it is appropriate, but it should be used sparingly and carefully.
All that being said, I do have to say that I disagree with Mandel when it comes to applying that argument to this particular case. The views expressed by the people who participated in the "Unite The Right" rally in Charlottesville are in almost every sense over and above a mere political disagreement over an issue like same-sex marriage. The people who gathered in Charlottesville over the weekend were not there to start a political debate, or to express disagreement with majority opinion over some controversial issue. They were there to give voice to an ideology that is dripping with hatred and vitriol and which seeks to drag the nation back to the days of Jim Crow and other evils that many people, such as Georgia Congressman John Lewis, quite literally shed blood to fight against. You can see that reality in the Nazi-era like posters that were used to advertise the rally across the country, in the chants of the demonstrators who showed up the night before the violence to hold a rally that, as I said, looked more like a Nuremberg rally from Germany in the 1930s than a normal American political rally, and in the Vice News report on the event that includes interviews with several of the organizers. These are people who preach hatred for African-Americans, Jews, Muslims, and indeed anyone who isn't a White Christian American. They are led by people such as Richard Spencer and others, including people who have suggested that Heather Heyer, the young woman who was mowed down by one of the rally participants, deserved to die. They are, in other words, evil personified and unlike anything this nation has seen since the height of the Ku Klux Klan, and their opinions should not be permitted to enter the political mainstream in any respect. If that includes using modern technology to "out" the people who openly attend rallies like this, in many cases traveling thousands of miles across the country to do so, then I quite honestly don't have a problem with that. Our nation has come too far to allow this movement, which has been newly energized by the election of Donald Trump, to become normalized in any respect. These people aren't just wrong, they are evil, and evil can't be allowed to assert itself into the mainstream of American politics.
I am most emphatically not arguing, by the way, that these people should be punished by the government for their beliefs. The First Amendment protects their right to speak just as assuredly as it does the right of advocates of civil rights to speak. Outlawing speech based solely on its content is something that would go against everything that this country stands for, and ultimately it would be counterproductive. This is why a municipal ordinance that was used to attempt to bar Nazis from marching through the streets of a predominantly Jewish-American suburb of Chicago in the mid-1970s was correctly declared unconstitutional by the Federal Courts, and why the Supreme Court held several years ago that the Westboro Baptist Church had a right to stage its offensive protests on public property outside of the funerals of soldiers killed in Iraq and Afghanistan. Freedom of speech includes the freedom to offend, and the minute we allow the state to punish people based on the allegedly offensive content of their speech is the moment that our own liberty begins to become restricted.
At the same time, though, it's important to remember that freedom of speech does not mean freedom from the consequences of that speech outside the scope of action by government entities. Just as the participants in the "Unite To Right" rally had a right to peacefully protest regardless of the fact that their speech was offensive and evoked memories of one of the vilest regimes in human history, the people who disagree with them had the right to counter-protest and to speak out against them afterward. Similarly, if the people who participate in rallies such as this can be identified they are within their rights to call them out by name. Additionally, their employers are free to act accordingly if they find out that one of their employees is using their free time to advance ideas that they find offensive, and their family members are free to repudiate them if they find their views offensive. Freedom of speech means that one is free to speak without fear of government punishment, it doesn't mean that one is free from facing the consequences of that speech.
As I said, there does need to be some measure of self-control involved in how we react to people we disagree with. Not every political disagreement arises to the level of a true good versus evil argument, and people who simply disagree with us on controversial issues don't deserve to be treated as social pariahs. Doing so accomplishes nothing, does nothing to try to convince the other side to change their minds, and only contributes to the political polarization that has made it nearly impossible to get anything of substance done in Congress. At some point, though, there come times when there are differences between political disagreement and a situation such as the one that Charlottesville lays bare. Treating the people at that rally as if they are mere political opponents only serves to legitimize their opinions in a way that we cannot permit to happen. To do so would only serve to legitimize their hatred and calls for violence and to send the nation down a path that would make our current problems and divisions seem minor by comparison. So, yes, Mandel is right that we ought to be careful about how we use the power of social media to "name and shame" people, but we also need to be careful about allowing hatred and violence to become something that is considered to be the same as a disagreement over an issue such as LGBT rights or abortion. If we do, then we're all going to regret it.