Further Thoughts On The Roberts "Switched Vote" Story
There's very little evidence or logic to support the attacks coming from the right against Chief Justice Roberts.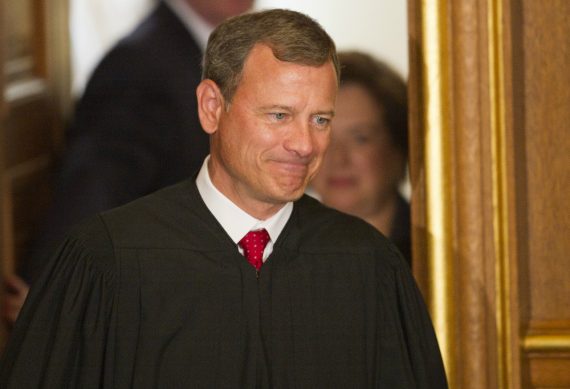 Matthew Franck points out that there's not nearly as much as meets the eye to the "bombshell" report from CBS News reporter Jan Crawford that I wrote about on Sunday:
Many people have seized on Crawford's report as confirmation of some kind of "betrayal" or "statesmanship" thesis.  Others have wondered, with good reason, how on earth she got such inside dope within three days of the ruling.

But what does Crawford actually claim to know?  Just the following:

that Roberts held one view in March, and a different one in May;
that one or more of the four conservative justices, notably including Kennedy, tried to win him back to their view;
that a month of trying to persuade him failed;
that Chief Justice Roberts "pays attention to media coverage."

That's it.  Sadly, for such a talented (and obviously well-placed) reporter, Crawford seems to work hard to achieve a certain effect in her story, namely that Roberts decided as he did for reasons that had nothing to do with the merits of the arguments in the case.  But there is one commendably honest admission (in the 21st of 60 paragraphs) on Crawford's part that "It is not known why Roberts changed his view on the mandate and decided to uphold the law."
As Franck goes on to point out, Crawford doesn't know the reason that Roberts switched his vote (assuming he did) and, apparently neither do whomever it might be that were the source(s) for her piece, although it's clear from the tone of the article that the individual(s) who spoke to Crawford retained no small degree of anger and frustration toward Roberts for changing his mind whatever the reasons might have been. So, unless Chief Justice Roberts himself talks and explains his decision, which he's unlikely to ever do beyond referring people to the opinion itself, we are, as Franck says left to consider the possibility that Roberts actually meant what he said in the opinion and that he wasn't merely just making something up to uphold the law because he'd been, say, intimidated by public pressure. Franck then goe son to say this after re-reading the opinion:
The second time around, I am more convinced than ever that Roberts has a fully plausible case that can be defended on principled grounds.  That is not the same as an endorsement of its merits on my part, over against the dissenters' view.  But I do think that people might, just might, give him some credit for doing his duty to the rule of law as he understands it.  The intensity, passion, and frequent fallaciousness of the criticism aimed in his direction suggest that for many of his critics, it has always been the result that matters-the fall of ObamaCare-rather than the integrity of legal reasoning.
More importantly as Franck goes on to point out, and as Allahpundit argues, there's just something not quite plausible about the "Roberts got scared" theory that many on the right seem to be buying lock, stock, and barrel even though there's absolutely no evidence for it. For one thing, Roberts has shown now compunction in the past about being part of a majority that would be viewed controversially by the media and the "inside the Beltway" crowd. One need only look at the gun control cases (District of Columbia v. Heller and Chicago v. McCormack) or Citizens United for evidence of that. Why would he suddenly be so concerned now about what the media elite or the New York Times Editorial Board thinks of him or the Court? It just doesn't make sense. More importantly, even if he was going to rule in this case based on his concerns about public opinion, he certainly did it in an amateurish and stupid manner, and John Roberts just doesn't strike me as a stupid man. That makes it all the more plausible that Roberts ruled the way he did because he genuinely believed the argument to be correct and because, as I stated last week, he believed it was proper for him exercise what he viewed as judicial restraint in this matter. As Franck says, those on the right attacking him now are revealing quite clearly that the are motivated not by an honest criticism of the legal reason the Chief Justice used in his opinion, but because all along it's only been the result, not the law, that matters to them.