The Roberts ObamaCare Decision: The Epitome Of Judicial Restraint
In his ruling on the ObamaCare cases, Chief Justices Roberts reached back to a judicial philosophy with roots in men like Oliver Wendell Holmes, Jr. and Felix Frankfurter.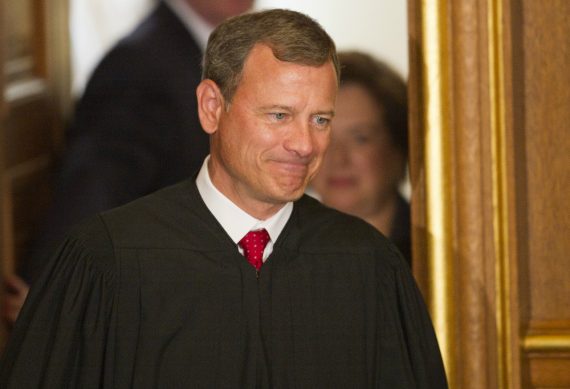 One of the biggest subjects of speculation over the past day has been the question of how Chief Justice Roberts ended up in a majority with the Supreme Court's four liberal members and making a ruling that upheld the Constitutionality of the Affordable Care Act while his four conservative colleagues (and swing vote Anthony Kennedy) were on the other side. Some have speculated that Roberts did this to protect the dignity of the Court, but that would require one to believe that Roberts knowingly signed on to an opinion he didn't agree with for political reasons. Even if one believes that the Justices are, in some sense, political actors, it's a stretch to argue that they take positions they disagree with for political reasons. Others have speculated that Roberts switched his vote for some reason. And, some of the crazier people on the right have even suggested that Roberts was threatened somehow by some unknown force. In the end, only the Chief Justice can explain his reasons for how he voted in this case, but, Damon Root offers this explanation:
Chief Justice John Roberts also believes in judicial restraint, or judicial modesty, as he described it during his 2005 Senate confirmation hearings, and that belief came shining through yesterday in his majority opinion in National Federation of Independent Business v. Sebelius. Although Roberts rejected the Obama administration's novel claim that Congress may force Americans to buy health insurance as part of its power to regulate interstate commerce, he nonetheless found the health insurance mandate to be lawful under a different constitutional provision, Congress' power to "lay and collect taxes."

"The text of a statute can sometimes have more than one possible meaning," Roberts wrote, before proceeding to embrace the only possible meaning that would allow the statute to survive. "The Government asks us to interpret the mandate as imposing a tax, if it would otherwise violate the Constitution," he continued. "Granting the Act the full measure of deference owed to federal statutes, it can be so read."

And so judicial restraint reared its head. In fact, as an authority for his deferential maneuvering, Roberts turned to none other than Justice Holmes, citing the famous jurist's concurring opinion in the 1928 case of Blodgett v. Holden, which declared, "between two possible interpretations of a statute, by one of which it would be unconstitutional and by the other valid, our plain duty is to adopt that which will save the Act."

In other words, the tie goes to the government.
I'm not sure that I would put it that way. I think the better way to put it is that Court's should be careful about declaring legislation unconstitutional to begin with and that, if there is a Constitutional theory under which the law can be upheld then the preference would be to uphold the law rather than striking it down under some other theory. It's worth noting that the argument that Roberts adopted in his opinion was not novel. It had been advanced by some legal analysts from the time the PPACA became law, and was included in every single brief that the Solicitor General or his deputy filed with a Court defending the validity of the law. It didn't get much attention, though, because most of the attention was being paid to the Commerce Clause issue, where there was clear disagreement and the potential for a debate on the scope and power of government. The tax argument was still out there, though, available to any court that chose to adopt it. That's what Roberts did yesterday. I'm not entirely certain it's correct, and I think there are implications to the decision that raise just as many concerns as a decision based on the Commerce Clause would have. However, I think it's essential to recognize that what Roberts, whether you think he was correct or not, was the epitome of judicial restraint.
There's actually much confusion, both among lay people and it seems among political pundits about what judicial restraint actually is. It gets confused quite often, it seems, with the related but not entirely identical doctrine of originalism, but there are significant differences between the two. Put in lay terms, originalism is essentially the idea that Judges should interpret the Constitution in accordance with its plain meaning and the intentions of the founders. Judicial restraint, on the other hand, is the idea that judges should exercise their power with caution and that a law that has been duly passed by the Legislative Branch should be given due deference and should only be struck down as unconstitutional if there is no plausible theory under which the law can be upheld. One can be both an originalist and a believer in judicial restraint, and the primary example of such a judge would be Robert Bork who has written many times about the deference he believes that Courts should give to legislative majorities. One can also be a believer in judicial restraint and a legal "liberal," and the primary example of that type of judge would be someone like Oliver Wendell Holmes, Jr. and Felix Franfurter, who were strident voices against Supreme Court decisions that struck down social legislation in the name of "substantive due process."
Despite the obviously different politics of men like Roberts, Holmes, and Frankfurter, one can say that judicial restraint is a conservative view of how a judge should do his or her job. Not conservative in the political sense so much as in the sense that it is a view that says that Judges should not be radically striking down laws they dislike that might otherwise be Constitutional. Now, obviously, there are different interpretations of what "judicial restraint" actually is, and it is often in the eye of the beholder, however in the classic sense of a judge who believes they should restrain themselves from second guessing the legislature, the Chief Justice's opinion yesterday is exactly what judicial restraint is all about.