Has Donald Trump Peaked? Possibly, But He's Still Doing Pretty Good
There are some signs that Donald Trump has peaked in the polls, but at his current position he's still in pretty good shape unfortunately.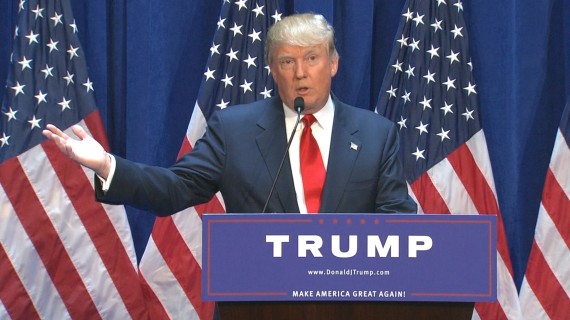 Kevin Drum takes a look at the RealClearPolitics poll average and thinks he sees signs that Donald Trump has peaked:
I hopped over to RealClear Politicsthis morning to take a look at their latest poll averages, and it shows something interesting: Donald Trump may have hit his ceiling. On August 5, he hit a peak at 24.3 percent. He then plateaued for a few days and has been falling ever since. He now stands at 22.0 percent.

Not all poll averages show the same thing. I also took a look at Pollster, and they show Trump's climb barely starting to slow down, but not quite peaking yet. Even there, though, it look like Trump is going to hit a ceiling soon.
Here's the chart that accompanies Drum's piece, which does indeed seem to show that Trump has, at least for the moment, hid a ceiling somewhere around 25%: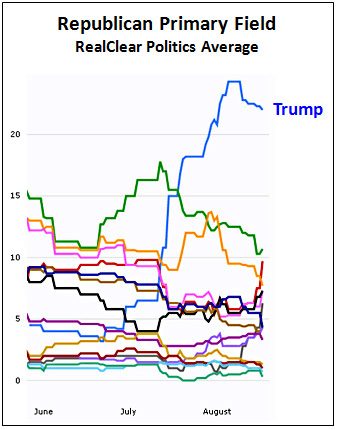 As Drum notes, the trend lines at Pollster, the poll aggregator now run by The Huffington Post are a little different. There, it's not quite as apparent that Trump may have peaked in the past couple weeks, but there are still some signs that at the very least the momentum of his rise has slowed significantly. The different between the trend lines can largely be explained by the fact that Pollster includes several polls that RealClearPolitics does not, including recent online polls that give Trump a lead as high as 32% that are not replicated in any of the traditional polling. Additionally, there seem to be at least some differences in how the poll averages themselves are calculated. Notwithstanding those differences, though, the trends are generally identical and they do seem to show that, while Donald Trump continues to lead the Republican field, we've now reached a point where his numbers are at least flattening. That trend is likely to continue for the next several weeks before the next Republican debate both because of the fact that we're heading into a slow end-of-summer news cycle for the last two weeks before Labor Day Weekend, and because we're unlikely to see any real movement in the polls before the next debate unless one of the candidates stumbles significantly or we start seeing major ad buys, which isn't likely to start happen just yet, at least not until after the first debate.
Drum goes on to predict that 25% will end up being the peak of Trump's support, while admitting that he's obviously risking an egg-on-your-face moment if her turns out to be wrong. Having previously predicted the possible beginning of the end of Trump's rise in the polls before, I'm not going to make that prediction myself at this point. However, even if Drum is right that doesn't mean that Trump will be fading from the scene any time soon. In a field this large, poll numbers in the range of 20-25% still make you a frontrunner, and therefore the focus of the race. If these numbers were to continue for the next six months or more, then 20-25% would mean winning primaries and caucuses, which obviously won't mean as much in the early stages of the race when delegates are being apportioned on a proportional basis rather than winner-take-all. Additionally, with a virtually unlimited personal fortune Trump can stay in this race as long as he wants to and that he is largely immune from many of the pressures that would otherwise force a candidate from a race. That, combined with fairly decent poll numbers puts Trump in a position that most candidates would love to be in,
So, yes, it's possible that Trump has peaked in terms of the level of support he will get in the polls going forward for the foreseeable future. Given that there are sixteen other candidates in the race, and that Trump remains a polarizing figure even among Republicans, the opportunities for him to rise further seem rather limited. That being said, it also doesn't seem as though Donald Trump is going to be fading away any time soon, and at the moment he seems to be in a far better position than any of the other candidates in the race. Republicans may not like to hear it, but Donald Trump is going to be around for awhile.