John Hickenlooper Ends Quixotic White House Bid
We won't have Hickenlooper to kick around anymore.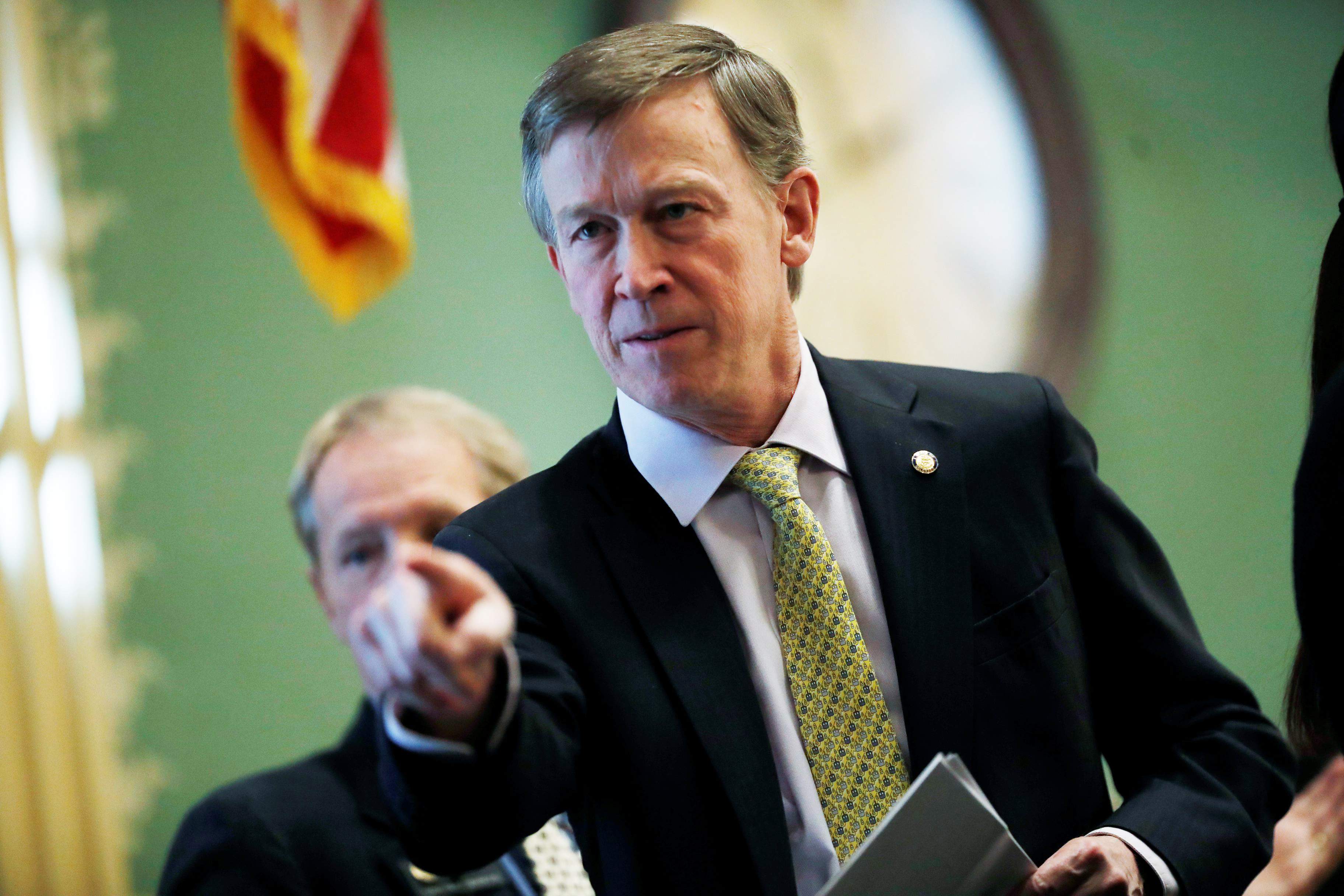 As had been rumored for some time now, former Colorado Governor John Hickenlooper has dropped out of the race for the Democratic Presidential nomination and says that he will consider entering the race to challenge Colorado's Republican Senator Cory Gardner in 2020:
John Hickenlooper, the former Colorado governor whose low-key brand of moderate politics made him popular in his home state but limited his appeal in a Democratic primary filled with urgent progressive energy, announced on Thursday that he was ending his presidential campaign.

Mr. Hickenlooper has been seriously considering a run for the Republican-held Senate seat in Colorado that is up for election in 2020 — a key pickup target in the Democrats' strategy to try to retake control of the Senate.

"Today, I'm ending my campaign for president," he said in a videotaped statement. "But I will never stop believing that America can only move forward when we work together."

"I've heard from so many Coloradans who want me to run for the United States Senate," he added. "They remind me how much is at stake for our country. And our state. I intend to give that some serious thought."

Mr. Hickenlooper's White House bid never gained significant traction and struggled so acutely that top staff members departed. He failed to break through in the polls, raised less money than most of his competitors and was all but certain to miss the cutoff for the Democratic debates in September.

A failure to qualify for the debates would have added to a growing list of humbling moments for Mr. Hickenlooper, 67, who is also a former Denver mayor, brewpub owner and geologist. All too often he found himself in front of small, distracted crowds at campaign events. He was mistaken at one point for a member of the news media and at another for a different candidate.

Mr. Hickenlooper had been in discussions about withdrawing from the presidential primary since at least early this month and running for the Senate instead. Colorado is a purple battleground state, and flipping the seat currently held by Senator Cory Gardner is all but mandatory if Democrats hope to have any chance of retaking the Senate.

(…)

Mr. Hickenlooper is one of a handful of presidential candidates, including former Representative Beto O'Rourke of Texas and Gov. Steve Bullock of Montana, who have been encouraged by some Democrats to drop their bids for the White House and run for the Senate.

At first, he was largely resistant to the idea. But this month, as his presidential campaign lurched along, Mr. Hickenlooper's communications director told CNN that the former governor had not "closed the door to anything." Senator Chuck Schumer, the minority leader, has spent months trying to recruit Mr. Hickenlooper. And during a recent trip to Iowa, Mr. Hickenlooper hopped into the car of Michael Bennet, Colorado's Democratic senator and another presidential candidate, to discuss his impending decision.
Here's Hickenlooper's tweet announcing his withdrawal:
Hickenlooper entered the race in March of this year after initially flirting with the idea as long ago as last November. In doing so, the former Governor sought to differentiate himself from much of the rest of the Democratic field by emphasizing his record as a businessman before he became a politician. He also sought to plot a course meant to appeal to the center-left of the party by warning the party against drifting too far to the left, a move he contended posed the danger of helping to re-elect President Trump in 2020. Needless to say, this didn't go over well with many party activists. The most notable sign of that came in early June when the former Governor criticized candidates like Senator Bernie Sanders who were openly embracing the word and label 'socialist," a move that Hickenlooper said would be disastrous for the party in a head-to-head race against Trump. Unfortunately for Hickenlooper, and perhaps for his party, this message was not well received and the former Governor remained mired below 1% in the polls to the point where it seemed clear he would not qualify for the third debate next month. Given that, it's not surprising that he'd decide that now was the time to give up the ghost.
The question going forward, of course, is what future political plans Hickenlooper may have. For several weeks now, Democrats at the national and state level have been lobbying the popular former Governor to run for Senate rather than President, something that some of his closest aides also reportedly urged him to do. Hickenlooper responded by saying he was not interested in running for Senate, something that mirrors what he said in February when he said he wasn't "cut out" to be a Senator. Despite this, the pressure on Hickenlooper has continued and increased earlier this week after a poll showed him with a huge lead over other Democrats in a potential primary race Gardner in a hypothetical head-to-head race while another poll showed him leading Gardner 51% to 38% in a head-to-head matchup. That being said, a Senate bid by the former Governor would not be a cakewalk. There are already several Democrats in the race for the 2020 Senate nomination, for example, and it's clear that those candidates are not inclined to drop out of the race if Hickenlooper enters. All that being said, by all accounts Hickenlooper would be a strong contender if he does enter the race.