John Hickenlooper, Former Colorado Governor, Enters Presidential Race
Former Colorado Governor John Hickenlooper is the latest entrant into an already crowded Democratic field.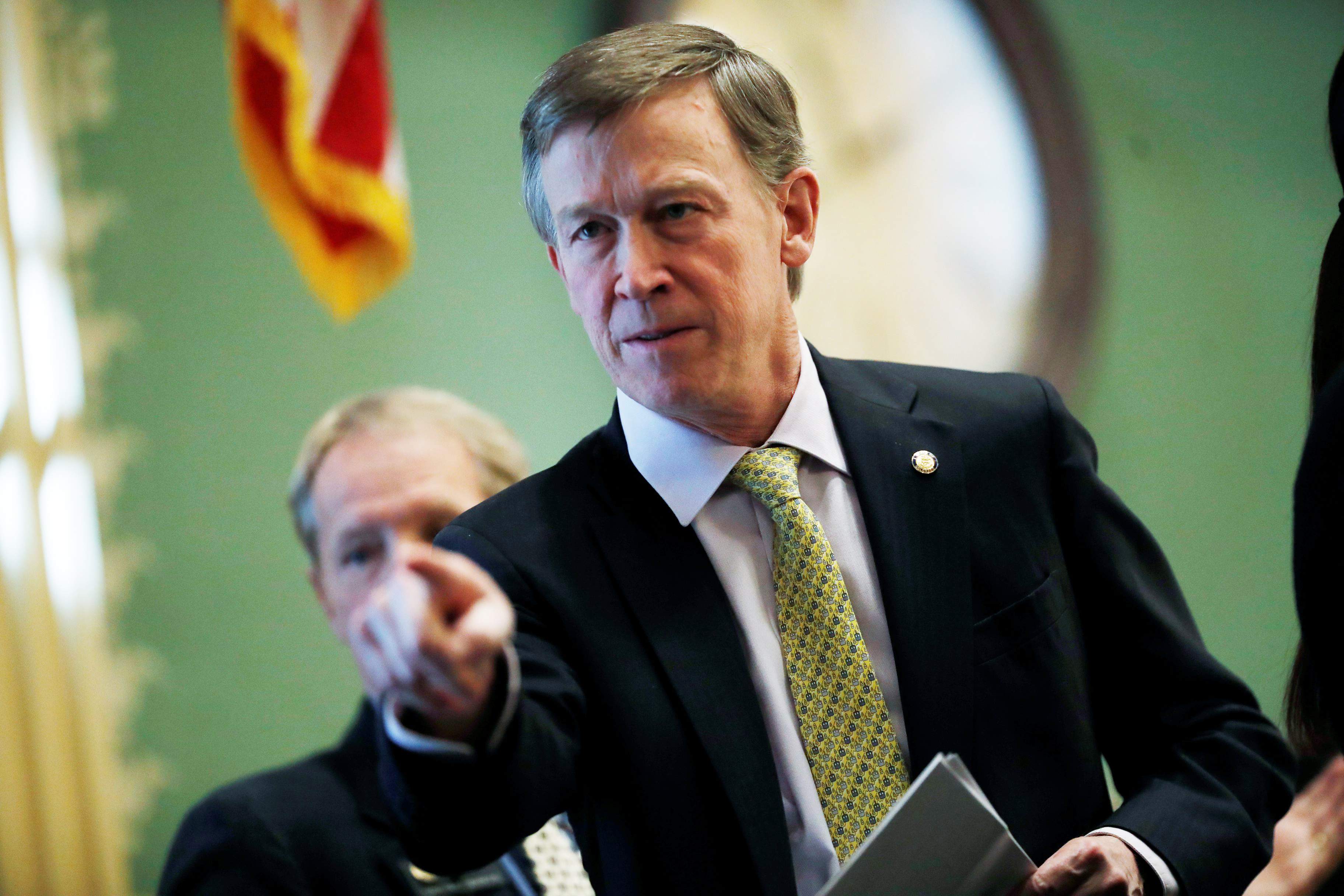 Former Colorado Governor John Hickenlooper has entered the race for the Democratic nomination for President:
DENVER — John Hickenlooper, the two-time Colorado governor and former brewpub owner who has overseen Colorado's remarkable economic expansion, declared his candidacy for president on Monday.

Mr. Hickenlooper, 67, a socially progressive, pro-business Democrat who has called himself an "extreme moderate," had long said he was considering a run, and made early visits to Iowa and New Hampshire. His biggest challenge will be distinguishing himself in what is sure to be a packed field of potentially history-making candidates and deep-pocketed household names.

"I'm running for president because we need dreamers in Washington, but we also need to get things done," he said in a video announcing his candidacy, with the Rocky Mountains as his backdrop. "I've proven again and again I can bring people together to produce the progressive change Washington has failed to deliver."

Mr. Hickenlooper plans to run as a "pragmatic progressive," a candidate with extensive executive experience in a primary field of senators. He also suggested that his childhood as a self-declared nerd has prepared him for an electoral battle against the president.

"As a skinny kid with Coke-bottle glasses and a funny last name," he said in the video, "I've stood up to my fair share of bullies."

As governor from 2011 until he reached his term limits in 2019, Mr. Hickenlooper employed a careful, consensus-building approach that won him praise from both sides of the aisle and helped him guide Colorado out of a recession and through a series of floods, wildfires and mass shootings in the first years of his tenure. When he left office in January, his state had one of the nation's best economies.

He had also signed a contentious gun control package that included universal background checks, and helped Colorado become the first state in the nation to enact methane capture requirements, a measure he has said was equivalent to taking 320,000 cars off the road every year.

But even in Colorado, fellow Democrats have expressed skepticism that his signature low-key approach will translate to national success.

"I don't think John has at all defined why he is running," said Rick Ridder, a political strategist and longtime friend of Mr. Hickenlooper. "There are very few people I know who wake up and want to go caucus to support a raging moderate."

Gary Hart, the former Colorado senator and Democratic presidential candidate, predicted that Mr. Hickenlooper would appeal to primary voters because "he does not have a lot of pretensions." But Mr. Hart noted that the candidate would have to harden his stances fast, in order to attract the most passionate party activists in the run-up to the primaries.

"They're also going to say: 'Fine, governor, I'm glad you can reach across the aisle, now what's your stance on abortion?'" Mr. Hart said.

(Mr. Hickenlooper supports abortion rights, though it has not been a central issue for him.)

The former governor will kick off his campaign with a rally in Denver on Thursday, then travel to Iowa on Friday and Saturday.

(…)

But progressives in [Colorado]  reserve much of their criticism for his environmental legacy, arguing that he has not gone far enough in regulating the state's powerful oil and gas industry.

In recent years, some residents have faulted him for failing to push well projects out of their neighborhoods. (Mr. Hickenlooper has been so eager to promote the industry that he once drank fracking fluid.)

"He has allowed oil and gas to run roughshod over communities," said Sara Loflin, a Democrat and the executive director of the League of Oil and Gas Impacted Coloradans. "I think in the face of climate change, I'm looking for a president and a nominee that is a little stronger on the environment."
More from Politico:
John Hickenlooper announced Monday he's running for president, drawing on 16 years of executive experience as Denver mayor and Colorado governor.

"I'm running for president because we need dreamers in Washington, but we also need to get things done," Hickenlooper says in a video announcing his candidacy. "I've proven again and again I can bring people together to produce the progressive change Washington has failed to deliver."

After a kickoff rally in Denver on Thursday, Hickenlooper's next stop as a presidential candidate will be a two-day tour through Iowa, an early state that will be pivotal to his fortunes in a crowded Democratic field.

The former Colorado governor begins at a disadvantage there, with low name recognition and a smaller campaign infrastructure than most rivals. While his name is a familiar one to older Iowa voters — a cousin, the late Bourke Hickenlooper, served as a Republican governor in the 1940s and later represented the state in the Senate for 24 years — John Hickenlooper was excluded from the latest poll.

During a recent appearance at the Story County Democratic Party's annual soup supper in Ames, the former Colorado governor was the only presidential candidate who wore a name tag. California Sen. Kamala Harris (D-Calif.) and former Housing and Urban Development Secretary Julián Castro, who also attended the supper, didn't feel the need.

Iowa Democrats say there's precedent for a candidate like Hickenlooper to do well in the caucuses — only it was nearly a half-century ago, when then-Georgia Gov. Jimmy Carter was largely unknown before he finished ahead of the four other candidates here in 1976.

"It's a place where people who may not be walking in with the most name ID or the most money can still do quite well," said Troy Price, chairman of the Iowa Democratic Party. "It's not just name ID. It's not just money. It's who's gonna go out there, make those connections and build those relationships."

(…)

In a Democratic field featuring numerous legislators, Hickenlooper will attempt to distinguish himself by pointing to his executive accomplishments over two terms as Colorado governor and two terms as mayor of the state's largest city. His electability is also a selling point: Hickenlooper became the first Denver mayor elected to the governorship in 120 years, and he did it in a 2010 election cycle that proved devastating for Democrats across the country.

He was also one of just two Democrats to win gubernatorial elections in swing states in 2014, another tough year for Democratic candidates.

Hickenlooper's pitch, which often comes in small venues — during his last swing through Iowa he hosted meet-and-greets with roughly 20 voters inside a coffee shop and a table of 10 at his next stop inside a bar — is that he is the only "doer" in a field of talkers.

"What I'm trying to do is run as the person who gets stuff done," he told a handful of reporters last week inside a bar in Carroll, where he briefly engaged with the media before heading to his third and final stop of the day after campaigning in western Iowa. "There's not a lot of people that bring people together."
Hickenlooper is generally unknown outside of Colorado, but his campaign strategy appears to be focused on early success in Iowa:
Hickenlooper's advisers see parallels between Iowa and Colorado, two states with a near even divide of one-third Republicans, Democrats and independents. Colorado was also a caucus state in presidential years until 2016.

While his campaign insists it won't attempt to bypass New Hampshire and South Carolina — there are plans to hire teams in both early states — Hickenlooper's Iowa focus is apparent from his already announced there: Sam Roecker and Ferguson Yacshyn, who were originally hired by Hickenlooper's GiddyUp PAC, are transitioning into campaign roles as Iowa state director and caucus director, respectively.

Roecker, who formerly ran former Lt. Gov. Patty Judge's Senate campaign and worked on Christie Vilsack's race against Rep. Steve King (R-Iowa), said he was drawn by the campaign's commitment to Iowa. He believes Iowa Democrats are looking for a candidate who can oust President Donald Trump in the general election — and authenticity is an essential trait.

"It's been several years since we've had a caucus cycle where you've got a really big field where you have candidates who have to really pay attention to retail politics," he said. "And I think the governor is somebody who can really do that well. He comes off as very personable, very authentic and very willing to have these conversations that you have to do if you're serious about running in the caucuses."
Here's the video that Hickenlooper released this morning to launch his campaign:
Before entering politics, Hickenlooper spent most of his career as a geologist, working in Colorado for a local petroleum company during the 1980s when the oil industry was booming in the Centennial State. After that industry began to decline, he opened a brewpub in an area of Denver that eventually came to be the home of the stadium for the Colorado Rockies. His first position in politics came in 2003 when he was elected Mayor of Denver, an office in which he served from 2003 until he was elected Governor in 2010, a year in which Republicans did very well nationwide and at the state level. His name had been mentioned as a potential Gubernatorial candidate in 2006, but he declined to run that year. In 2010, he ended up being the only Democrat to enter the race and won the General Election in November in a somewhat bizarre race that saw former Congressman Tom Tancredo come in second place as the nominee of the Constitution Party due in no small part to the fact that the Republican nominee Dan Maes saw his campaign collapse after it was revealed that he had lied about certain aspects of his resume. In 2014, he was re-elected by a comfortable margin notwithstanding the fact that 2014 was also a strong year for Republicans nationally and in Colorado itself. From 2014 to 2015, he served as Chairman of the National Governor's Association.
Hickenlooper enters a race that already has a crowded Democratic field that includes candidates such as Kirsten Gillibrand, Julian Castro, Tulsi Gabbard, Kamala Harris, Elizabeth Warren, Amy Klobuchar, Cory Booker, Bernie Sanders and Washington Governor Jay Inslee as well as less known candidates such as South Bend, Indiana Mayor Pete Buttigieg and Maryland Congressman John Delaney. Additionally, Inslee is entering a race where he could find himself joined by other candidates currently mulling a run for the White House including former Vice-President Joe Biden, Ohio Senator Sherrod Brown, former Virginia Governor Terry McAuliffe, Ohio Congressman Tim Ryan, former Texas Congressman Beto O'Rourke, Oregon Senator Jeff Merkley, Massachusetts Congressman Seth Moulton, California Congressman Eric Swalwell, New York City Mayor Bill Delblasio, and former New York Mayor Michael Bloomberg.
If Hickenlooper is going to rise anywhere out of the 1% or so he's likely to show in initial polling, Hickenlooper will need to find a way to stand out from what is quickly becoming a growing crowd. With his announcement, there are now eleven what I would call prominent or semi-prominent Democrats in the race for the nomination. Given the recent comments from the likes of Vice-President Biden, Beto O'Rourke, and Michael Bloomberg, that field is likely to be up to fourteen in a few short weeks, and probably even bigger than that as the spring goes on. Only one of these people is going to be the nominee, and all but a handful of them are going to end up being contenders for the nomination once voting actually starts and we get deeper and deeper into the primaries. As with past entrants into the race, FiveThirtyEight is out with an analysis of how they could win the nomination. Suffice it to say it wouldn't be easy, but stranger things have happened in American politics. Nobody expected a peanut farmer from Georgia to come out of nowhere in 1976 to win his party's nomination and, eventually, the Presidency, for example. And the Trump 2016 campaign will, for better or worse, stand for decades if not centuries to come as the best example of an improbable candidate who ended up surprising all the pundits and campaign experts. But before we start thinking about Hickenlooper as a serious contender, he's going to have to become a lot better known and give voters a reason to take him seriously.