Cory Booker Enters Democratic Presidential Field
New Jersey Senator Cory Booker is the latest entrant into the race for the 2020 Democratic Nomination.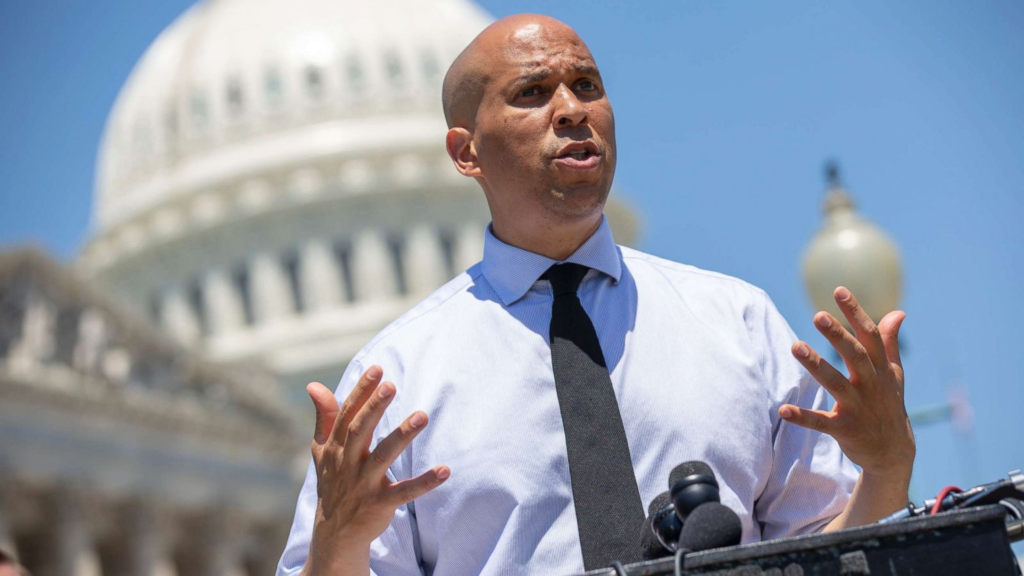 New Jersey Senator Cory Booker is the latest entrant in the race for the 2020 Democratic Presidential nomination:
Senator Cory Booker, the former mayor of Newark who has projected an upbeat political presence at a deeply polarized time, entered the 2020 race for president on Friday, embarking on a campaign to become the second black president in American history.

Mr. Booker, in a morning email sent to supporters, drew on the spirit of the civil rights movement as he laid out his vision for a country that will "channel our common pain back into our common purpose."

"The history of our nation is defined by collective action; by interwoven destinies of slaves and abolitionists; of those born here and those who chose America as home; of those who took up arms to defend our country, and those who linked arms to challenge and change it," Mr. Booker said in an accompanying video.

He announced his candidacy on the first day of Black History Month and planned to spend the morning offering his first three media interviews to national radio shows anchored by black and Latino hosts. He is scheduled to appear later on the television show "The View" with his mother in the audience.

Mr. Booker's announcement had long been anticipated. He was among the most conspicuous campaigners for other Democrats during the 2018 midterm election, making 39 trips to 24 states as he honed a central message — that this was a "moral moment in America" — that is likely to frame his future critiques of the Trump administration.

Mr. Booker's gift for idealistic oratory made him an in-demand surrogate throughout his career and will likely help set him apart from the growing Democratic field.

But even with his unique mix of soaring crescendos and soft-spoken anecdotes, his unbridled optimism and appeals across party lines could fall flat in a Democratic electorate energized by seething anger toward President Trump and his agenda. Mr. Booker also has a lengthy record of moderate, pro-business stances that could be toxic for the party's ascendant progressive wing.

For example, he defended the investment firm Bain Capital against attacks from the Obama campaign during the 2012 presidential election, and he had a chummy relationship with Gov. Chris Christie, a Republican, for most of his tenure.

And his continued embrace of charter schools, long a favorite of wealthy donors but currently out of favor among the Democratic grass roots, could create still more problems.

(…)

In announcing his bid for president, Mr. Booker is seeking to fulfill the promise that many have seen in his future for two decades, ever since he moved from Yale Law School to the blighted Brick Towers of Newark, the symbolic launching pad for his career as an inner-city politician.

His first electoral victory was for the City Council in Newark, ousting an incumbent Democrat. He failed in his first bid for mayor, in 2002, against another entrenched Democrat, Sharpe James. But the loss made Mr. Booker famous as he raised millions of dollars, and his political profile, in a race that drew national attention.

A documentary about his failed run, "Street Fight," was nominated for an Oscar. Mr. Booker won the mayoralty four years later when Mr. James, who would eventually land in federal prison on charges of fraud, opted against a rematch.

As mayor, Mr. Booker crafted celebrity status through his early adoption of Twitter. He drew attention and money to the struggling city, including a $100 million check from Mark Zuckerberg, the founder of Facebook, to be injected into Newark's schools. The gift was announced with much fanfare on "The Oprah Winfrey Show," but brought mixed results to the troubled school system.

Mr. Booker's connections to financial titans, on Wall Street and in Silicon Valley, have also lifted him throughout his career, generating money for campaigns and for the city he ran. Those connections could power a presidential bid: One California donor, Steve Phillips, created a super PAC with a goal to raise $10 million in the coming months to support Mr. Booker's bid — even before he announced his candidacy.

But in a Democratic Party where a backlash to the sway of billionaires and financiers is strong, Mr. Booker's ties to both Wall Street and Silicon Valley risk harming his campaign as much as helping it.

His campaign, which will be called "Cory 2020," said it would not accept contributions from corporate PACs and federal lobbyists. His campaign also said it would oppose any supportive super PAC, even though Mr. Phillips's already exists.
As the article notes, Booker has been involved in politics since first being elected to the Newark, N.J. City Council in 1998, where he served until 2002 when he decided to run for Mayor against the controversial, albeit still popular at the time, Sharpe James. Booker lost that race but came back and won the race for Mayor in 2006. Virtually from the time that he entered office, Booker became a focus of national attention due both to his use of Twitter to communicate with and keep in touch with constituents and for things such as riding around the city with police during snowstorms and other emergency events helping residents as needed. Almost immediately, the comparisons between him and President Barack Obama began to be made and people began to consider him a potential candidate for higher office. In that regard, he drew the frustration of many New Jersey Democrats with his decision not to challenge Republican Governor Chris Christie in 2013 and the fact that he maintained what many of them considered a much-too-friendly relationship with Christie. For his part, Booker defended the relationship by saying that having a good relationship with state government was in his city's best interests. In 2013, Booker ran in a Special Election for the seat that was vacated by the death of Senator Frank Lautenberg, a race that he won rather easily over Republican challenger Steve Lonegan. One year after winning that Special Election, Booker easily won the race for a six-year term in his own right, to the surprise of pretty much nobody.
Booker joins a field that is seemingly getting more crowded as the days along. So far, we've seen announcements from Elizabeth Warren, Kirsten Gillibrand, Julian Castro, Tulsi Gabbard, and Kamala Harris, as well as South Bend, Indiana Mayor Pete Buttigieg and Maryland Congressman John Delaney, both of whom are seen as long-shot candidates for the nomination. Additionally, it is expected that both Senator Bernie Sanders and former Vice-President Joe Biden will be entering the race soon. The entry of those two candidates in the race would mean that there are ten candidates for the Democratic nomination, with the prospect that additional candidates, such as Minnesota Senator Amy Klobuchar and others, are likely not very far behind. Like Booker, many of these candidates will be competing for the same voters, namely the progressive wing of the Democratic Party. For Booker, though, the biggest problem with that wing of the party is likely to be his ties to Wall Street and the financial sector that has a strong presence in Newark and other parts of northern New Jersey.
On the positive side for Booker, there's the fact that he can credibly say that he is the only candidate in the race with both executive experience as Mayor of Newark and in the Federal Government as a Senator. During his time in the Senate, he has also succeeded in reaching across the aisle on a number of issues, including criminal justice reform where he has worked closely with Kentucky Senator Rand Paul to craft legislation designed to bring about sentencing reform, rebalance the way that drug crimes are treated in Federal Court, and address the issue of the rights of former felons. These are issues that could help him going forward, especially in states with large minority populations. In addition to all of that, though, Booker has the advantage of coming across as an energetic, likable person in a manner that is likely to help him significantly on the campaign trail. On the personal side, Booker remains a bachelor although he has had several high-profile relationships both as Mayor and a Senator. Whether that becomes a "something" in the race remains to be seen.
In any case, it's far too early to make any real projections about where the Democratic race stands. At this point, polling is largely a reflection of name recognition. At the very least, I would wait until after the first couple debates later this year and, ideally, not until November or December. After all, as of today, we're still 368 days away from the Iowa Caucuses and more than 375 days away from the New Hampshire Primary. Nonetheless, the race is afoot.