Bernie Sanders Set To Enter Presidential Race
Vermont Senator Bernie Sanders is preparing a second run at the White House, but this race won't be anything like 2016.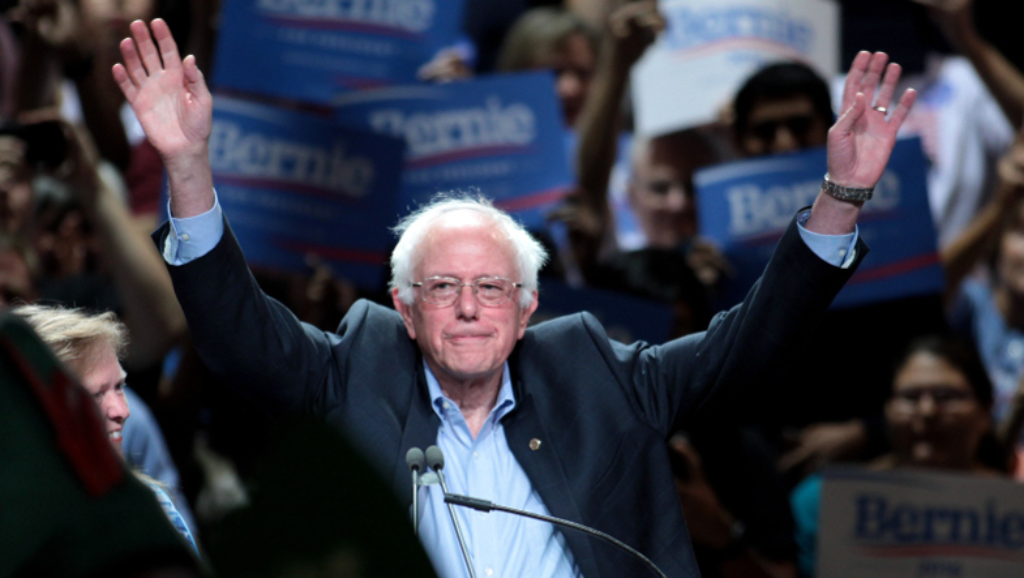 To the surprise of very few, Vermont Senator Bernie Sanders is set to announce his candidacy for the 2020 Democratic nomination:
Three years after fighting a surprisingly competitive Democratic primary race against Hillary Clinton, Sen. Bernie Sanders, the Vermont independent, is making another run for the White House.

Two sources with direct knowledge of his plans told Yahoo News that Sanders, an independent and self-described "democratic socialist," plans to announce his presidential bid imminently. While Sanders has been considering a bid for months, one of the sources said he was emboldened by early polls of the race that have consistently showed him as one of the top candidates in a crowded Democratic primary field. In particular, the source said Sanders was heartened to see numbers indicating he is one of the leading candidates among African American and Latino voters, two groups he was perceived as struggling with in 2016

The source also alluded to a spate of recent polls that show Sanders as the most popular politician in the country. They attributed Sanders' strength in the polls to the base and name recognition he built with the prior presidential bid.

"What the senator has this time that he didn't have last time is he is the most popular elected official in the country right now," the source said. "That's light years away from 2016, when very few people knew who he was."

A third source said Sanders' bid will begin with an exploratory committee. Sanders' campaign did not immediately respond to a request for comment for this story.

In addition to these two sources, a former Sanders staffer who had not been briefed on the imminent announcement plans nevertheless said many recent signs suggest he is set to pull the trigger on a presidential campaign. Specifically, the former staffer said Sanders has been building out the infrastructure he would need for a White House bid.

"He's already talking to staff and there are people he's hiring. They're nailing down contracts with vendors. … All the movement is there for him to run," the ex-staffer said.
The fact that Sanders is running again hardly comes as a surprise, of course.  In many respects, he hasn't really scaled back his national presence in the media and on the campaign trail from what it was during the 2016 campaign. Last year he concentrated on traveling to states where candidates that support his agenda and the so-called "progressive" wing of the Democratic Party notwithstanding the fact that he is not officially a member of the Democratic Party and has, as he has done in the past, turned down the nomination of the Vermont Democratic Party and run solely as a so-called independent even though his voting record is as much in line with the Senate Democratic Caucus as the most loyal member of that party. Throughout all of these visits, though, it has been clear that Sanders has been trying to keep himself in the national conversation in the Democratic Party as he ponders whether or not he will actually run in 2020, when he would be 79 years old and 83 years old at the end of a hypothetical first term in office in the event he actually won the election.
As with other candidates and potential candidates such as Joe Bide, 2020 is Sanders' best and last shot at becoming President. He is, as I noted above 77 years old and would be 79 when running for President, 83 at the end of a hypothetical first term, and 87 at the end of a second term. He is older than any of the other potential candidates, including Warren and former Vice-President Joe Biden. If he does want to run, either for a realistic shot at the nomination or for the purpose of advancing his agenda, then this would be his last hurrah. At the same time, though,  it's likely 2020 will end up being a far different race for Sanders than 2016 was. Back then, he had nobody competing for the votes and support of the progressive wing of the party. This time, he'll have plenty of competition from younger candidates such as Elizabeth Warren, Kirsten Gillibrand, Julian Castro, Tulsi Gabbard, and Kamala Harris, all of whom have already entered the race as well as potential candidates such as Cory Booker and Amy Klobuchar. Additionally, Sanders is likely to face more scrutiny from reporters than he did in 2020, including questions about allegations of sexual harassment among his staff that was essentially swept under the rug. Add into this the fact that Democrats will likely be looking for a candidate that can both unite the party's base and attract the voters in places such as the Midwest where Hillary Clinton essentially lost the election three years ago. Sanders doesn't seem as if he'd be the right candidate for that job.