2020 Will Be A Tougher Fight For Bernie Sanders Than 2016 Was
Bernie Sanders is facing questions about sexual harassment from women who worked on his 2016 campaign as he prepares a likely run for President in 2020.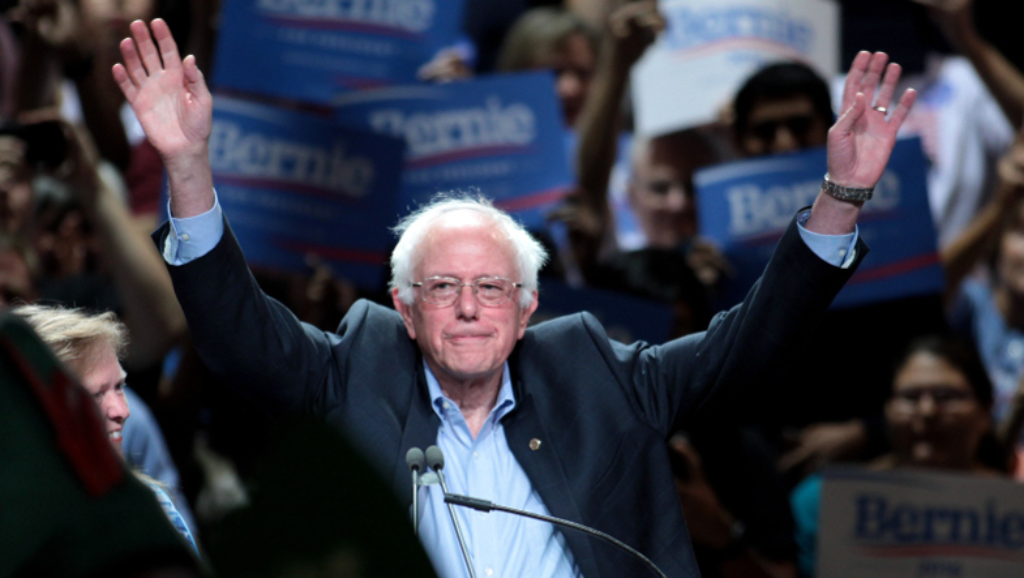 As we head into the 2020 campaign season, Bernie Sanders has a problem that deals with his 2016 campaign:
In February 2016, Giulianna Di Lauro, a Latino outreach strategist for Senator Bernie Sanders's presidential operation, complained to her supervisor that she had been harassed by a campaign surrogate whom she drove to events ahead of the Democratic primary in Nevada.

She said the surrogate told her she had "beautiful curly hair" and asked if he could touch it, Ms. Di Lauro said in an interview. Thinking he would just touch a strand, she consented. But she said that he ran his hand through her hair in a "sexual way" and continued to grab, touch and "push my boundaries" for the rest of the day.

"I just wanted to be done with it so badly," she said.

When she reported the incident to Bill Velazquez, a manager on the Latino outreach team, he told her, "I bet you would have liked it if he were younger," according to her account and another woman who witnessed the exchange. Then he laughed.

Accounts like Ms. Di Lauro's — describing episodes of sexual harassment and demeaning treatment as well as pay disparity in Mr. Sanders's 2016 campaign — have circulated in recent weeks in emails, online comments and private discussions among former supporters. Now, as the Vermont senator tries to build support for a second run at the White House, his perceived failure to address this issue has damaged his progressive bona fides, delegates and nearly a dozen former state and national staff members said in interviews over the last month.

And it has raised questions among them about whether he can adequately fight for the interests of women, who have increasingly defined the Democratic Party in the Trump era, if he runs again for the presidential nomination in 2020.

The former staff members said complaints about mistreatment and pay disparity during and just after the campaign reached some senior leaders of the operation.

In an interview Wednesday night on CNN, Mr. Sanders said he was proud of his 2016 campaign and attributed any missteps with staff members to the explosive growth that was sometimes overwhelming. "I'm not going to sit here and tell you that we did everything right, in terms of human resources," he told Anderson Cooper.

"I certainly apologize to any woman who felt she was not treated appropriately, and of course if I run we will do better the next time," he said.

Asked if he knew about the staff complaints, he said, "I was a little bit busy running around the country trying to make the case."

Some women said the fledgling 2016 campaign was disorganized and decentralized, which made it hard to know whom to turn to in the case of mistreatment.

"I did experience sexual harassment during the campaign, and there was no one who would or could help," said Samantha Davis, the former director of operations in Texas and New York, who also worked on the campaign's advance team. She said that her supervisor marginalized her after she declined an invitation to his hotel room.

In interviews, women told of makeshift living accommodations on the road, where they were asked to sleep in rooms along with male co-workers they didn't know. Women who had access to salary records were taken aback to learn that some female staff members made thousands of dollars less than their male counterparts.

Two delegates who supported Mr. Sanders two years ago recently told his staff that he can't run for president again without addressing the sexism they believe surfaced in his last campaign.

"There was an entire wave of rotten sexual harassment that seemingly was never dealt with," one of the delegates wrote in a December email, obtained by The New York Times, to a Sanders political strategist.

Jeff Weaver, Mr. Sanders's 2016 campaign manager and currently a top adviser, said in an email that "anybody who committed harassment on the campaign would not be asked back" and expressed regret for the operation's shortcomings.

"Was it too male? Yes. Was it too white? Yes," he said. "Would this be a priority to remedy on any future campaign? Definitely, and we share deeply in the urgency for all of us to make change. In 2016, as the size of our campaign exploded, we made efforts to make it a positive experience for people. That there was a failure pains me very much."
As the New York Times report goes on to note, the sexism charges inside the 2016 campaign seem to go beyond a few isolated incidents:
Allegations of sexism surfaced during Mr. Sanders's campaign in 2016, when many of his male fans were derogatorily dubbed "Bernie Bros" for their aggressive online attacks against female reporters and supporters of Hillary Clinton. But they did not overshadow the electrifying nature of his insurgent challenge.

Circumstances have changed since then. Mr. Sanders is no longer an outsider, but an established leader who will be held to a higher standard. And regarding the treatment of women, he must now grapple with the effects of the #MeToo movement.

(,,,)

Pay disparity became another source of frustration among some women, according to former staff members, especially given that labor was one of the senator's signature issues. During his campaign, Mr. Sanders earned kudos for paying his interns, a relatively unheard-of practice.

Some former staff members said there was little pay transparency, and employees often negotiated their own salaries — practices that tend to favor men, who often feel more comfortable requesting higher compensation packages.

Ms. Davis, the former state director, said that she was originally paid about $2,400 a month as a senior staff member and saw in the campaign's records that a younger man who was originally supposed to report to her made $5,000 a month. She said that she brought the issue to the campaign's chief operating officer, who adjusted her salary to achieve parity.

"I helped at least a dozen women request raises so that they would be paid on par with their male peers," Ms. Davis said.

The senator's campaign committee acknowledged that there were pay disparities but said salaries were based on experience or the nature of the job and "never determined based on any consideration of an individual's gender or of any other personal characteristic."
These allegations are important in and of themselves, of course, but they are more important given the fact that they are taking place in the wake of the #MeToo movement and the backlash against sexual assault and harassment that has taken place in business, entertainment, and in politics. Instead of getting swept under the rug, allegations like the ones that women who worked or volunteered on the Sanders campaign in 2016 are coming forward for the same reason that allegations against businessmen, celebrities, and politicians have come forward ever since reporting on the allegations against men like Les Moonves, Harvey Weinstein, Bill Cosby, Al Franken, and others has led women from all parts of society to take to social media or other forums to tell their own stories about having been discriminated against. Additionally, the allegations of pay disparities between men and women on Sanders' campaign goes to the heart of many of his own policy proposals. Sanders response that he was busy campaigning when all this was going on and being reported within the campaign is, to be frank about it, hardly sufficient and likely to be something he'll have to answer questions about in the future.
As CNN's Chris Cillizza notes all of this and the seemingly flippant response that Sanders gave last week when asked about the reports present a problem for Sanders as he tries to make lightning strike for a second time:
On Wednesday night, Sanders was asked by Anderson Cooper whether he was aware, during the 2016 campaign, of the allegations – recently published by The New York Times – of sexism and sexual harassment within his operation.

"I was a little bit busy running around the country trying to make the case," said Sanders.

That is not a good answer. At all. Ever. And especially not amid the ongoing impact of the #MeToo movement on the culture and political world.

(Worth noting: He did apologize "to any woman who felt that she was not treated appropriately," and added: "If I run, we will do better next time.")

The larger point here is that Sanders got away with lots of flubs and gaffes — like this one — during the course of the 2016 campaign against Hillary Clinton because a) no one believed, particularly in the early days of the race, that he had any real chance and b) she simply never really went after him.

Sanders has spent decades in the House and Senate. Clinton barely mentioned the thousands of votes he took — she did spend some time on his votes in support of gun rights — largely because she was afraid of pissing off liberals who were already skeptical of her.

That won't be the case when (I mean, if) Sanders runs for president this time. He won't be a plucky outsider charging at a windmill. He will be one of the best-known candidates, someone others are looking to knock down a peg to bump up their own chances.
As Cillizza goes on to note, all of this means that 2020 is likely to be a very different year for Senator Sanders should he decide to run than 2016 was. In 2016, he was the upstart candidate running a surprisingly strong campaign against a Democratic Party favorite who most of the party elite had rallied behind long before the race began. Even though he had been running for, and held, elective office in Vermont since being elected Mayor of Burlington in 1980, he was treated as something of a political novice during the 2016 campaign. This meant that many of the same missteps and mistakes that might have been a problem for another candidate were brushed aside in his case. Additionally, many of those mishaps got overlooked due to the fact that Sanders was making headlines by drawing big crowds and winning caucuses and some primaries that, while insufficient to actually make it mathematically possible for him to win the delegate race against Clinton, whose campaign organization dwarfed the one supporting Sanders by orders of magnitude.
None of that will be true in 2020. Instead of being, as Cillizza puts it, the "plucky outsider" he is now seen as the leader of the "progressive" wing of the Democratic Party. Rather than being relatively unknown, he will have one of the most well-known names in the race. Most importantly, unlike 2016 there will be a number of other candidates likely seeking to attract that same cohort of voters that Sanders will be aiming at. Senator Elizabeth Warren, who is another star in the Democratic Party's progressive wing, is already effectively a candidate and spent the past weekend campaigning in Iowa, a performance that for the most part seems to be getting fairly good preliminary reviews. In addition to Warren, Sanders faces the prospect of competing for support from the "progressive" wing of the party from potential candidates such as Cory Booker, Kamala Harris, Tulsi Gabbard, and others. Given that, and especially taking into account the fact that these candidates are much younger than he is, the path Sanders faces in 2020 is likely to be far more complicated for him and for his campaign.