Hillary Clinton, Sexism, and Male Privilege
The "racism" debate brought about by Barack Obama in 2000 is getting a spin-off.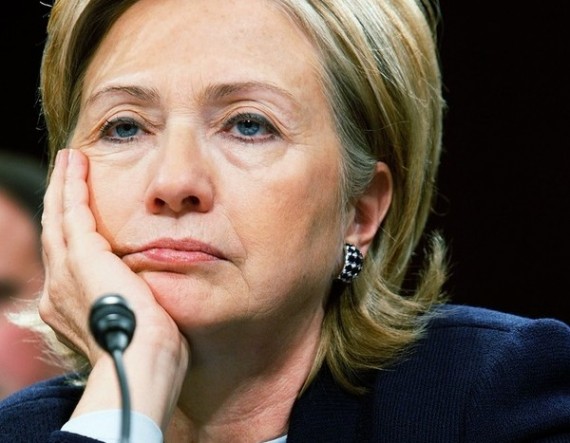 The discussion in the "Hillary Clinton Doesn't Tip at Chipotle" thread went from the silliness of the news coverage and the American system of tipping to the more serious subject of sexism. Specifically, how much of the widely acknowledged animus towards Hillary Clinton is a function of her not conforming to socially acceptable gender norms? Moreover, should the rules of political discourse change when there's a woman in the race?
We went through—and to some extent, are still going through—a lot of this with regards to Barack Obama and race. When the politician is perceived as black, it's next to impossible to separate out animus against his personality, style, policies, and party from those stemming from racism. His supporters will almost always try to assert "racism" because it's not only a trump card in a debate but the mere charge puts the other side on its heels in that particular instance and creates a chilling effect in all future instances.  Given the vitriol that was directed at Bill Clinton—who was accused of everything from rape to murder to launching wars to distract from his personal shenanigans—the bar is pretty high for demonstrating that Obama is going through is primarily a function of his race. At the same time, it's undeniable that there's both conscious anti-black animus as well as the less conscious effects of white privilege in play.
The same is true of Hillary Clinton. On the one hand, there's simply no question that, as a woman, she gets more commentary on her hairdo and clothing than she would if she were a man. Of course, male politicians essentially all have the same haircuts and wardrobe, so there's less to talk about. (What was Ted Cruz thinking going with a medium-gray suit and a sidepart today?!) Still, I've referred to her as "frumpy" from time to time; I probably wouldn't use that term for a male candidate. Of the major potential male presidential contenders, only Chris Christie regularly gets commentary on his appearance—and he's sufficiently obese to be well outside the norms of American politicians. (I'm actually surprised that Jeb Bush hasn't drawn more fire along those lines; he's gotten rather chunky since stepping down as governor of Florida.) So, there's some element of sexism there.
More problematic is our reaction to candidate personalities. Reacting to my statement in the comments that "Hillary has always struck me as completely cynical, willing to say or be anything to advance her agenda," Michael Reynolds charged, "You're reacting to ambition in a woman. The same ambition and ruthlessness is quite evident in just about every candidate but you spin it differently in your head because it's coming from a woman." My response:
I've never understood the "strong woman" defense as applied to Hillary Clinton. She would have had zero appeal as a politician on her own merits and got to the top of the national spotlight by riding Bill's coattails. She then used the White House to run for a Senate seat in New York of all places, again based solely on the name recognition she had for being married to Bill and had the good fortune of the Republican frontrunner imploding. She followed that by a losing bid for the Democratic nomination against a young upstart, who then appointed her Secretary of State for no apparent reason.

She's uncommonly smart and is more disciplined and hard-working than her husband. But her rubbing people the wrong way isn't a function of her being a woman but rather of her personality and her path to the top.
To which Reynolds retorted,
I'm not suggesting you're a sexist overall. I think though that Hillary's barely-suppressed arrogance bothers you more because she's a woman. Rand Paul, Ted Cruz, Scott Walker, Chris Christie, all ooze arrogance and make little effort to conceal it, but they're guys so that assholery is more familiar and contextualized for you.
To which I replied, in part,
Actually, they're all pretty much acknowledged assholes and most of us have written them off for the presidency because of it. Paul is also a bit of a kook. Walker would probably be a pretty plausible nominee aside from the assholery surrounding the way he handled the teachers unions—a policy position on which I could have supported him but found unconscionable precisely because of his arrogance. Christie, aside from being fat, would be almost an ideal candidate aside from his grating personality.
Separately, Reynolds observed,
Republicans are going to really want to watch their male assumptions or they'll walk into a series of Mourdock moments. Republicans have a tin ear for anything not white, male, Christian and upper middle class. Don't forget, even Obama stepped in it with his, "You're likable enough," crack.
To which I replied,
It is what it is but it's patently unfair that male candidates have to bend over backwards to avoid being condescending when dealing with women candidates. Something like Reagan's "There you go again" or Bentson's "You're no Jack Kennedy" would never play against a women but was considered perfectly fair against a man.
To which he responded,
As for any special treatment for women, sorry, but that really is your male privilege talking. 44 male presidents in a row, zero female, and we're to believe she has some unfair gender advantage? Women have to "bend over backward" to avoid seeming too direct, too challenging, too "masculine."

You want to talk unfair? Take a guess at how many times over the next 18 months we'll see talk of hairstyles, clothing choices, wrinkles, etc… discussed on Fox and the networks. I'll bet you a dollar the ratio of such references is at least 10 times higher for Hillary than for any male candidate – even Christie.

You're seeing the ways in which a male candidate might have to adjust to deal with Hillary while failing to see that her adjustment to dealing with the patriarchy will be far more taxing. And I would submit that your intuitive grasp of the male difficulties and blindness to the female equivalents are a result of your gender. You assume the male paradigm is the default and anything else is a suspicious and unfair deviation.
To which, really, there is no response. American politics is American politics and it has been male dominated since its inception. I did note that,
There's no doubt that women are looked at through a different lens than men and that this comes with advantages and disadvantages. For most of our history, being a woman was a huge disadvantage in electoral politics, if not outright disqualifying. In recent years, it's actually become an advantage in races other than president, with the problem being that men are much more likely to actually run for office. (There's essentially no history of qualified women running for president, with Hillary 2000 being the only real example.)

Regardless, I wasn't making a general comment about women in politics but rather characterizing your own example. Obama's "likable enough" comment was only awkward because it was aimed at a woman. Aimed at a Chris Christie or Ted Cruz, it would have brought the house down.
But, again, there's no response to the "privilege" argument. It's baked into the entire culture. On that, I'm completely with Reynolds. In turn, he observes,
I'm with you in hating that kind of chip-on-your-shoulder approach where everything is offensive to someone. It ends up making communication impossible, it trivializes actual important issues, and it generally sucks the humor out of life at which point life becomes intolerable.

But I've been listening more to women lately – not the crazies, but rational people – and I have to say, they have a lot of perfectly good beef with the male half of the human race. I think sexism is a lot more complicated than racism is, but when you look at something like Gamergate you find significant numbers of men really, actually despise women. I was shocked. Women who criticize the gaming community in even the most calm, quiet and reasonable ways get doxxed and are viciously attacked online.
Which goes well beyond the question of Hillary Clinton or sexism in the political discourse, going to the culture. The attitude Reynolds describes was always there, especially among the teen-to-early-twenties set, but it may be more prevalent now. I've only read bits and pieces of the social identity literature but I think the attitude is yet another manifestation of a changing society and a large number of people's inability to adjust.
It was always true that women matured faster than men but part of the reason for that is that the transformation from boy to man is much more complete than that from girl to woman. In recent decades, it's become worse, in that males are increasingly doing jobs where brute strength and physical courage have little value and, to make matters worse, are doing them alongside women. I think a significant percentage of men are naturally going to seethe at the structure of an office environment and they're going to be especially resentful of having women as their bosses or even colleagues. Basically, it's harder to actually distinguish oneself as "a man."
I was never much into gaming and, in any case, it wasn't a massive social activity in the way that it is now with the Internet. But skill at certain types of video games was a nerd's equivalent to being a successful hunter or warrior, a way of setting themselves apart and gaining a source of pride in their manliness. Having women and girls demonstrate that they can do it just as well is thus very literally emasculating.
I don't know how we fix any of this in the short term. I'm raising two little girls and haven't really figured out how to prepare them for it. The good news, at least in terms of racism and sexism, is that we're having this conversation in the context of the second term of a black president and at the beginning of a presidential race in which a woman is not only virtually assured of being the Democratic nominee but is the early favorite to win. Both of those would have been the stuff of fantasy in my lifetime.