Hillary Clinton Doesn't Tip at Chipotle! Stop the Presses!
The scandal that will make everyone forget about Benghazi.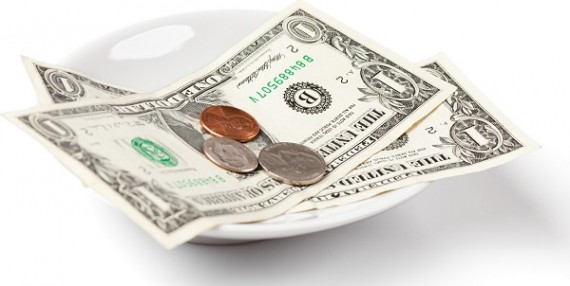 Finally, The Hill has unearthed a story that makes me care about Hillary Clinton's lunch choices.
Do you tip at fast food restaurants?

It's an ethical dilemma tailor made for HBO's "Curb Your Enthusiasm" and thrust into the 2016 spotlight when Hillary Clinton left an Ohio Chipotle without leaving a tip.

When to tip can be a difficult decision, but it is especially tricky if you are running for president.

Charles Wright, the manager of the Maumee, Ohio, Chipotle, told Bloomberg that Clinton

left no change

in the tip jar after paying her bill, which came out to $20.

"We get a bunch of tips," Wright, a Republican voter, said of his store. "If we're doing our job right, people tip."
Now, as regular readers know, I'm not a fan of Clinton. It would take a truly awful Republican nominee to make me even consider voting for her for president. But on this issue, there's no light between us.
I don't tip at restaurants unless I'm getting at least some modicum of table service. That's a pretty low bar. I tip at buffets if someone is re-filling my tea. Hell, I'll leave something if I got all the food myself but somebody else has to clear the table. But spooning food into a tortilla as I walk down the assembly line doesn't meet that threshold. Nor does putting food into a take out container and placing said container in a plastic grocery bag. Or handing me the cup of coffee after writing my name on it.
My practice is customary, not exceptional:
The Emily Post etiquette guidelines say there is "no obligation" to leave extra money in tip jars commonly found at fast food restaurants and coffee shops. But customers can "tip occasionally" for exceptional service.
I suppose that I might tip if I were a regular at a coffee shop and established some sort of rapport with the baristas. But my typical experience at a Starbucks is feeling like part of a herd of cattle, inching slowly along towards the cash register at the end. I'm not sure what would constitute "exceptional service" in such a scenario but can't say that I've ever felt it.
Of course, I'm not a politician.
For politicians looking to show their common touch, however, it's probably a good idea to leave a tip, whether at the Palm or Chipotle.

Politicians, like celebrities, are used to having the tipping decisions scrutinized — and many are ready to make headlines.

President Obama has gained a reputation as a big tipper dating back to his first presidential campaign in 2008.

One month before Clinton conceded the nomination to Obama, he stopped at The Raleigh Times Bar in North Carolina, where he reportedly left an $18 tip on a $2 Pabst Blue Ribbon beer.

Obama and Vice President Biden lunched at Ray's Hell Burger in Arlington, Va. in 2009, and the president left $5 in the tip jar.

And during the government shutdown in Oct. 2013, Obama and Biden walked to the Taylor Gourmet sandwich shop on Pennsylvania Ave., which was giving a 10 percent discount to furloughed government workers.

The president paid a $21.56 lunch tab and left a tip of $18.44.
Now, unlike Clinton—who I understand is barely making ends meet—Obama is quite well-off. He can certainly afford to leave outsized tips on the rare occasions that he stops at a restaurant to eat. Still, the notion that politicians should be expected to leave 900 percent tips on a crappy beer or nearly double the bill at a sandwich shop is absurd.
But, wait, there's more!
After a Father's Day meal at Kenny's BBQ Smokehouse in Northeast Washington, the presidentforgot to pay his $55.58 tab. The White House cleared up the mistake and paid the bill by the end of the day.

Democrats painted Republican presidential nominee Mitt Romney as an out of touch plutocrat during the 2012 campaign. To show he was a man in the people, Romney stopped by fast food chains on the trail.

He visited a Chipotle in Denver one month before Election Day. He left behind a $1.75 tip on a $18.25 bill.

Hillary's husband, Bill Clinton, was fond of eating at McDonald's during his time in the White House.

During a campaign stop in Michigan for vice president Al Gore in 2000, Clinton stopped his motorcade at a McDonald's for an impromptu meal. He was accompanied by then-First Lady Hillary Clinton and their daughter Chelsea.

Clinton reportedly pulled out several $20 bills to pay his bill, but the worker at the counter told him it was not necessary.

"It's on the house, didn't they tell you?" the teenage girl said, according to Newsday, adding, "Unless you want to give tips."

Newsday reported that Clinton slid "what appeared to be a $20 bill" back across the counter and said, "You guys go out and have some fun."
Hillary has better taste in fast food than her husband. But he's a better tipper.