Don't Blame Chipotle for Useless Calorie Information
Vox is mad at Chipotle for doing what the law requires.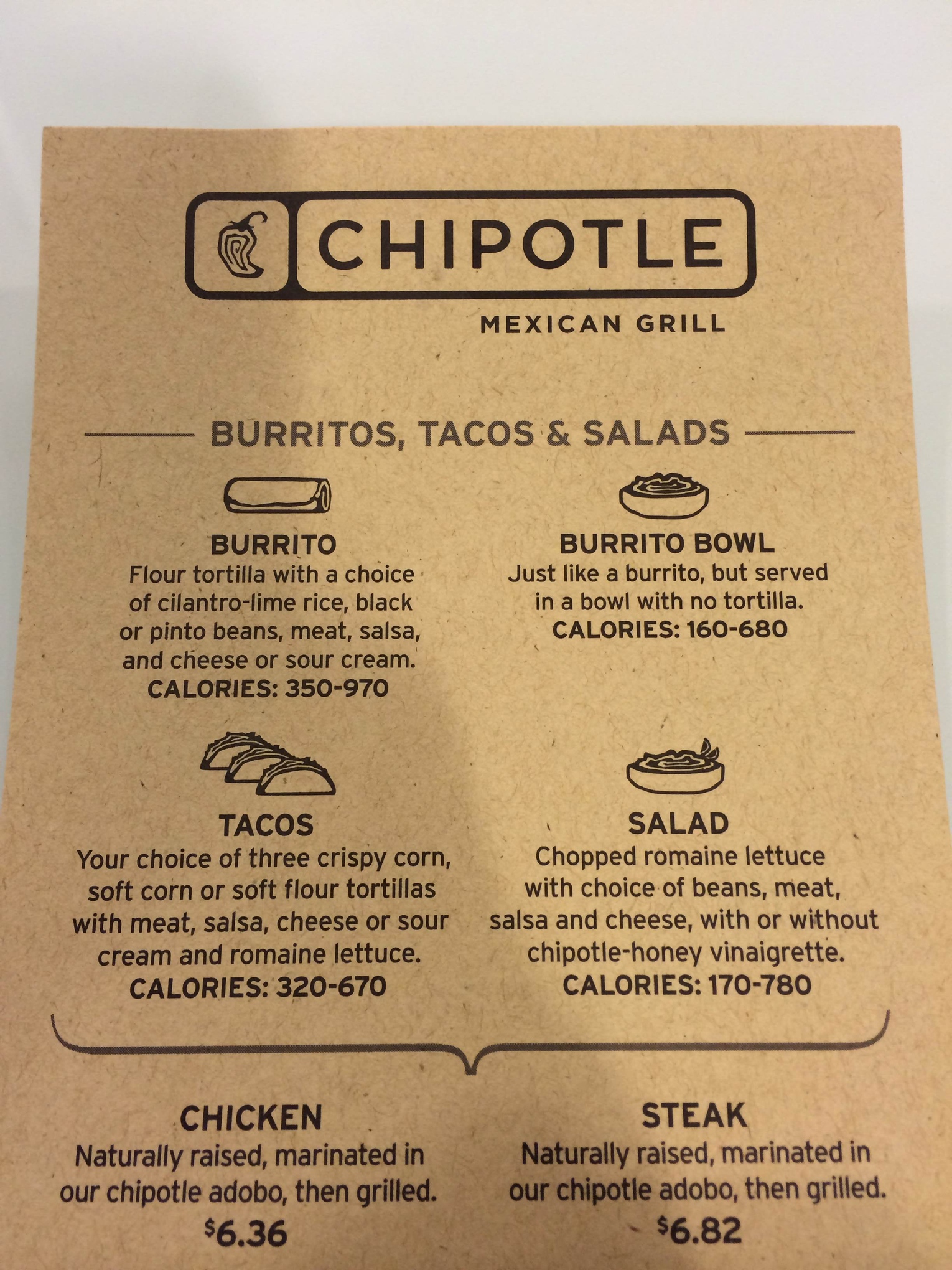 Sarah Kliff wants you to know that "Chipotle's calorie labels are a lie."
The ranges on menu items are so vast that, depending on what your order looks like, a burrito could have 350 or 970 calories – nearly a threefold difference. (Never mind that it is nearly impossible to order the lowest-calorie Chipotle burrito, which consists of a flour tortilla with beans.)

This is a problem that lots of fast food chains are confronting now that the health care law requires them to post calorie counts on their menus. At establishments where menu items are highly customizable, places like Chipotle or Dominos, coming up with accurate calorie counts is a vexingly difficult tax.

Chipotle has settled on providing consumers with a calorie range that is, well, quite large. And when consumers see that range, a new study in the Journal of Public Health Nutrition finds, they underestimate the calories in their own burrito by 21 percent.
But why is that Chipotle's fault? All they do is cook the food and spoon in the stuff that customers ask for.
Kliff tells us that the study found that people do better with a menu that looks like this: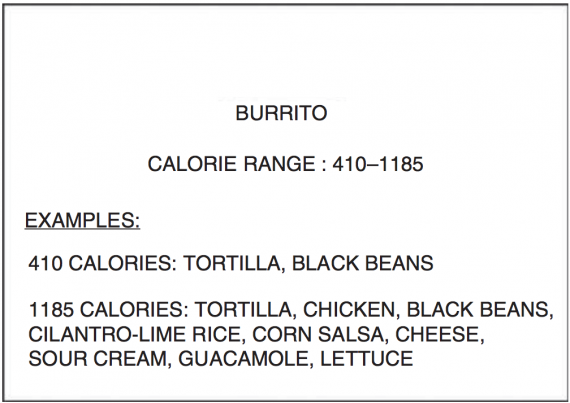 Well, okay.  But there are manifold problems with that menu.
First, it's ugly as hell.
Second, it's much less compact.  That's rather important since the procedure at places like Chipotle is for people to stand in a line and place their order for a category item (say, a burrito bowl) and then go down the line and tell people which things they want on it.  The process would grind to a halt if everyone had to stand around deciphering the menus and weighing the calorie choices of individual ingredients. Most people are still going to order the stuff they like on their burritos but some significant number would now be primed to start asking questions about the calorie count of the guacamole. Normal customers who just want a damn burrito quickly so they can get back to work would get frustrated and quit coming back.
Third, it's still not particularly useful. I'm guessing the lettuce isn't adding much to the calorie count of the second burrito. Ditto the corn salsa.
Fourth, as Kliff admits, Chipotle's menu is actually more compliant with the law than her proposed version:
The Obamacare requirement to post calorie labels, however, favors the range approach. In regulations published in 2011, the Food and Drug Administration directed restaurants to publish a range from the lowest calorie version of an item to the highest. But it doesn't say anything about including examples of what's included at each end.

"Critics of calorie-count regulations are correct to point out that we cannot justify the costs of such requirements if the mandated information does not improve consumer understanding," study co-authors Peter Ubel and Peggy Liu write at the Monkey Cage Blog. "The FDA should require restaurants to define the endpoints of calorie ranges. Consumers deserve comprehensible information about their food choices."
I don't have any heartburn with that. I've got a pretty good idea that cheese, sour cream, and guacamole are high in fat and calories, although there's still substantial variation within those items. Lean beef and chicken should be relatively low in calories but I haven't the foggiest what "chipotle adobo" marinade does to the equation. And the cilantro-lime rice is the real wild card; adding a sauce to rice could wildly change the calorie hit.
It strikes me that the fix is actually fairly elegant: Chipotle should leave their menus as is and then add a single "calories by ingredient" list at the bottom.  Or, better yet, post the calorie count of individual fixin's right there on the little signs that label said fixin's along the assembly line.