Calorie Counts On Menus Don't Seem To Influence Food Choices
Another government mandate that doesn't address a real problem.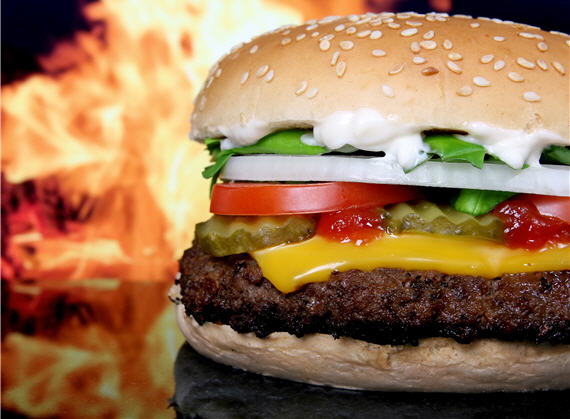 One of the lesser known provisions of the Affordable Care Care requires restaurant chains over a certain size to include calorie counts on their menus, a move that follows in the footsteps of cities like New York, which adopted limited versions of the mandate in the past. The logic behind the requirement, obviously, is that people are more likely to make healthier food choices if they have information in front of them showing the nutritional content, or lack thereof, of some of their favorite fast food items. Another city that adopted calorie count requirements before the PPACA became law was Philadelphia, an a recent study there finds that there's little evidence that people are changing their minds based on this new information:
While the high calorie counts of artery-clogging fast foods are often printed right in front of our eyes, most people ignore them and go ahead and order their burgers and fries anyway, a new study finds.

New York University School of Medicine polled 2,000 Philadelphia fast food customers, aged 18 to 64, finding that few paid attention to calorie counts on menus, HeathDay reports.

Study author Brian Elbel, an assistant professor of population health and health policy, presented his findings Friday at the Obesity Society's annual meeting in Atlanta. The research is published in the November issue of the journal Obesity.

The research team collected customer receipts at McDonald's and Burger King restaurants and surveyed customers about how often they ate at fast food restaurants and whether or not they glanced at calorie information. Researchers surveyed customers both before and after February 2010, when the Philadelphia calorie-count label mandate went into effect.

The researchers also conducted a telephone survey of the city's residents, to gauge how much people paid attention to calorie counts on restaurant menus.

Findings showed no difference in how often people ate at fast food restaurants or the amount of calories they consumed before and after the policy went into effect in Philadelphia, HealthDay reports.
These results are similar to the results of similar studies conducted in 2011 in New York City and Newark in 2011, which also found that the calorie count mandates in those cities had little impact on consumer choice. As I noted at the time, this isn't all that surprising given how human nature work:
When you're talking about large chain restaurants, it's likely true that a menu labeling law doesn't significantly increase the cost of doing business, or at least not to a degree that impacts the bottom line. These are large corporations, or the very least franchises supported by large corporations, and menu redesigns are a routine part of business. Adding in some information about nutritional content wouldn't be difficult at all. In fact, some restaurant chains already provide information of that type on their menus because they've used it as a way to appeal to people who are on weight management programs like Weight Watchers.
Those calorie counts, of course, appeared on menus long before most city ordinances mandating calorie counts had ever existed, and well before the Affordable Care Act was passed. Indeed, they started showing up because restaurant chains began to recognize that there was a segment of the market that found this information helpful and that those people might be more likely to come to their restaurants if there was more nutritional information available on the menu. It was, in other words, a voluntary choice by the business in response to an anticipated market demand. In some cases, such as the partnership between Applebees and Weight Watchers that puts Weight Watchers "points" on the menu while also suggesting healthier alternatives, this seems to have been success for all involved. Additionally, though they don't necessarily include calorie counts, several fast food chains have spent the last several years revamping their menus to provide healthier options to their customers, as well as a means of attracting new customers or those who might have stopped patronizing their stores due to perceptions about the healthiness of their menu. Again, this was a voluntary choice made by the business in response to, and in anticipation of, market demand rather than in response to an arbitrary government mandate. That, in the end, is how these things are supposed to work, and I have yet to see any rational argument in support of the idea that businesses ought to be forced to put calorie counts on their menus. If consumers want this in the restaurants they patronize, then business owners will respond accordingly. If it's not important to them, then they won't. The evidence from the study linked above, and those conducted in the past indicates pretty strongly that, at least in the fast food world, this information isn't really important to the vast majority of customers. If that's the case, then the mandate is just another pointless government regulation.
There are, of course, other problems with menu labeling laws, including one very practical one. How exactly, do you determine the calorie count of a prepared meal? Such meals aren't like prepackaged items at supermarkets, where the nutritional content of what's being sold is known beforehand thanks to testing. Especially outside the fast food world, menu items can vary daily depending on what a chef has prepared or what ingredients might be available. Even if all the calorie count on the menu is supposed to do is provide a general baseline, who gets to decide what an acceptable deviation from that baseline actually is, and what penalty would a restaurateur get for failing to stay within that baseline?
Finally, as I noted back in 2011, a regulation like this inevitably hurts small businesses far more than it does large chains like McDonalds or Pizza Hut:
[A] menu labeling law will inevitably hurt smaller businesses far more than it hurts large ones. As I noted above, the costs of adding nutritional information to a menu is relatively small for a large chain. That's why you don't hear the McDonald's of the world objecting to labeling laws, they know they can comply with them at minimal cost. It's their competitors in the smaller restaurants who will bear the brunt of the costs of the regulation, and who are also more likely to be the subject of disciplinary action by regulators for non-compliance with some hyper-technical aspect of the law.
The PPACA does blunt this effect somewhat by limiting the law to restaurant chains with 20 or more locations, but that also creates perverse incentives to the extent it means that a businessman thinking of expanding his small chain of restaurants might just think twice about opening that 20th location if it means he'll have to undertake the expense of first determining the calorie content of all the items on his menu and then reprinting menus for all those locations with that information, a problem the owner of one small chain of Italian restaurants in the Minneapolis-St. Paul area made note of back in 2011.  Given how little impact these menu requirements apparently have on human behavior, it's hard to see how the increased cost, both to businesses and the economy as a whole, is worth it unless there is a market demand for such information.