Texting At The Restaurant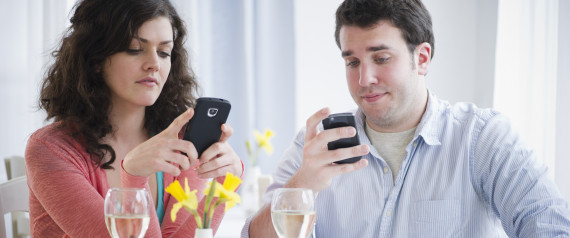 Managers at a New York City restaurant were puzzled as to why the speed of service in their restaurant seems to have slowed down in recent years despite the fact that they had not experienced any significant increase in customers. So, when they came across old videotapes of security footage of the restaurant during a normal day in 2004, they decided to compare it today.
2004:

Customers walk in.

They gets seated and are given menus, out of 45 customers 3 request to be seated elsewhere.

Customers on average spend 8 minutes before closing the menu to show they are ready to order.

Waiters shows up almost instantly takes the order.

Appetizers are fired within 6 minutes, obviously the more complex items take longer.

Out of 45 customers 2 sent items back.

Waiters keep an eye out for their tables so they can respond quickly if the customer needs something.

After guests are done, the check delivered, and within 5 minutes they leave.

Average time from start to finish: 1:05

2014:
Customers walk in.

Customers get seated and is given menus, out of 45 customers 18 requested to be seated elsewhere.

Before even opening the menu they take their phones out, some are taking photos while others are simply doing something else on their phone (sorry we have no clue what they are doing and do not monitor customer WIFI activity).

7 out of the 45 customers had waiters come over right away, they showed them something on their phone and spent an average of 5 minutes of the waiter's time. Given this is recent footage, we asked the waiters about this and they explained those customers had a problem connecting to the WIFI and demanded the waiters try to help them.

Finally the waiters are walking over to the table to see what the customers would like to order. The majority have not even opened the menu and ask the waiter to wait a bit.

Customer opens the menu, places their hands holding their phones on top of it and continue doing whatever on their phone.

Waiter returns to see if they are ready to order or have any questions. The customer asks for more time.

Finally they are ready to order.

Total average time from when the customer was seated until they placed their order 21 minutes.

Food starts getting delivered within 6 minutes, obviously the more complex items take way longer.

26 out of 45 customers spend an average of 3 minutes taking photos of the food.

14 out of 45 customers take pictures of each other with the food in front of them or as they are eating the food. This takes on average another 4 minutes as they must review and sometimes retake the photo.

9 out of 45 customers sent their food back to reheat. Obviously if they didn't pause to do whatever on their phone the food wouldn't have gotten cold.

27 out of 45 customers asked their waiter to take a group photo. 14 of those requested the waiter retake the photo as they were not pleased with the first photo. On average this entire process between the chit chatting and reviewing the photo taken added another 5 minutes and obviously caused the waiter not to be able to take care of other tables he/she was serving.

Given in most cases the customers are constantly busy on their phones it took an average of 20 minutes more from when they were done eating until they requested a check. Furthermore once the check was delivered it took 15 minutes longer than 10 years ago for them to pay and leave.

8 out of 45 customers bumped into other customers or in one case a waiter (texting while walking) as they were either walking in or out of the Restaurant.

Average time from start to finish: 1:55
Obviously, comparing two individual days doesn't necessarily indicate a trend of any kind, but the extent to which technology has pervaded our lives is really quite apparent in this description. Indeed, it's not uncommon from what I see on a regular basis what I'm at a neighborhood restaurant or bar. The part that is most confusing, perhaps, are group of people sitting at a table and, rather than talking to each other, they're all on their cell phones or tablets. I often wonder who they're talking to. Each other? Are they aware of this thing called talking? Also, I'm as technologically sophisticated as the next guy, but what's with the fascination for posting pictures of your food on Twitter, Facebook, and Instgram? I've never understood that.
It's a brave new world we live in.
Photo via The Huffington Post