Putting Calorie Counts On Restaurant Menus Doesn't Accomplish Anything
Not surprisingly, people still order that big juicy cheeseburger even after being told it contains over 1,000 calories.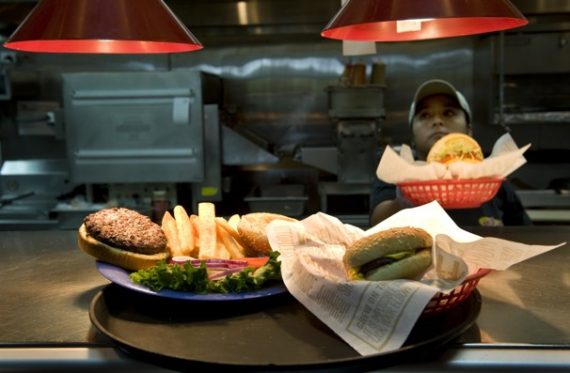 Requirements that restaurants put calorie counts on their menus have been a favorite policy of health advocates on the left for years now. Some cities, such as New York City, have already adopted them in limited scope, and the Affordable Care Act contains a requirement that restaurant chains beyond a certain size provide calorie information on their menus. On it's face it seems like a logical idea – give people information about the calorie and fat content of the Double Whopper With Cheese they're about to order and people will start to think twice, and hopefully order something healthier. As it turns out, the evidence available from jurisdictions that have adopted nutritional labeling requirements shows that they have very little impact on consumer food choices when dining out:
Evidence is mounting that calorie labels — promoted by some nutritionists and the restaurant industry to help stem the obesity crisis — do not steer most people to lower-calorie foods. Eating habits rarely change, according to several studies. Perversely, some diners see the labels yet consume more calories than usual. People who use the labels often don't need to. (Meaning: They are thin.)

Questions about the effectiveness of calorie disclosure come as the federal government is finalizing regulations to nationalize labeling in chain restaurants next year as part of a measure tucked into President Obama's health-care law. Some chain restaurants are tweaking menus in anticipation, offering more low-calorie meals. Yet several high-cal eateries that operate in Montgomery — including the Cheesecake Factory, Chipotle, Five Guys and Red Robin Gourmet Burgers — report no change in dining habits because of the labels.

"Have we seen a big [drop] in sales? No, not at all," said Todd Stallings, owner of several Five Guys restaurants in Montgomery, which based its rules on the upcoming federal policy. "When people come to Five Guys, they know we are not cooking their french fries in water."

Some experts question the wisdom of the labeling policies, even if they agree that people have a right to know the caloric content of what they are ingesting. (Recommended daily calorie intake varies based on age, weight, height and activity levels but is generally 2,500 for men and 2,000 for women.)

"There is a great concern among many of the people who study calorie labeling that the policy has moved way beyond the science and that it would be beneficial to slow down," said George Loewenstein, a behavioral economist at Carnegie Mellon University who studies calorie labeling. In a recent editorial in the American Journal of Clinical Nutrition, he asked: "Given the lack of evidence that calorie posting reduces calorie intake, why is the enthusiasm for the policy so pervasive?"
Not only that, but the evidence available from jurisdictions where menu labeling laws have been in effect shows that they clearly don't impact human behavior
In New York, the first big city to adopt menu labeling, NYU researchers studied the eating choices of low-income fast-food diners, focusing on
those who saw the labels. "Even those who indicated that the calorie information influenced their food choices did not actually purchase fewer calories," the study says.

Research in a fast-food restaurant in King County, Wash., where calorie labeling is also law, found similar results. The stated finding was grim: "Mandatory menu labeling did not promote healthier food-purchasing behavior."

Another recent study shows what really worked was imposing a higher price — by way of a tax — on big-calorie items.

Loewenstein, in his editorial, cited just one "rigorous" study showing a positive effect: at Starbucks stores in New York City, where diners seeing calorie information reduced their intake — but only for food, not beverages. Researchers consider that result a bit of an outlier, theorizing that Starbucks consumers are more sensitive to nutritional information. "I'm sure the average BMI at Cheesecake Factory or McDonald's is a lot larger than at Starbucks," Loewenstein said, only half-joking.

Experts say that for most diners, the issue is not about having information but about lacking self-control. Behavioral economists have for years zeroed in on a logical hiccup: We are unable to balance short-term gains with long-term costs. Many humans are simply really, really impatient. With eating out, the gains are immediate (yummy giant burrito!) and the costs are delayed (staggering bills for heart disease!).

"The long-term consequences are totally intangible," Loewenstein said. "Eating has that in common with cigarettes: One cigarette is not going to kill you, and one big meal is not going to kill you. But the difference is, you need to eat to survive. So there's an easy rule for the cigarette problem: Stop. There is no easy rule for eating. We must eat."
Not only must we eat, but generally we like to eat things that taste good, and the stuff that tastes good is often high in calories, fat, and cholesterol. We are, in  other words, human and not robots who will simply process a number on a menu and decide oh I'll have the salad instead. And, quite honestly, when you've already made the choice to go to a place like McDonalds, or Five Guys, or The Cheesecake Factory, healthy eating isn't really at the top of your list of priorities at that moment in time. It's not just menu labeling that doesn't seem to have an impact on human behavior. A recent study concluded that taxes on sugary sodas won't cause overweight people to drink less sugary soda, because by and large they already drink diet sodas.
Steven Chapman looked at the folly of menu labeling laws in a Reason article back in 2009:
[T]he early evidence suggests that people don't choose high-calorie fast foods because they don't know any better. They choose them because they like them, and they don't really care if othersAdam  disapprove.

That's the implication of a new study in the journal Health Affairs conducted by researchers at New York University and Yale University. They asked questions of and collected receipts from customers at McDonald's, Burger King, Wendy's, and KFC outlets in the city before and after the law took effect, and did the same in Newark, N.J., which has no such law.

The impact of the ordinance didn't quite fulfill those fond expectations. To start with, only about half of the fast-food customers in New York said they noticed all this helpful information, and only a quarter of the patrons in this group said it made any difference in their choices.

Even those who said the data affected their decisions were fooling themselves. Before the law was implemented, the average customer in New York bought items containing 825 calories. Afterward, the figure was 846. In Newark, during the same time period, the typical patron went from 823 calories to 826.

In neither place did diners cut back on saturated fat, sodium, or sugar. The labeling law was the moral equivalent of the Chicago Olympics bid—lots of hype to little effect.
Despite clear evidence that the laws don't achieve their intended effect, Matthew Yglesias seems confused why anyone would oppose them:
Enthusiasm for the policy is so pervasive because the intervention is so utterly mild. Compare that to a proposal for a $100 tax on cheeseburgers. A cheeseburger tax would be extremely burdensome on people who really like cheeseburgers. It's possible that you could persuade me that the public health benefits would be so dramatic that this kind of seemingly arbitrary tax is a good idea, but that'd be a high evidentiary hill to climb. But the long-term financial cost of making people print calorie counts on menus is zero. It's possible that consumers turn out not to care, in which case there's no cost at all. Alternatively, if it does turn out that some firms' interests are adversely impacted by the rule that would have to be because it turns out that consumers actually do care a lot about calorie counts. At worst, there's no impact. At best, you're helping people. Either way, it seems worth doing.
Adam Serwer makes the same "low cost, more information" argument:
As The Washington Post story suggests, for that reason it doesn't hurt businesses' bottom line either. But if the calorie labeling doesn't meaningfully improve public health, it at least provides the consumer with the data to make an informed decision. With labeling, it's harder to argue that your weight problem is someone else's fault, whereas nannyism seeks to prevent you from making your own choices — by say, banning Happy Meals. Informed consent is a worthy goal in and of itself, even if people still choose to eat poorly.
When you're talking about large chain restaurants, it's likely true that a menu labeling law doesn't significantly increase the cost of doing business, or at least not to a degree that impacts the bottom line. These are large corporations, or the very least franchises supported by large corporations, and menu redesigns are a routine part of business. Adding in some information about nutritional content wouldn't be difficult at all. In fact, some restaurant chains already provide information of that type on their menus because they've used it as a way to appeal to people who are on weight management programs like Weight Watchers. The same can't said, though, of smaller restaurants, which may consist of merely a single restaurant or a small chain, as this interview with the owner of Davanni's, a chain of 21 pizza/Italian restaurants in the Minneapolis/St Paul area points out:
Ed Morrissey, who conducted the interview in the wake of the discovery that the Affordable Care Act included a menu labeling mandate, made this point:
The pressure of this law will eventually force restaurants like Davanni's to reduce consumer choice as a way of managing the overwhelming burden of maintaining their disclosures. Smaller chains that succeed in satisfying their customers and managing their business used to be rewarded with growth, but this law will put an artificial cap on expansion at 19 locations. That means that fewer people will find jobs, and even in existing stores, money that may have funded more jobs will instead go to reprinting the same menu boards over and over again. And all of this comes because political elites think that people are too stupid to know that a pizza is fattening or how to access information that already exists in much more efficient formats than menu boards.
There are already several sources
out there where you can find out the nutritional content of the food served in most large chain restaurants, why people like Yglesias and Serwer think that mandating that this information be included on every restaurant menu when it's shown it doesn't really change behavior is extremely puzzling.
There are other problems with these laws, of course. For example, who determines what the "correct" calorie count is for a given dish. A prepared meal isn't like a pre-packaged meal in a supermarket whose nutritional information has already been determined. Sometimes, a chef will make changes to a dish on a daily basis that would make the information set forth on a menu incomplete. Who gets to say what an acceptable deviation would be?
As with other such regulations, a menu labeling law will inevitably hurt smaller businesses far more than it hurts large ones. As I noted above, the costs of adding nutritional information to a menu is relatively small for a large chain. That's why you don't hear the McDonald's of the world objecting to labeling laws, they know they can comply with them at minimal cost. It's their competitors in the smaller restaurants who will bear the brunt of the costs of the regulation, and who are also more likely to be the subject of disciplinary action by regulators for non-compliance with some hyper-technical aspect of the law. If you're okay with hurting small business at the expense of big business I suppose it doesn't matter to you, but when you combine this with the fact that it has no real impact on human behavior it seems pretty clear that these laws are a big waste of time.
Photo via The Washington Post