Subway No Better Than McDonald's if You're an Idiot
Shockingly, there are high calorie items on the menu at Jared's favorite sandwich shop.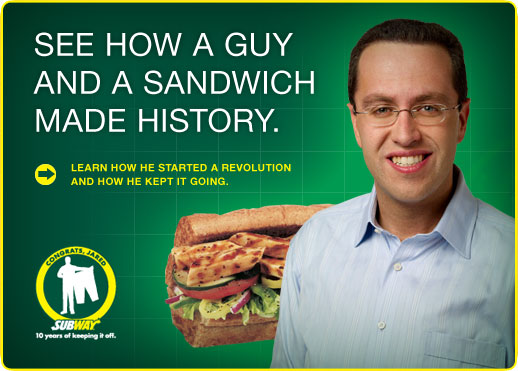 An incredibly stupid UCLA study finds that Subway sandwiches can be just as unhealthy as eating at McDonald's.
NY Daily News ("Bad news, Subway fans: Your $5 footlong may be LESS healthy than a McDonald's Big Mac":
Subway has made a name for itself as the "healthy" fast food chain by touting its lean deli meat sandwiches packed with veggies as an alternative to greasy burgers and fries.

But many people consume just as much sugar, carbs, sodium and overall calories per meal at Subway as they do at its much-maligned competitor, McDonald's, new research shows.

UCLA scientists sent a group of nearly 100 adolescents aged 12 to 21 to eat at McDonald's and Subway restaurants, then collected their receipts to track what they ordered. Using the nutrition information available on each chain's website, they calculated the nutritional value of what the kids purchased.

While meals at McDonalds averaged 1,038 calories, the Subway meals weren't far behind at 955 calories each. And at 784 calories, the average Subway sandwich purchase came in even higher than those bought at McDonald's, which averaged 582 calories.

The Institute of Medicine recommends 2,400 calories per day for adolescents, researchers noted.

"We found that there was no statistically significant difference between the two restaurants, and that participants ate too many calories at both," public health scholar Dr. Lenard Lesser, who led the study, said in a statement.
Now, it's possible that very stupid people think Subway sells magic sandwiches with super special slimming mayonnaise. But Subway never claimed that their sandwiches make you slim, merely that you can lose weight by eating selected Subway sandwiches.
Because there's a shop half a block from my office and I can get out of there quickly with an edible lunch at a reasonable price, I eat at Subway three or four times a month. Because I don't like most of the things people put on sandwiches, I typically order a footlong meatball marina sub. It has, however, never occurred to me that this is a "light" lunch. (Indeed, it has nearly 1000 calories.) Certainly, Jared never ate those in his promos.
But Subway has, right there on the menu, a who slew of "Fresh Fit Choices." These consist mostly of chicken and turkey sandwiches. Six inches, not footlong. Without cheese, mayo, or other fattening ingredients.
Now, Subway also sells potato chips and cookies. Ordering from the Fresh Fit menu and also getting a bag of chips and three cookies will also not set you down Jared's path.
Also: even if you stick to the lighter fare, you probably shouldn't eat three sandwiches a day every day.