Mom Files Lawsuit To Stop Child From Forcing Her To Buy Happy Meals
A woman in California has filed a lawsuit against McDonald's because she is apparently unable to resist her child's incessant demands for a Happy Meal.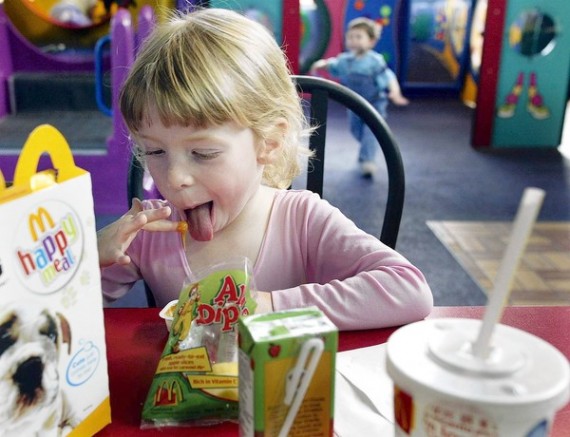 The war against fast food meals with toys in them began when Santa Clara, California banned fast food restaurants from selling meals with toys unless they met certain nutritional requirements. Then, last month, the City of San Francisco followed with a similar measure. Now, the battleground has shifted to the courtroom:
A California mother of two and The Center for Science in the Public Interest are suing McDonald's Corp. to get the fast-food chain to stop using toys to market meals to young children.

They say McDonald's is violating several consumer protection laws by marketing its Happy Meals directly to young children because it exploits children's vulnerability.

"What kids see as a fun toy, I now realize is a sophisticated, high-tech marketing scheme that's designed to put McDonald's between me and my daughters," said Monet Parham, of Sacramento, Calif. "For the sake of other parents and their children, I want McDonald's to stop interfering with my family."

Parham's lawyers, who filed the lawsuit in state court in San Francisco on Wednesday, have asked that it be certified as a class action. The lawsuit doesn't seek damages; it asks the court to bar McDonald's from advertising any meals that feature toys to California children.

(…)

In this case, the center claims McDonald's is engaged in a "highly sophisticated scheme to use the bait of toys to exploit children's developmental immaturity and subvert parental authority."

The toys encourage children to eat nutritionally unbalanced Happy Meals, which in turn promotes obesity, according to the center's complaint.

"McDonald's advertising of Happy Meals with toys is deceptive and unfair to children, unfair to parents, and in violation of California law," the complaint states.
Let's take a look at a few of the allegations in the Complaint:
McDonald's exploits very young California children and harms their health by advertising unhealthy Happy Meals with toys directly to them. Children eight years old and younger do not have the cognitive skills and the developmental maturity to understand the persuasive intent of marketing and advertising.
The last time I checked, there weren't many children eight years old and younger walking into a McDonald's on their own and purchasing Happy Meals. If a Happy Meal is purchased, it's purchased by an adult and unless Ms. Parham is claiming that she, as a mother, lacks the "cognitive skills and the developmental maturity to understand the persuasive intend of marketing and advertising," this allegation seems to be entirely irrelevant. Sadly, that seems to be exactly what she's saying:
Children nonetheless influence the purchasing decisions of their parents. McDonald's exploits that influence, by bombarding children with advertisements for Happy Meals with toys, knowing that it will result in kids nagging parents to purchase nutritionally poor Happy Meals for their children.
So, essentially, because Parham and people like her are unable to say "no" to a four year-old, the power of the state must be used to force her to make the choice that she knows is right for her child but is powerless to make because of the mind control exerted over her by child seduced by the allure of Chicken McNuggets and a toy.
This marketing also interferes with and undermines parental control over the health and welfare of their children. This action seeks to stop one of the most powerful, unfair, and deceptive practices – tempting kids with toys to get them to nag their parents to buy Happy Meals, thereby restoring an environment in which children and their parents can make dietary choices free from unfair and deceptive child targeted marketing.
Here's an idea Ms. Parham, just say no. You're the one who controls the meals your daughters eat, don't feed them fast food and don't give in to every toddler tantrum for Happy Meal toy. That's what adults do.
As it turns out though, Monet Parham isn't an ordinary parent:
Ms. Parham is the same person as "Monet Parham-Lee". Monet Parham-Lee is an employee of the California Department of Public Health. Interestingly, her name has been scrubbed from the website of Champions for Change, the Network for a Healthy California. She has given numerous presentations and attended conferences on the importance of eating vegetables and whatnot.

She presents herself as an ordinary mother. She is not. She is an advocate, and an employee of a California agency tasked with advocating the eating of vegetables. To the extent that Monet Parham-Lee has EVER taken her daughter to a McDonald's, she should have known better.
In other words, she's an activist and this is a manufactured lawsuit. Hopefully, McDonald's will be able to draw those facts out in discovery and these predators will be hit with sanctions for this nonsense.
The Cato Institute's Walter Olson hits the nail on the head in his analysis of this frivolous lawsuit:
No one forced Parham to take her daughters to McDonald's, buy them that particular menu item, and sit by as they ate every last French fry in the bag (if they did).

No, she's suing because when she said no, her kids became disagreeable and "pouted" – for which she wants class action status. If she gets it, McDonald's isn't the only company that should worry. Other kids pout because parents won't get them 800-piece Lego sets, Madame Alexander dolls and Disney World vacations. Are those companies going to be liable too?
If someone cane make a health based claim in favor of it, why not ? What's really important about this case — and about the laws in Santa Clara and San Francisco — is that this is one of those precedent setters. If the Nanny State crowd wins here, what credible basis is left to deny them the right, next time, to go after something else? It's a legitimate question. Because, if they win, they aren't going to stop with regulating what kind of toy can go in what kind of meal in a restaurant. Once they know they can get away with that, there isn't must left to restrain them from using the power of the state to take control of every other aspect of your life. for "your own good," of course.