Monet Had An Ultraviolet Eye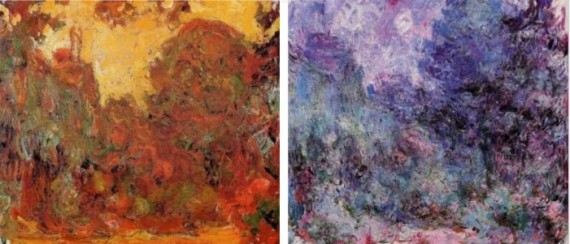 Via Andrew Sullivan, a fascinating story about Claude Monet:
Late in his life, Claude Monet developed cataracts. As his lenses degraded, they blocked parts of the visible spectrum, and the colors he perceived grew muddy. Monet's cataracts left him struggling to paint; he complained to friends that he felt as if he saw everything in a fog. After years of failed treatments, he agreed at age 82 to have the lens of his left eye completely removed. Light could now stream through the opening unimpeded. Monet could now see familiar colors again. And he could also see colors he had never seen before. Monet began to see–and to paint–in ultraviolet.

(…)

With his lens removed, Monet continued to paint. Flowers remained one of his favorite subjects. Only now the flowers were different. When most people look at water lily flowers, they appear white. After his cataract surgery, Monet's blue-tuned pigments could grab some of the UV light bouncing off of the petals. He started to paint the flowers a whitish-blue.
A good example of what happened to Monet's vision after the lens was removed from his left eye can be seen in the two paintings above:
The two paintings you are looking at are from Claude Monet's 1922-1924 series The House Seen From the Rose Garden. If the French impressionist icon was known for one thing, it was his focus on color over form in the creation of textured, emotional landscapes.

Later in life, he developed horrible cataracts that made the colors that had inspired him for decades nearly impossible to perceive. The clouded lenses prevented him from seeing anything but reds and yellows.

(…)

The paintings above are of the same scene. The red and yellow version is painted as seen through his left eye, limited to the wavelengths allowed by his cataract. The painting on the right is deep blue and violet, as seen through an eye with no lens. Who can imagine how those colors appeared to his eye while being mixed on his palette?
There's a whole world of color out there that we don't necessarily see.