Food Police Declare War On The Happy Meal
The legendary food police are going after Ronald McDonald and his Happy Meals.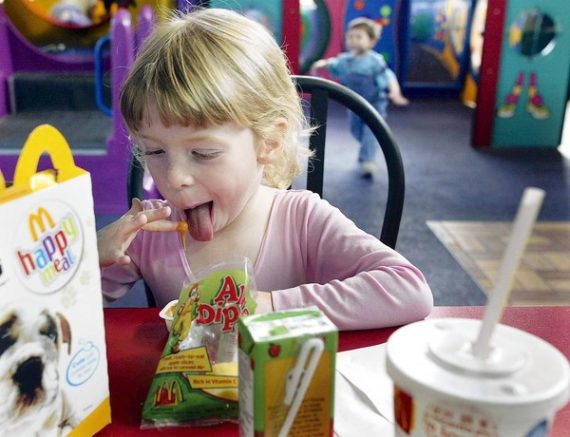 The McDonald's Happy Meal, the children's-sized meal-with-a-toy familiar to so many parents and children, is now in the cross hairs of the Center For Science In The Public Interest:
WASHINGTON—Tell it to the judge, Ronald: A nutrition watchdog group will sue McDonald's if the fast-food chain continues to use toys to promote Happy Meals. According to the nonprofit Center for Science in the Public Interest, using toys to lure small children into McDonald's is unfair and deceptive marketing and is illegal under various state consumer protection laws. CSPI today served McDonald's a notice of its intent to sue, fulfilling a legal requirement of several states in which CSPI might bring the lawsuit.

"McDonald's is the stranger in the playground handing out candy to children," said CSPI litigation director Stephen Gardner. "McDonald's use of toys undercuts parental authority and exploits young children's developmental immaturity—all this to induce children to prefer foods that may harm their health. It's a creepy and predatory practice that warrants an injunction."

(…)

Regardless of the nutritional quality of what's being sold, the practice of tempting kids with toys is inherently deceptive," said CSPI executive director Michael F. Jacobson. "I'm sure that industry's defenders will blame parents for not saying 'no' to their children. Parents do bear much of the responsibility, but multi-billion-dollar corporations make parents' job nearly impossible by giving away toys and bombarding kids with slick advertising."

"We know from scientific research that young children—and even older ones—do not have the ability to understand how marketing has been designed to influence them," said Kathryn Montgomery, professor of communication at American University and an expert on media and children. "In the era of digital marketing, these vulnerabilities are magnified even further. McDonald's use of these techniques raises troubling questions, for health professionals, parents, and policy makers."
The CPSI's threat of litigation comes just two months after Santa Clara County, California passed a resolution banning restaurants from putting toys in children's meals unless they meet certain nutritional guidelines.
The CPSI goes on to quote a "concerned parent":
"McDonald's makes my job as a parent more difficult," said Sheila Nesbitt, 36, a project manager from Champlin, MN, and a parent of a six-year-old boy and a three-year-old girl. "They market cheap toys that appeal to kids and it works. My kids always want to go to McDonald's because of the toys. I try my best to educate my kids about healthy eating but it's hard when I am competing against the allure of a new Shrek toy."
Here's an idea Ms. Nesbitt, just say no. You're the one who controls the meals your child eats, don't feed him fast food and don't give in to every tantrum for Happy Meal toy. That's what adults do.