The War On Happy Meals Reaches New York City
The war on childhood fun reaches the East Coast.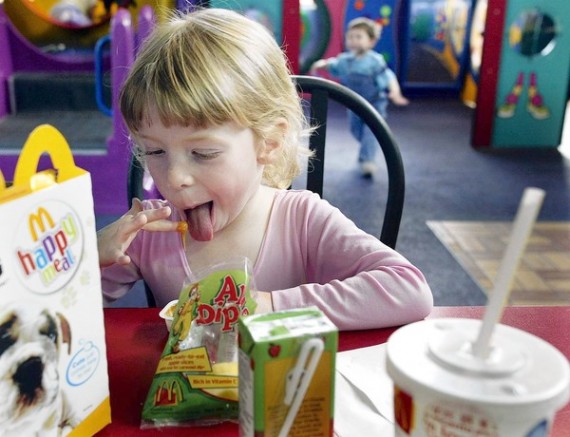 The slightly absurd legislative effort to regulate what meals parents can buy for their children has reached the Big Apple:
NEW YORK (CBSNewYork) – San Francisco's already done it, and now New York may follow suit. New York City Councilman Leroy Comrie thinks the city should consider a ban on "Happy Meals" and similar fast food promotions aimed at kids unless those meals meet certain nutritional standards.

Comrie has fought the battle of the bulge himself.

"As you know, and I'm an example, nearly one-third of all children in New York City and throughout the United States are either overweight or obese," Comrie said.

Comrie planned to introduce his own bill Wednesday that would essentially rewrite what could currently be considered a "Happy Meal." The bill would require establishmentsPenalties would be steep: between $200 to $2,500 for repeat restaurant offenders who use toys to sell unhealthy meals.

Comrie said fast food restaurants know exactly what they're doing.

"It comes as no surprise that these ads and meals are also targeted in low income and minority neighborhoods that are already at risk for childhood obesity. These are the same communities that have limited access to supermarkets, limited access to healthy food options," Comrie said. that offer toys with food make sure the meals are 500 calories or less and have low fat and low sodium totals.
This isn't the first time we've seen this of course, last year similar measures were passed in San Francisco and in Santa Clara County, California and the justifications for the ban were the same there as they are in this case.  In all three cases, they essentially assume that parents are mindless zombies under the control of their 3, 4, and 5 year-old children and deprived of the ability to say no when little Sally or Johnny threatens to throw a temper tantrum if they don't get their Chicken McNuggets. Now, perhaps there's a little bit of projection going on here and people like Comrie just assume that no parent can say no just because they can't. That's hardly a justification for legislation like this.
When the Santa Clara legislation was being considered last year, Bruce McQuain said this:
What has to be understood here is this is one of those precedent setters – if you give the Board of Supervisors this without a fight, how can you deny them the right, next time, to go after something else? Legitimate question. Because you know if they win this, there's very little to restrain them from managing the rest of your life.
There is no cure for bad parenting and making it harder to buy Happy Meals isn't going to force a bad parent to make sure their child is eating healthy. The only thing a law like this does is impose yet another level of regulation on business, put more power in the hands of government bureaucrats, and deprive good parents of the opportunity to give their children a treat every now and then. After all, if you're going to regulate Happy Meals, why stop there? Baskin Robbins? You're next!