San Francisco Bans Happy Meals
In yet another move designed to take the fun out of being a kid, San Francisco has banned the Happy Meal.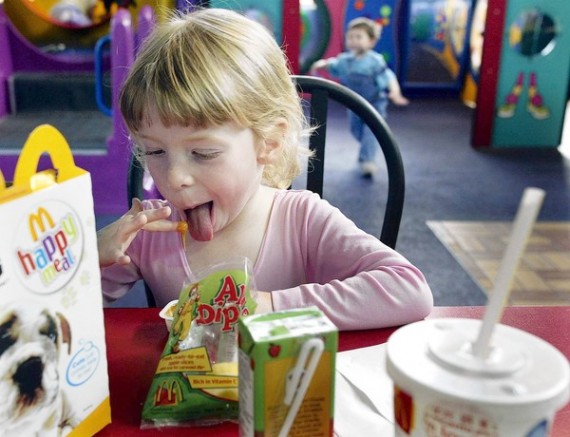 San Francisco has taken steps to keep its children safe from meals with toys in them:
San Francisco's board of supervisors has voted, by a veto-proof margin, to ban most of McDonald's Happy Meals as they are now served in the restaurants.

The measure will make San Francisco the first major city in the country to forbid restaurants from offering a free toy with meals that contain more than set levels of calories, sugar and fat.

The ordinance would also require restaurants to provide fruits and vegetables with all meals for children that come with toys.

"We're part of a movement that is moving forward an agenda of food justice," said Supervisor Eric Mar, who sponsored the measure. "From San Francisco to New York City, the epidemic of childhood obesity in this country is making our kids sick, particularly kids from low income neighborhoods, at an alarming rate. It's a survival issue and a day-to-day issue."
Food justice? What in the heck is that?
Apparently, it involves something like this:
Under the ordinance, scheduled to take effect in December 2011, restaurants may include a toy with a meal if the food and drink combined contain fewer than 600 calories, and if less than 35% of the calories come from fat.
San Francisco follows in the footsteps of Santa Clara County, California which passed a similar ordinance in April, and joins in a war against the Happy Meal that was first declared by the Center for Science In The Public Interest, also known as the food police by their critics.
Here's an idea for parents, just say no. You're the one who controls the meals your child eats, don't feed them fast food if you don't think it's good for them, and don't give in to every toddler tantrum for Happy Meal toy. Also, stop trying to take the fun out of childhood. That's what adults do.