Burt Reynolds Dies At 82
The tough guy actor best known for the "Smokey And The Bandit" movies has passed away at the age of 82.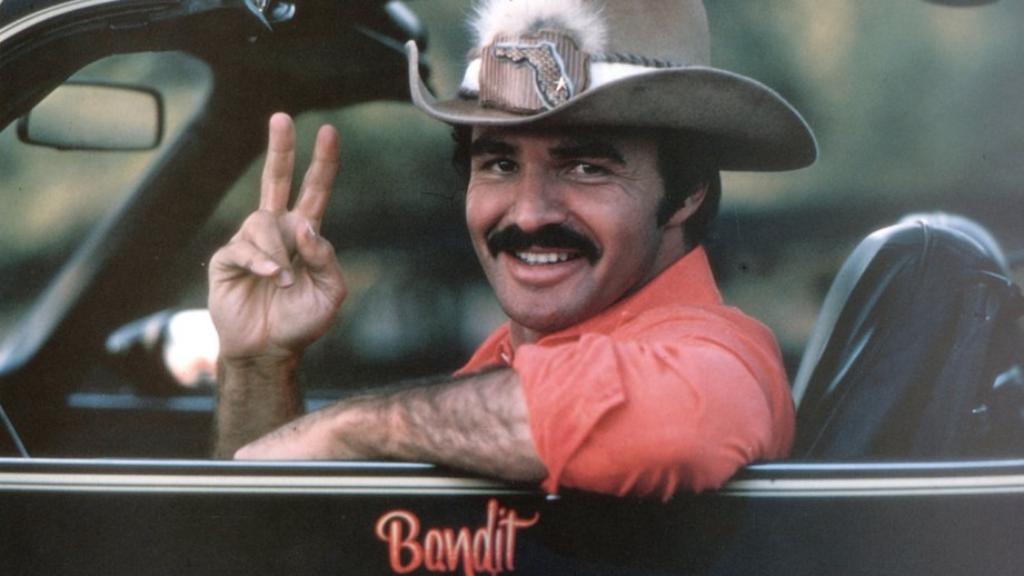 Burt Reynolds, who rose to fame thanks to movies such as 'Smokey And The Bandit' and became famous in later years for taking on roles that to some extent playfully mocked the tough guy characters he had once played, has died at the age of 82:
Burt Reynolds, the wryly appealing Hollywood heartthrob who carried on a long love affair with moviegoers even though his performances were often more memorable than the films that contained them, has died at 82.

A spokesman for Mr. Reynold's agent, Todd Eisner, confirmed the death. No other details were immediately provided.

A self-mocking charmer with laugh-crinkled dark eyes, a rakish mustache and a hairy chest that he often bared onscreen, Mr. Reynolds did not always win the respect of critics. But for many years he was ranked among the top 10 movie draws worldwide, and from 1978 through 1982 he ruled the box office as few, if any, stars had done before.

From car-crash comedies like "Smokey and the Bandit" to romances like "Starting Over" to the hit television series "Evening Shade," Mr. Reynolds delighted audiences for four decades, most often playing a good-hearted good ol' boy seemingly not that different from his offscreen self.

Throughout an often turbulent career that spanned some 100 films and countless television appearances, he had close brushes with death, some resulting from his insistence on doing many of his own dangerous stunts. He braved the raging rapids of the Chattooga River between Georgia and South Carolina for a favorite role, as one of four suburbanite buddies who undertake a journey into America's heart of darkness, in "Deliverance" (1972).

A decade later he battled an addiction to prescription medication after his jaw was shattered in a fight scene, an accident that left him wizened and led to false whispers that he was dying of AIDS.

Fellow actors praised Mr. Reynolds as an exacting artist who worked hard at his craft and fought to overcome many demons, including a volatile temperament. But he himself projected an air of insouciance and professed not to take his career too seriously. He told The New York Times in 1978, "I think I'm the only movie star who's a movie star in spite of his pictures, not because of them; I've had some real turkeys."

To many in Hollywood, Mr. Reynolds was an enigma. Tormented by self-doubt — he particularly disliked hearing how much he resembled the young Marlon Brando — he was also strong-willed, clashing often with directors and producers. For much of his career he accepted roles, he admitted, "that would be the most fun, not the most challenging," while turning down parts including one for which Jack Nicholson would win an Academy Award, in "Terms of Endearment."

(…)

Burton Leon Reynolds Jr., originally called Buddy to distinguish him from his father, was born in Lansing, Mich., on Feb. 11, 1936, and grew up in Riviera Beach, Fla., where his father was police chief. Many biographical sources say Mr. Reynolds was born in Waycross, Ga., but in his 2015 memoir, "But Enough About Me" (written with Jon Winokur), he said that he had told that to interviewers because "I grew up a Southern boy who didn't want to be a Yankee."

Although young Burt acted in high school plays, his passion was football. He went on to play for Florida State University, but his sports career ended in 1955 when he was seriously injured in a car crash.

He later studied acting at Palm Beach Junior College, where in 1956 he won a drama award that included a scholarship to the Hyde Park Playhouse in Hyde Park, N.Y., near New York City. He shared a Manhattan apartment with a fellow actor, Rip Torn, and found an agent with the help of Joanne Woodward.

Mr. Reynolds signed a seven-year contract with Universal Studios in 1958 and was cast in a new NBC series, "Riverboat," starring Darren McGavin. He rubbed shoulders with Hollywood royalty on the Universal lot and, he recalled, received some valuable advice from Spencer Tracy on how to be a successful actor: Don't let anybody catch you at it.

(…)

He remained primarily a TV actor for the rest of the 1960s, with roles in episodes of "The Twilight Zone" (in a comedic episode in which his character was a parody of Brando), "Route 66," "Perry Mason" and many other shows. Mr. Reynolds, who was part Cherokee, was cast so often as a smoldering Indian, including an Iroquois police detective on the short-lived 1966 ABC series "Hawk," that he liked to say the only Native American he never played was Pocahontas.

What few movies he made in those years were undistinguished; he once said that the 1965 spy thriller "Operation C.I.A.," in which he starred, was so bad that it was not shown on airplanes for fear people would jump out.

His career did not take off until he became a regular on the talk-show circuit in the early 1970s, drawing laughs as the guest of Johnny Carson, Merv Griffin and others by self-effacingly presenting himself as, in his words, "the most well-known unknown."

"I spent 10 years looking virile and saying 'Put up your hands,' " he told the critic Roger Ebert in an interview for The New York Times in 1972. "Suddenly I have a personality. People have heard of me."

One TV host who was particularly captivated by Mr. Reynolds's charm was the singer Dinah Shore. The difference in their ages raised some eyebrows — she was almost exactly 20 years older than he was — but shortly after he was a guest on her popular afternoon show, the two became inseparable, and they remained a couple for several years.

The year 1972 marked a turning point in Mr. Reynolds's career. He had his first substantial role in a major movie. Almost simultaneously, he became something of a pop-culture punch line.

His star turn in "Deliverance" that year was critically praised and prompted talk of a possible Oscar nomination. That he did not get one was attributed by some, including Mr. Reynolds himself, to his decision to pose artfully nude as a centerfold in an issue of Cosmopolitan magazine that was published at roughly the same time the movie was released. The photo was a sensation, but the image it projected made it harder for Hollywood to take him seriously as an actor.

"It was really stupid. I don't know what I was thinking," Mr. Reynolds said in 2016. "I really wish I hadn't done that."

He nonetheless worked steadily for the next decade; he made more than 20 movies between 1973 and 1982, most of them hits. They included two in which he got to revive his college gridiron dreams: "The Longest Yard" (1974), which cast him as an imprisoned football star who coaches his fellow convicts to victory over the warden's team, and "Semi-Tough" (1977), based on Dan Jenkins's comic novel about professional football. By the end of the decade Mr. Reynolds had made enough money to buy a Hollywood mansion, a private aircraft and a dinner theater in Jupiter, Fla.

Mr. Reynolds took on one of his defining roles in 1977, when he played a daredevil driver who leads the law — Jackie Gleason as a hyperventilating sheriff — on a madcap chase from Texas to Georgia in "Smokey and the Bandit," a box-office smash that spawned two sequels (although Mr. Reynolds made only a cameo appearance in the third "Smokey" film) and ignited a long-running romance between Mr. Reynolds and his co-star, Sally Field.

"One of the things people say about 'Smokey' is that you watch two people fall in love on the screen," Mr. Reynolds wrote in "But Enough About Me," "and it's true." Although he once called Ms. Field "the love of my life," their relationship ended after a few years.

Critics were not impressed by "Smokey and the Bandit," but audiences were thrilled: Only "Star Wars" did better business that year. For five weeks' work on another car-chase picture, "The Cannonball Run" (1981) — directed, as were the first two "Smokey" movies, by Mr. Reynolds's friend Hal Needham, a former stuntman — he was paid $5 million (the equivalent of about $14 million in 2018 dollars), a record at the time.

Success gave Mr. Reynolds the freedom to try new things. He directed himself in "Gator" (1976), "The End" (1978), "Sharky's Machine" (1981) and "Stick" (1985). He tried his hand at musical comedy — feebly, critics said — in "At Long Last Love" (1975), with Cybill Shepherd, and again in "The Best Little Whorehouse in Texas" (1982), with Dolly Parton.

But by the time he returned to the cars-as-stars genre as a stock-car racer in "Stroker Ace" (1983), another Hal Needham film, his career had peaked. Vincent Canby of The Times called it "the must-miss movie of the summer," and this time audiences agreed.

(…)

He rebounded and in 1990 began a long run on a new CBS comedy, "Evening Shade," playing, in yet another football iteration, a former pro player who returns to his small Arkansas hometown to coach the losing local high school team. He won an Emmy for his performance in 1991, and the show ran for four seasons (Mr. Reynolds directed many of its 98 episodes) before expiring — prematurely, Mr. Reynolds complained — in 1994.

His days as a box-office champion were long over by then, but he remained busy almost to the end. In addition to his Oscar-nominated triumph in "Boogie Nights," there were small roles in big movies (including the 2005 remake of "The Longest Yard"), bigger roles in smaller movies, voice-over work in cartoons, and numerous television appearances, often as an exaggerated version of himself. (He was recently cast in a Quentin Tarantino movie about the Manson family murders, "Once Upon a Time in Hollywood," scheduled for release next year.)

His health and money woes were not entirely behind him. He underwent a quintuple heart bypass in 2010. Four years later, still in debt, he auctioned off much of his personal memorabilia, including his Emmy and his Golden Globe. The auction raised far more money than expected, he wrote in "But Enough About Me," and was "a liberating experience" that "showed that people all over the world still think kindly of me."

Looking back in 2015, Mr. Reynolds expressed regret over the roles he didn't get and the chances he didn't take. It was not until he was almost 40, he wrote ruefully, that he decided he "wanted to be respected as an actor and began to think I might be good if I really worked at it." His best performance, he added, might well be "still ahead of me."

"I may not be the best actor in the world," he concluded, "but I'm the best Burt Reynolds in the world."
Variety and The Hollywood Reporter also have obituaries up, as does The Washington Post.
Variety also has a separate piece detailing some of the roles that Reynolds turned down over his career, including chances to audition for the roles of James Bond, Michael Corleone, Han Solo, Richard Gere's role in "Pretty Woman," Jack Nicholson's roles in both "One Flew Over The Cuckoo's Nest" and "Terms of Endearment," and Bruce Willis's role in "Die Hard." Many of these roles, of course, went on to launch the people who ultimately filled them into the super-stardom that eluded Reynolds throughout his career, and several of them resulted in Academy Award nominations and wins for the actors who took the roles. To be honest, it's hard to imagine Reynolds in some of these roles compared to the people who ultimately got the job, but it does go to something that Reynolds said many times later in his career, namely that he didn't always have the best judgment when it came to accepting or turning down roles. It also reminds one of Elvis Presley, who had been offered the leading male role in the remake of "A Star Is Born" opposite Barbra Streisand that ultimately went to Kris Kristofferson.
For those of my generation, of course, Reynolds is best known for his roles in the "Smokey And The Bandit" and "Cannonball Run" series of movies, but I also recall seeing both the original version of "The Longest Yard" and "Semi-Tough" in theaters, although given when they were originally released I would assume this happened when they were re-released in theaters at some point. Reynolds character in each of these movies wasn't entirely different, of course, so it would be easy to accuse him of being a formulaic actor who didn't really break formula very much. Even if that was true, though, the fact of the matter was the Reynolds was obviously the right man for each of these roles and he was always entertaining, especially in the "Smokey" movies. During this same time period, Reynolds was also part of the all-star cast of "The Best Little Whorehouse in Texas," the film adaptation of what had been a classic and successful Broadway musical. In that movie, Reynolds was able to stray away from the "tough guy" character. In that movie, Reynolds played the leading male role with country music star Dolly Parton as the female co-lead in a production that went on to receive nominations for several of Reynolds co-stars, including Parton and the late actor Charles Durning. I wasn't really a regular viewer of "Evening Shade," the semi-successful situation comedy that ran on CBS for four seasons and which occasionally pops up in syndication on cable, but the episodes I did see were entertaining. Reynolds also became noteworthy during the 80s due in no small part to his relationships with both Sally Field and, later, Loni Anderson, who of course played the voluptuous Jennifer Marlowe on the 70s sitcom WKRP In Cincinnati. As with many parts of Reynolds life, both relationships were turbulent and not without controversy.
I'll admit that I'd lost track of Reynolds career some time after the mid-90s and the only time he seemed to show up in the news was when there was news about the health and financial problems that marked his later years. Apparently, though, he managed to pull things together in recent years and, to be honest, I had no idea that he was already 82 years old since he always seemed so much younger than that. While he didn't reach the heights that others who started in acting the same time he did, such as Clint Eastwood, Reynolds seemed to have a good life overall and I suppose that's the best any of us can ask for.