Amy Klobuchar 2020?
Minnesota Senator Amy Klobuchar is reportedly considering a bid for the Democratic Presidential Nomination in 2020.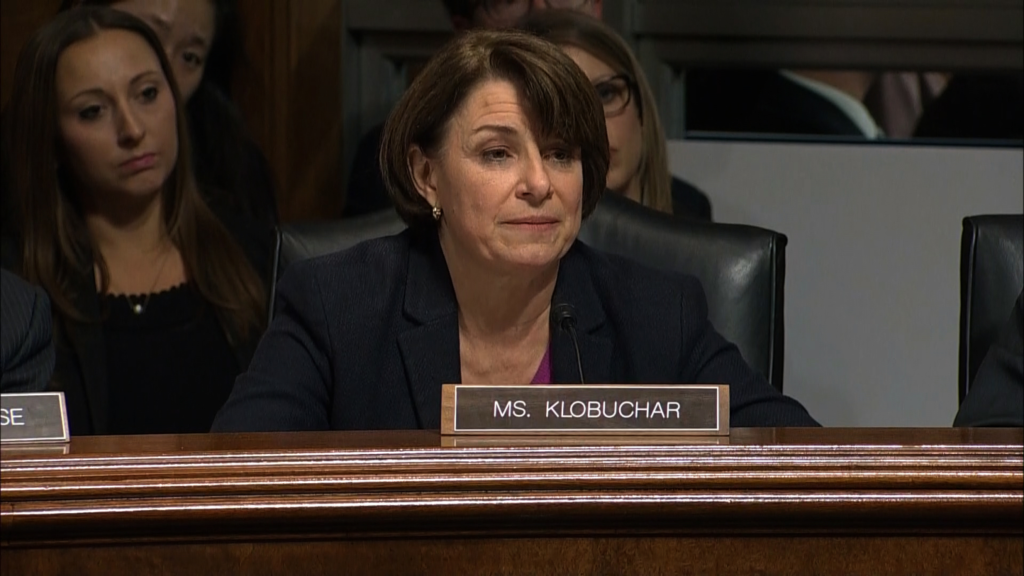 Minnesota Senator Amy Klobuchar, who was recently re-elected to a third term in office, is telling reporters that she isn't ruling out the possibility of running for President in two years,but it isn't clear that her brand of politics is what the Democrats will be looking for in a candidate to take on the President:
The speculation began the moment Senator Amy Klobuchar walked into the room.

"You're looking at a future president," whispered Jacob Forman, a Carleton College senior, elbowing a friend as Ms. Klobuchar strode into a campus hall this month to rally a crowd of fired-up Democrats. Frank Wergin, a construction company owner, looked on admiringly: "That's our 2020 presidential candidate."

Three days later, Ms. Klobuchar coasted to a third Senate term, clobbering her Republican opponent with 60 percent of the vote in a state that President Trump nearly won in 2016. Now Minnesota's most popular politician is weighing whether her home state appeal — forged through carefully cultivated bipartisanship in Washington and an aw-shucks-I'm-just-like-you persona — will translate on a national stage.

As Democrats look ahead to 2020, Ms. Klobuchar's presence in a jam-packed field of potential contenders raises a core question about what kind of candidate can beat Mr. Trump. At a moment when confrontational progressives such as Representative-elect Alexandria Ocasio-Cortez are captivating the party's imagination and tapping into its anger, do Democrats need a firebrand Elizabeth Warren or Bernie Sanders type who can whip up the liberal left and match Mr. Trump's pugnacity?

Or do they need a calm, reasoned, reliable (but not flashy) Democrat from the American heartland to provide a stark contrast to the president — in short, Amy Klobuchar?

"My fear for the Democratic Party is that people are going to see who can be the most virulent, anti-Trump person — and that is his game; his game is to be angry and snide," said David Axelrod, a former senior adviser to President Barack Obama. "I think people are exhausted. I think people want to believe that we can be better than that."

Officially, Ms. Klobuchar's position on a White House run is that she is not commenting until she talks to her family. But she does not rule it out and has already visited the early voting state of Iowa this year. Nor does she shy away from talking about how Democrats should behave in the era of @realDonaldTrump.

"I don't agree with, 'When they go low, we go low,' but I do agree that when they go low, we have to respond," Ms. Klobuchar said, referring to the intraparty debate over Michelle Obama's 2016 mantra: "When they go low, we go high."

"But," she went on, "responding doesn't mean just going down a rabbit hole everywhere Donald Trump goes. It means doing a response but continuing to push your own agenda. I don't think we want to use those same tactics and tweet caustic comments every morning."

In the Senate, Ms. Klobuchar is not in the forefront on divisive issues like immigration, but she has led efforts to curb the skyrocketing cost of prescription drugs, expand voting rights, address sexual harassment and protect online privacy after revelations of Facebook's data mining.

Early in her tenure, she carved out a niche in consumer protection, shepherding passage of bipartisan bills to ban lead in toys and improve swimming pool safety after several highly publicized child deaths, measures that Gregg Peppin, a Republican strategist here, said have earned Ms. Klobuchar a derisive nickname: "The Senator of Small Things."

"It's issues that are kind of no-brainers, and when it comes to substantive things, she's really not there," Mr. Peppin said, adding that Republicans have a second nickname for her: "Cotton Candy Amy, because there's no nutritional value; you put it in your mouth and it melts away and there's nothing really there."

Ms. Klobuchar has heard the "small things" criticism, and resents it.

"Not for a minute do I view these as small things," she said sharply. "They're big things for the people whose kids' lives were saved."
While being from Minnesota has meant that, at least until recently, Klobuchar has gone relatively unnoticed outside of Washington and Minnesota itself. In no small part that has been because she has not followed the practice of many of her fellow Senators of being sure to show up frequently in the national news or making herself available as a talking head for the cable networks outside of the context of legislation she has supported or issues dealing with her home state. That is likely to change now that she has far more tenure than she used to, though, and it changed most significantly in the wake of the fight over the Brett Kavanaugh nomination, particular during the hearing in late September regarding the charges made against him by Dr. Christine Blasey Ford and other women. During that hearing, Klobuchar, who had previously served as the chief prosecutor for Minnesota's largest county, pressed Kavanaugh on several avenues of inquiry, including his drinking habits and the question of whether or not he had blacked out while drinking. Kavanaugh responded by asking the Senator if she had and she responded testify"I have no drinking problem, Judge." That exchange quickly went viral and was part of the Saturday Night Live parody of the hearing. Most importantly, though, it helped to raise her national profile and has been the main reason for much of the 2020 speculation that has sprouted up around her.
Back home in Minnesota, Klobuchar has been fairly popular. In 2006, for example, she easily won the nomination of the Democratic-Farmer-Labor Party and went on to an easy win in the General Election that November to replace Senator Mark Dayton. Six years later, she was again easily re-elected with a wider margin of victory than Barack Obama received in the state. Finally, just this month, she was again re-elected by a wide margin notwithstanding the fact that Donald Trump had come within two percentage points of winning the state in 2016. Given all of that, it's understandable that Klobuchar would be on the short-list for the 2020 nomination, especially since there will be significant pressure on Democrats to once again give their top slot to a female candidate, especially in the wake of the Clinton loss in the 2016 election, the rise of the MeToo movement, and the success of female candidates and role of female voters in the 2018 midterms. Additionally, Democrats would be smart to look at candidates from the Midwest who can attract the voters that had supported Barack Obama in 2008 and 2012 and then ended up switching to Donald Trump in 2016. It's not clear that Klobuchar is that candidate, but she seems to have a lot of what Democrats might be looking for in 2020 if they actually want to beat Donald Trump.