Senator Amy Klobuchar Enters Presidential Race
Minnesota Senator Amy Klobuchar became the latest Democrat to enter the 2020 race on Sunday.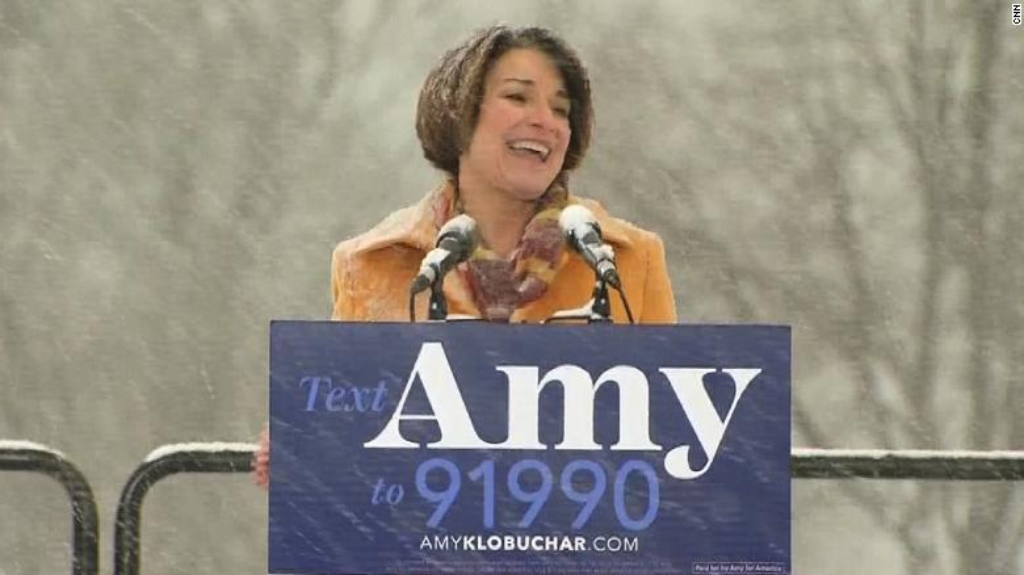 Yesterday Minnesota Senator Amy Klobuchar became the latest entrant into the race for the Democratic nomination for President:
MINNEAPOLIS — Amy Klobuchar, the third-term Minnesota senator, entered the race for the Democratic presidential nomination on Sunday, hopeful that her moderate politics, Midwestern roots and carefully cultivated history of bipartisanship can appeal to a broad swath of voters in contentious times.

On a snow-covered stage here along the banks of the Mississippi River, with the temperature barely above single digits, Ms. Klobuchar said that as president, she would "focus on getting things done."

"For too long, leaders in Washington have sat on the sidelines while others try to figure out what to do about our changing economy and its impact on our lives, what to do about the disruptive nature of new technologies, income inequality, the political and geographic divides, the changing climate, the tumult in our world," she said.

"Let's stop seeing those obstacles as obstacles on our path," she continued. "Let's see those obstacles as our path."

Ms. Klobuchar, 58, is the fifth woman currently serving in Congress to announce her candidacy, joining a crowded and diverse field of Democratic presidential hopefuls. With most of the top-tier candidates hailing from coastal states, Ms. Klobuchar believes her low-key brand of "Minnesota nice" politics could make her a compelling candidate, particularly to the Iowa voters who cast the first primary votes and in states like Wisconsin, Michigan and Pennsylvania that swung the 2016 election to President Trump.

A politician who prides herself on being able to "disagree without being disagreeable," Ms. Klobuchar coasted to victory in November, beating her Republican opponent with 60 percent of the vote in a state that Mr. Trump nearly won in 2016.

Despite her friendly public persona, she's said to be a difficult boss. A survey of senators by the website LegiStorm from 2001 to 2016 found that her office had the highest turnover in the Senate. "I have high expectations," she told The New York Times last year. A recent HuffPost article portrayed her as a demanding manager who lost some potential 2020 campaign staff members because of her reputation.

Ms. Klobuchar said Sunday that she would focus on reforming election laws, including a plan to automatically register people to vote when they turned 18. She also pledged to enter a mutual agreement to fight climate change, and to expand laws protecting online privacy.

While her approach may appeal to centrists and moderate Republicans in her home state, her breaks with liberal orthodoxy risk alienating the ascendant progressive wing of her party. Ms. Klobuchar backs a less expansive college affordability proposal, has not embraced Senator Bernie Sanders's "Medicare for all" legislation and has not joined the movement to abolish the Immigration and Customs Enforcement agency.
Based on her resume, Klobuchar seems like someone who could easily become a top tier candidate for the nomination once she's able to increase her name recognition among Democrats outside of Minnesota. Prior to entering national politics, she served as the County Attorney for Hennepin County, the most populous county in Minnesota. She was also quite active in the Democratic-Farmer-Labor Party (DFL), which is the moniker that the Democratic Party goes by in Minnesota. In 2006, she ran for and easily won the nomination of the DFL and went on to an easy win in the General Election that November to replace retiring Senator Mark Dayton. Six years later, she was again easily re-elected with a wider margin of victory than Barack Obama received in the state. Finally, in November 2018, she was again re-elected by a wide margin notwithstanding the fact that Donald Trump had come within two percentage points of winning the state in 2016. Given all of that, it's understandable that Klobuchar would be on the short-list for the 2020 nomination, especially since there will be significant pressure on Democrats to once again give their top slot to a female candidate in the wake of the Clinton loss in the 2016 election, the rise of the MeToo movement, and the success of female candidates and role of female voters in the 2018 midterms. Additionally, Democrats would be smart to look at candidates from the Midwest who can attract the voters that had supported Barack Obama in 2008 and 2012 and then ended up switching to Donald Trump in 2016. It's not clear that Klobuchar is that candidate, but she seems to have a lot of what Democrats might be looking for in 2020 if they actually want to beat Donald Trump.
Additionally, while Klobuchar has largely floated under the national political radar in contrast to some of the other candidates in the race, that changed significantly in the wake of the Brett Kavanaugh nomination and especially the hearings regarding the accusations made against him by Dr. Christine Blasey Ford and other women. During that hearing, Klobuchar,  no doubt utilizing the skills she had developed as a prosecutor, pressed Kavanaugh on several avenues of inquiry, including his drinking habits and the question of whether or not he had blacked out while drinking. Kavanaugh responded by asking the Senator if she had and she responded testify"I have no drinking problem, Judge." That exchange quickly went viral and was part of the Saturday Night Live parody of the hearing. Most importantly, though, it helped to raise her national profile and has been the main reason for much of the 2020 speculation that has sprouted up around her.
While Klobuchar is polling below most of her rivals for the nomination right now, Nate Silver maps out how she could find a path to winning the nomination. Silver's analysis is far too detailed to excerpt fairly, so I will recommend that you read the full article to see it. Generally speaking, though, he pins her advantages down to several areas. First of all, given the extent to which Democrats seem to be concerned primarily with electability, Klobuchar has an advantage because Klobuchar can point to a number of factors, including most prominently her Midwestern roots, as an advantage over candidates more closely identified with either the East or West Coast. Additionally, Silver argues, Klobuchar's ties to Minnesota could provide her an advantage in Iowa since many of Minnesota's major media markets also reach into some of the most populated areas of the Hawkeye State, meaning that Democrats there are likely more familiar with her there than they might be with other candidates. Finally, Klobuchar would offer a sharp contrast to Trump as the party's nominee while also putting forward a record that would be hard for Republicans to attack as "radical." On the downside, Silver notes that Klobuchar will need to prove her bona fides to the non-white voters that make up a substantial part of the Democratic electorate and she would also need to prove herself to party insiders who may doubt the ability of someone who has been a relatively quiet Senator up until now to take on a candidate like Trump. Assuming she can do that, though, she may be able to rise up the ranks of the 2020 field as we move forward with the process.