Women Helped Propel Democrats To Victory
Whether as candidates or as voters, Democrats can thank women for many of their victories on Tuesday.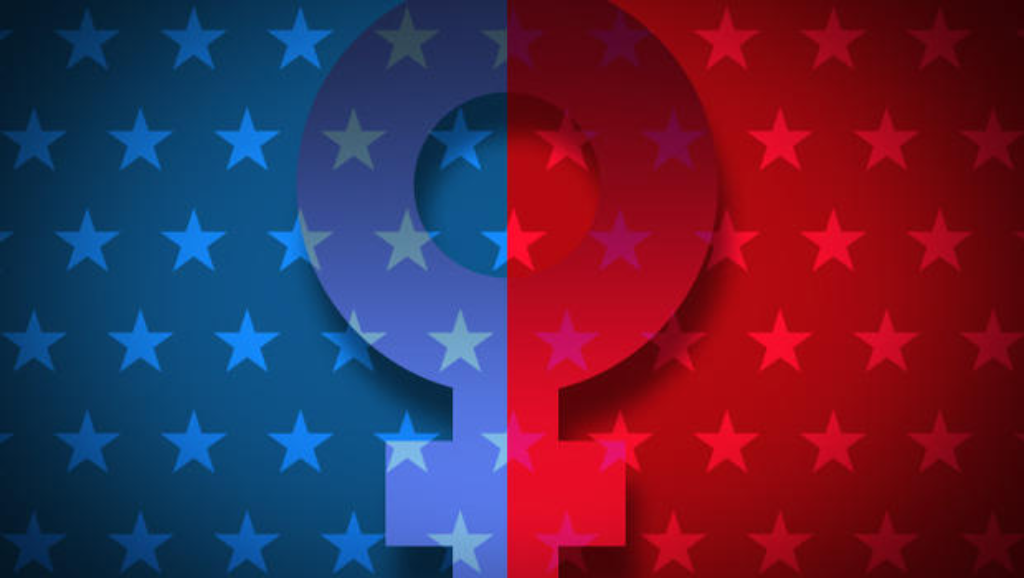 Even as votes remain to be counted, it's already apparent that the number of seats that they have picked up across the country is close to being the biggest defeat for Republicans since the 1974 post-Watergate election, and they can thank women for that:
Women made history in the 2018 midterm elections.

Democrats won women's vote for Congress by 19 points, with 59 percent voting Democrat and 40 percent voting Republican — the largest margin seen in midterm exit polls, according to data from CNN.

The last time women voted for Democrats anywhere near that margin was more than 30 years ago. In 1982, 58 percent of women voted for Democrats and 41 percent voted for Republicans.

Young women made their voices heard, as well, with two-thirds of voters younger than 30 voting for Democrats for Congress, compared with 32 percent who voted for Republicans, according to exit polls.

"Voters under the age of 30, relative to their '14 turnout, are outperforming every other group," Tom Bonier, a Democratic strategist for the data firm TargetSmart, told the Hill. "It's not just like a presidential year surge where you're getting younger voters who only vote in presidentials coming out in a midterm. A lot of these young people are voting in their first election period."

This year's swing was, in large part, because of independent women, who voted for Democratic candidates for the House, 56 percent to 39 percent, as well as white women, who have started voting differently in recent years, according to CNN's exit poll data. The data showed that this year, white women split their vote between Democratic and Republican candidates for the House, but they preferred Republican candidates in 2010 and 2014.
In addition to attracting a record number of women, Democrats also elected a large number of women:
They marched, they ran, and on Election Day, they won.

Women led a parade of victories and unexpected upsets Tuesday to win control of the House for the Democrats.

It was the culmination of two years of anger, frustration and activism driven by women appalled by Donald J. Trump's election and presidency. Women poured into grass-roots groups determined to regain Democratic control of Congress and flooded organizations that trained them to run for office. As candidates, women broke the rules and upended conventional political wisdom. As activists, they expanded the definition of women's issues beyond education and reproductive rights to include health care, immigration, gun violence and the environment.

It was a litany of historic firsts, most of them by Democrats: In Massachusetts, Ayanna Pressley became the first woman of color in her state's congressional delegation. Rashida Tlaib in Michigan and Ilhan Omar in Minnesota will be the first Muslim women in Congress. Sharice Davids toppled a Republican man in Kansas and Deb Haaland prevailed in New Mexico, becoming the first Native American women elected to Congress. In Tennessee, Marsha Blackburn, a Republican, became the state's first woman elected to the Senate.

But several prominent women were also defeated — Senator Claire McCaskill lost to Josh Hawley in Missouri, Amy McGrath lost a closely watched House race in Kentucky, and Senator Heidi Heitkamp lost her re-election race in North Dakota. Stacey Abrams of Georgia, who had hoped to become the first black woman in the country to be elected governor, was trailing her Republican opponent, Brian Kemp.

Pennsylvania, which had no women in its 21-member congressional delegation, will now have four. Democratic women flipped three Republican-held seats: Mary Gay Scanlon, Chrissy Houlahan and Susan Wild; and Madeleine Dean won an open seat.

Two women helped Democrats pick up seats in Florida: Debbie Mucarsel-Powell and Donna Shalala, a member of former President Bill Clinton's cabinet. Ms. Houlahan was one of four female military veterans and political newcomers to win seats for Democrats; the others were Mikie Sherrill in New Jersey, and Elaine Luria and Abigail Spanberger in Virginia. Lauren Underwood in Illinois helped Democrats produce another unexpected victory.

"I urge you to work for a better future long after tonight," Ms. Sherrill said before a thunderous crowd that included dozens of women who had spent months canvassing and phone banking. "The thousands of women who are ready to join me to make sure we have a better future for our kids, for New Jersey and for the United States of America."

She told how she had asked her daughter Maggie, the oldest of her four young children, if she was "O.K. with this." Her daughter, she said, "asked, 'If you don't run, who will?'"

It was striking to consider just how far women had come since the women's marches across the country the day after President Trump's inauguration. Women like Ms. Sherrill and Ms. Davids had started as long shots, but their victories seemed assured by Election Day.

With a Democratic majority in the House, women will wield more institutional power — Representative Nancy Pelosi is expected to beat back a leadership challenge to again become speaker, the only woman to ever hold that post. Representative Nita Lowey, Democrat of New York, would chair the Appropriations Committee, and Representative Maxine Waters, Democrat of California, would chair the Financial Service Committee.

The energy among Democratic women made it harder for Republican women to emerge as candidates.

And in the first big defeat of the evening for Republicans, Representative Barbara Comstock lost by wide margin to a Democrat, Jennifer Wexton, in the Virginia suburbs. Ms. Comstock, a prolific fund-raiser, had survived previous challenges in the blue district.

A challenge from a Democratic woman threatened the highest-ranking Republican woman in the House, Representative Cathy McMorris Rodgers of Washington.

According to figures tallied by the Center for American Women and Politics at Rutgers, 428 women ran for Congress or governor as Democrats, compared with 162 Republicans. Of these, 210 Democratic women and 63 Republican women remained nominees by Election Day.
More from NBC News:
Women are heading to the House of Representatives in record-shattering numbers.

As of Wednesday morning, 98 women have won seats, breaking the current session's record of 84 women. Nine House races with at least one female candidate were left undecided.

It is the latest in a year of record-breaking for women, who filed to run for Congress in historic numbers and won their primaries in historic numbers, too. In total, more than 115 women won their races out of 276 on the ballot: 11 women won Senate bids and nine women won gubernatorial races.

And it's not just in the numbers: Alexandria Ocasio-Cortez is the youngest woman elected to the House, while Ilhan Omar and Rashida Tlaib are the first Muslim women elected to the House. Sharice Davids, a lesbian, lawyer and former mixed martial arts fighter, defeated a Republican incumbent in Kansas and will join Debra Haaland of New Mexico, another winning Democrat on Tuesday, as the first Native American women elected to Congress. Ayana Pressley became the first black woman to be elected to Congress by Massachusetts, and Jahana Hayes became the first black woman to be elected to Congress by Connecticut. New Mexico elected a woman to succeed another female governor, marking the first time the state has chosen back-to-back female governors.

Women were responsible for a slew of Democratic gains key to retaking control of the House, as well: Elaine Luria, a Democrat, won in Virginia's 2nd District, and Jennifer Wexton, a Democrat, won in Virginia's 10th. Democrat Abby Finekenaur won in Iowa's 1st Congressional District and Abigail Spanberger did so in Virginia's 7th District. All defeated Republican incumbents.

There were a handful of surprises — Democrat Kendra Horn won a safe Republican seat in Oklahoma's 5th Congressional District — and some notable losses by women. Amy McGrath, a former fighter pilot, lost her bid for the House in Kentucky and North Dakota Sen. Heidi Heitkamp lost her re-election race.

Nine women won governorships, tying a previous record. All four incumbent women governors — Alabama's Republican Kay Ivey, Iowa's Republican Kim Reynolds, Rhode Island's Democrat Gina Raimondo, and Oregon's Democrat Kate Brown — held their seats, but governor's mansions around the country will also see fresh faces.
Just looking at Congress and the Senate, it's easy to see how the role of women in politics has progressed: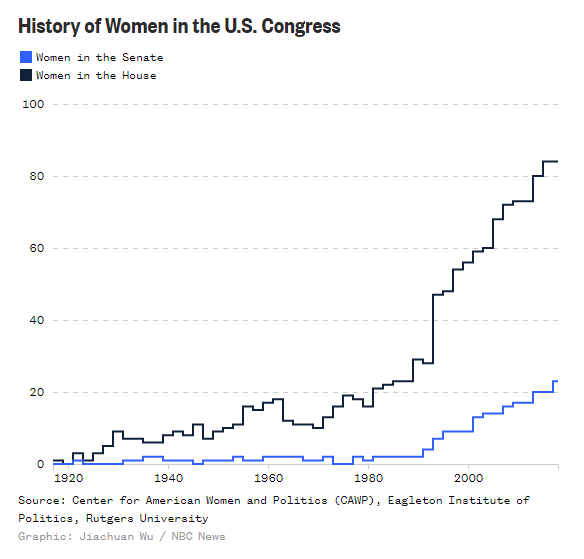 The fact that women would play such a big role in the midterms hardly comes as a surprise, of course. Once the primaries were over, it was apparent from the numbers that female candidates on both sides of the aisle had succeeded in numbers that we've never seen before. Obviously, not every woman who won a primary was going to win the General Election, but as I said at the time, the mere fact that so many women even threw their hats into the ring was a sign of impending big changes in American politics that are likely to become permanent. This is likely to be the beginning of a trend that will see more women getting into politics, and also likely to mean we'll see women moving up the ranks from local offices and state legislatures to Congress, the Senate, Governorships, and, sooner rather than later, the Presidency.
In the past, one of the main reasons for the fact that women are underrepresented in both the House and the Senate has been the fact that there was a dearth of female candidates running in specific races, or at the very least a dearth of candidates who had a reasonable chance of winning their respective primaries. This stands in marked differences to many state legislatures, where women of both parties have been slowly building their numbers for quite some time, Now, many of those women are running for higher office, whether for Congress, the Senate, or Governor and, as we saw on Tuesday, they're starting to win. November was also notable for the fact that we saw many races where there were women running in both major parties, meaning that a woman was guaranteed to win regardless of which party won the election. Examples of this can be seen in the Arizona Senate race, where Republican Martha McSally is up against Democrat Kyrsten Sinema. In other races, of course, women were running against male candidates, many of whom are long-term incumbents who seem secure in their positions. Not all of these women won their races but many of them did and this will likely mean more women running in the future.
The fact that most of the women running were Democrats is not surprising, and many of these women were inspired by a combination of the reaction to the candidacy and Presidency of Donald Trump and the "MeToo" movement. To the extent that this is a response to Trump, many of the candidates appear to have been inspired by the women's marches that took place the day after Inauguration Day in 2017 and again earlier this year, as well as by the accusations that were made about Trump the candidate such as the Access Hollywood tape, the claims by nineteen women that Trump had harassed them in the past, and Trump's affairs with porn star Stormy Daniels and Playboy model Karen McDougal. To that extent, I suppose we have Donald Trump to thank for these advances for political women.
Finally, the fact that Democrats won in no small part due to the fact that the captured the women's vote in historic numbers is significant and could have implications for 2020 and beyond. There has always been something of a gender gap between the two major parties but it has never been as pronounced as it is now. Given the fact that female voters tend to vote in higher numbers than men, this could pose problems for the GOP in the future, and most immediately in 2020 when Trump will once again be up for election and Democrats are likely to have a woman on the ticket as either their Presidential or Vice-Presidential nominee, or perhaps both.