The Year Of The Political Women By The Numbers
A look at the numbers behind the influx of women into electoral politics this year.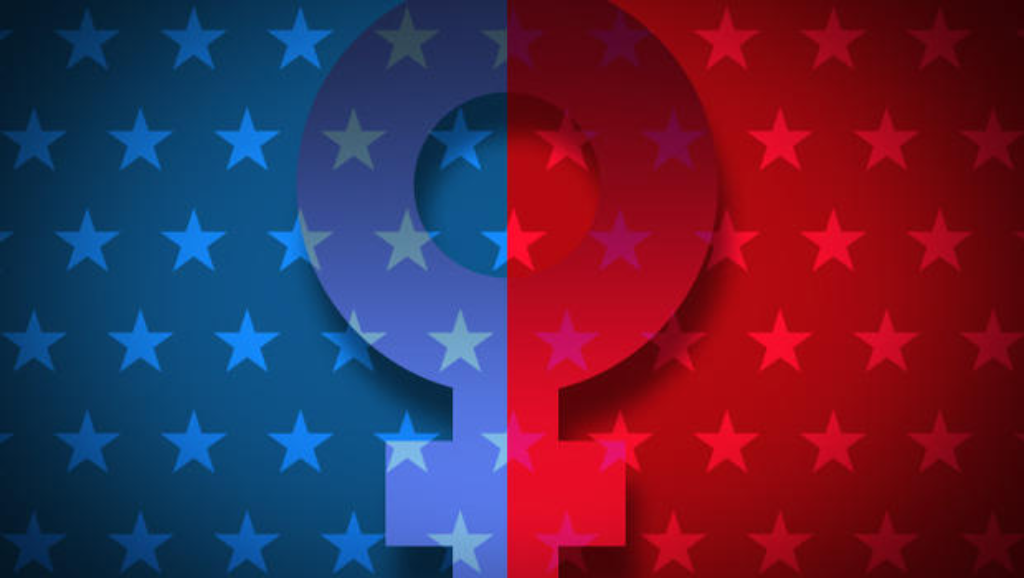 As I noted last week, the just-concluded primary season was notable for the number of women who both ran for an won races compared to the past. To bring that point home, CNN lays out the impressive numbers:
With primaries completed and few races left to call, an historic number of women will appear on general election ballots in congressional and Senate races. Their chances vary, with many women running in toss-up races and a large number running in districts where they aren't likely to win.4

With the final primary in New York this week settled after Cynthia Nixon's loss in the New York governor's race primary, the November ballots are just about set. A few races haven't been officially called, but the ballot won't change substantially, especially for women. This is a look at the record aspiring female politicians so far.

A total of 256 women have qualified for the November ballot in House or Senate races so far — 197 Democrats and 59 Republican candidates, according to an analysis of election results. There are 234 women running for the House and 22 for the Senate.

First, it's clear that Democrats are nominating more women than Republicans. The Democratic party has made it a priority to nominate women and have made women candidates a part of their platform in midterm races.

While there is a clear opportunity for women to make historic gains in Congress, many of them are running in competitive districts or districts that solidly lean toward the other party. Here is a look at where women have won primaries and their potential chances of victory using CNN's Key Race ratings.

Of the 234 women running for the House, 182 are Democrats and 52 are Republicans.

Democrats have broken their nomination record for the House. According to the Center for American Women and Politics at Rutgers, the previous record of Democratic nominees was 120 in 2016. Among the record breaking Democratic women who have won primaries the House, roughly a third of their candidates are running in races rated in their favor and more than a third are running in races with a steep uphill battle: 63 Democrats are running in Solid Democratic districts and 70 Democrats are running in Solid Republican districts.

There are 74 Democratic and 16 Republican women in Lean, Likely or Solid territory for their parties in the House. If all of these women in districts either safe or leaning toward their party win, that would already be a net of 6 women lawmakers more than the 84 currently in the House. Republican women were just shy of breaking their nomination record for the House — leaving the record at 53 nominees set in 2004, according to CAWP.

Just eight of the Republican women on November House ballots so far are in safe Solid Republican territory. Of the 22 Republican women running to challenge an incumbent, all but one is in a district rated as Solid Democratic by CNN, with the one running in a Lean Democratic district.

There are 17 women running in districts that CNN has rated as Toss Up. Thirteen of these women are Democrats and four are Republican.
Democratic female incumbents began their elections in a strong position. Currently, 52 of the 54 Democratic incumbents who won their primaries are running in Solid Democratic districts. The other two are in Likely Democratic districts. Still, there are slightly more Democratic women running in Solid Republican districts than in Solid Democratic districts.
Meanwhile, in the Senate:
Twenty-two nominees, 15 Democratic women and seven Republican women will be on the ballot in November for the Senate.

Each party broke their previous nomination record for the Senate, both of which had held since 2012, according to CAWP.

Not only have a record number of women won primaries for the Senate, a record number of women will face off against each other in the Senate; as

CNN has previously reported, there will be six Senate races where both nominees are women, which beats the previous three races in 2012.

Six women are challenging an incumbent, 12 are incumbents, and four are running for open seats.

The Democrats are spread across race types, with two in Solid Republican races, six in Solid Democratic races, three in Likely/Lean Democratic races, one in a Lean Republican race, and three in Toss Up races. The Toss Up states for the Senate with Democratic women running are Missouri (incumbent Claire McCaskill), Nevada (challenger Jacky Rosen) and North Dakota (incumbent Heidi Heitkamp).

Of the seven Republican women who have made it to the November ballot, one is in a Solid Republican race, two are in Likely/Lean Democratic races, two are in Solid Democratic races, and two are in Toss Ups.
Here's a chart that shows the data in an easy-to-understand format with respect to the House: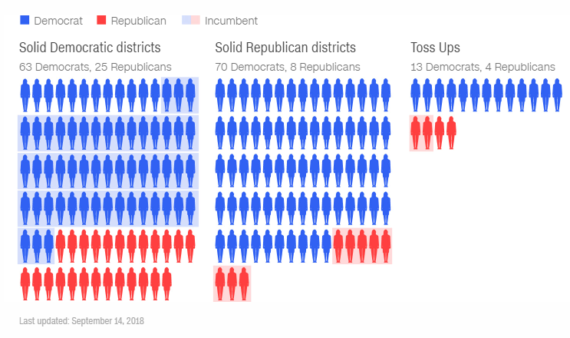 And the Senate:

If there's one place where women failed to make much of a breakthrough this year, it's at the Gubernatorial level:
Cynthia Nixon's loss in a longshot bid for New York governor makes one trend increasingly clear: the "pink wave" is not coming to the shores of governors' mansions around the country as strong as it is likely heading to Congress.

The odds were particularly stacked against Nixon, who challenged the well-established Gov. Andrew Cuomo in his bid for a third-term nomination, but the obstacles between women and electoral success as governors are real.

There are a record of female gubernatorial nominees this cycle. According to Center for Women and American Politics (CAWP) at Rutgers, 61 women — 41 Democrats and 20 Republicans — filed to run in 2018. The previous record was 34 women who filed to run in 1994.

Only 16 of the 61 have won their primaries — 12 Democrats and four Republicans. That's a success rate of just 26% — less than half the rate of their congressional counterparts, where almost 49% of female House candidates have won their primaries and exactly half of the 42% of female Senate candidates who won their primaries.

The Senate also features a record-breaking six races where women are running against each other. There are no governors' races where that is the case.
The women who have won their party's nomination for governor represent a class of firsts. Stacey Abrams, the Democratic candidate in Georgia, could become the first black female governor in the nation's history and first female governor of Georgia. Paulette Jordan, the Democratic candidate in Idaho, could be the first Native American governor in the country. Lupe Valdez, the Democratic candidate in Texas, could be the first out LGBTQ and Latina governor. Christine Hallquist, the Democratic candidate in Vermont, became the first openly transgender candidate to win a major party nominee for governor. Janet Mills, the Democratic candidate in Maine, and Kristi Noem, the Republican candidate in South Dakota, could be the first female governors of their states.

But, there will still be many states who have never had a woman serve as Governor after the 2018 midterms. Twenty-two states, including left-leaning states like New York and California, have never had a female governor as of now. There are only three states with nominees that could break that barrier: Georgia, Maine and South Dakota.

Just comparing gubernatorial and Senate races (there are 36 and 35, respectively), almost double the number of women filed to run for Governor than they did for Senate — 61 in comparison to 36. But, there are almost double the amount of female Senate primary winners than there are gubernatorial primary winners — 22 to 14.
To be fair, it's arguably harder to win a statewide nomination for Governor than it is to win a Congressional District primary or even a primary for a Senate seat. Additionally, in a race for Governor voters are generally looking for someone with far more experience than most of the women who are new to politics are likely to have. Finally, in cases like Nixon's these women were running against relatively popular incumbents and doing so on limited budgets that prevented them from running an effective challenge. Nonetheless, as noted there are still a record number of women running for Governor in the General Election this year.
No doubt, one of the main reasons that so many women have been motivated to run, especially on the Democratic side, is due to the rise of Donald Trump and the accusations that have been made against him such as the Access Hollywood tape, the claims by nineteen women that Trump had harassed them in the past, and Trump's affairs with porn star Stormy Daniels and Playboy model Karen McDougal. It's also likely that the MeToo movement, which has resulted in powerful men from the worlds of politics, entertainment, and business such as Roger Ailes, Bill O'Reilly, Bill Cosby, Harvey Weinstein, Les Moonves, Matt Lauer, Kevin Spacey, and former Senator Al Franken being called to task for behavior that in the past was brushed aside, ignored, or covered up as "boys being boys." The fact that these two elements, Trump and the MeToo movement have coincided in the manner that they have is perhaps not a mistake but whether there is a cause and effect relationship there, it's certainly the case that there is one between these two factors and the unprecedented number of female candidates in both parties that will be on the ballot in November.
As I said last week, not all of these women will win their races. As the charts above demonstrate, many of these women are running in races where, due to the nature of the district or state that they are running, victory is unlikely to say the least. Winning is never guaranteed in politics, though, and sometimes the mere fact that someone ran and put up a strong challenge against an opponent or incumbent is enough to send  but the fact that so many of them have stepped forward this year to run is most likely a sign of things to come and a sign that the gender imbalance in the House and Senate will soon be a thing of the past.