Amy Klobuchar Withdraws from Race She Wasn't In
The Senator from Minnesota is no longer a candidate for Vice President.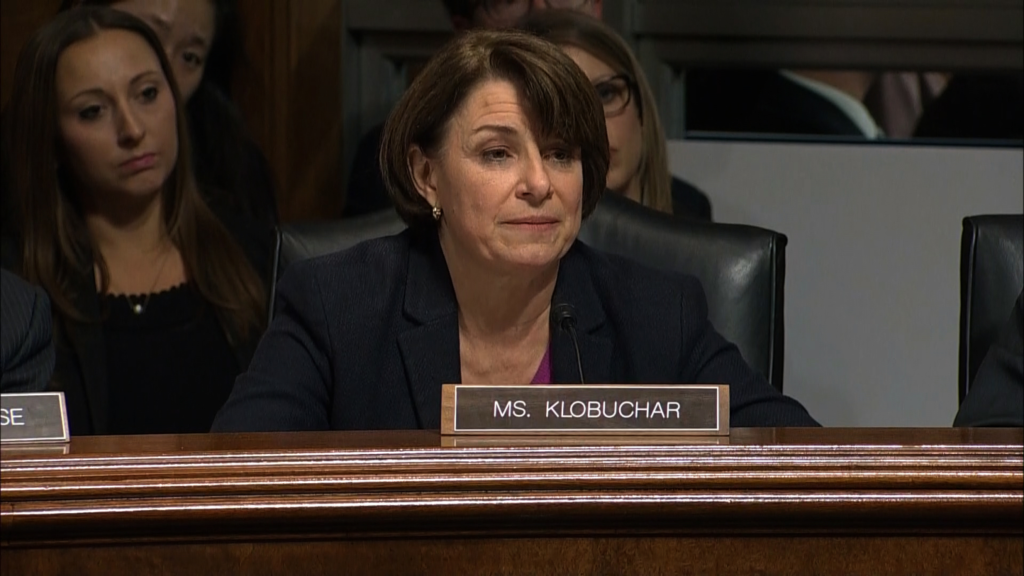 The Senator from Minnesota was at one point a frontrunner—and one of my personal favorites—to be Joe Biden's running mates. But that was before the Floyd George murder changed the conversation.
WaPo ("Amy Klobuchar withdraws from VP consideration, urges Biden to pick a woman of color"):
Senator Amy Klobuchar of Minnesota announced late Thursday that she was withdrawing from consideration to be the running mate to former Vice President Joseph R. Biden Jr. on the Democratic ticket.

Ms. Klobuchar, who mounted her own campaign for the presidency before dropping out and becoming one of Mr. Biden's most spirited surrogates, said during an MSNBC interview that she called Mr. Biden on Wednesday night and told him he should choose a woman of color to be his running mate.

Ms. Klobuchar, a moderate and veteran of the Senate like Mr. Biden, was known to have a strong rapport with the presumptive Democratic nominee, and was an early favorite of a significant number of his donors and supporters. But her case for being Mr. Biden's running mate was badly damaged after the Memorial Day killing of George Floyd in the custody of Minneapolis police officers. The death, which has prompted weeks of demonstrations and protests against police violence across the country, led to renewed scrutiny of Ms. Klobuchar's career as a local prosecutor in Minneapolis.

"After what I've seen in my state and what I've seen across the country, this is a historic moment and America must seize on this moment," she said. "I truly believe, as I told the vice president last night, that I believe that this is a moment to put a woman of color on that ticket."

In a Twitter post late Thursday, Mr. Biden praised Ms. Klobuchar and described her as a key ally in the contest to beat President Trump in November.

Amy — from the moment you announced you were running for president in a snowstorm, it wasn't hard to see you had the grit and determination to do anything you set your mind to. You know how to get things done. With your help, we're going to beat Donald Trump. https://t.co/4kquPZtSV9
— Joe Biden (@JoeBiden) June 19, 2020

Mr. Biden committed to naming a woman as his vice-presidential pick during a debate with Senator Bernie Sanders on March 15. His team's search committee has contacted roughly a dozen women, and eight or nine are being vetted more intensively, according to people familiar with the process.
Klobuchar had tried to get around the damage, as noted in another WaPo report from May 23 ("Klobuchar, amid Biden VP search, scrambles to fix relations with black community"):
Just before February's South Carolina primary, Amy Klobuchar landed a coveted chance to address African American leaders. When the black activist and journalist Roland Martin learned about it, he was outraged.

Martin fired off a text to Al Sharpton, the longtime civil rights leader hosting the event: How could he offer such a valuable platform to Klobuchar, who he felt had ignored the black community and brushed off his interview requests?

Sharpton let the senator from Minnesota speak, but when she was done he instructed her to talk to Martin, pointing him out from the stage. "Y'all need to talk to the black press," he told her as the audience looked on.

The unusual public scolding underlined a chief weakness in Klobuchar's current drive to be Joe Biden's running mate: her strained relations with African Americans. The tensions, rooted in part in her record as a Minneapolis-area prosecutor, hurt her presidential aspirations and have come storming back into the spotlight now that she is increasingly seen as a top candidate to join the ticket.

In response, Klobuchar is urgently courting the black community. In recent weeks, she has aggressively reached out to African American groups, introduced a voting rights bill, joined an NAACP town hall, worked with black leaders and granted interviews to African American journalists.

But some say it's too late to improve her standing after decades of friction. "In the next two weeks? I don't know what that would look like," said Rashad Robinson, executive director of the Color of Change, a racial justice nonprofit.

As a county prosecutor, Klobuchar was too harsh toward nonwhite defendants, particularly African Americans, critics say, and as a U.S. senator she's done little to help the black community. In seriously considering Klobuchar, Biden's camp is making "a dangerous and reckless choice," said Aimee Allison, a leading activist for women of color.
There was simply no way that Biden could have picked Klobuchar in the current environment, especially given the centrality of African-American support to the Democratic coalition.
Klobuchar's exit is akin to saying "You can't fire me, I quit!" But Biden's fast and generous response was gracious and correct, given how much her and Pete Buttigieg's withdrawal and endorsement on the eve of Super Tuesday helped him consolidate the nomination.
Her admonition to pick a black woman is being widely seen as a direct attack on Elizabeth Warren, a bitter rival during the primaries. But, given that Biden has already pledged to pick a woman, it seems like he's going to be boxed into that move.
The sudden urgency to take down monuments to Confederates and slaveholders, etc. brought on by the protests demonstrates a change, at least temporarily, in the national mood. My Twitter timeline today has been filled with homages to "Juneteenth." While I've known about that occasion as long as I can remember, going back at least to grade school in Houston nearly half a century ago, this is literally the first year that it's been a thing among elite whites.
My bet remains that Biden will pick Kamala Harris, who seems the safest choice. Val Demmings, a career cop who rose to be chief of police in Orlando before moving on to Congress, would be interesting be she's not particularly experienced in national politics. That goes double for Stacy Abrams, who's a dynamic candidate but too unseasoned to be first in line to the biggest job in the world behind a very old man in not-that-great health.