Klobuchar May Be Casualty of Minneapolis
Former prosecutors are suddenly "out."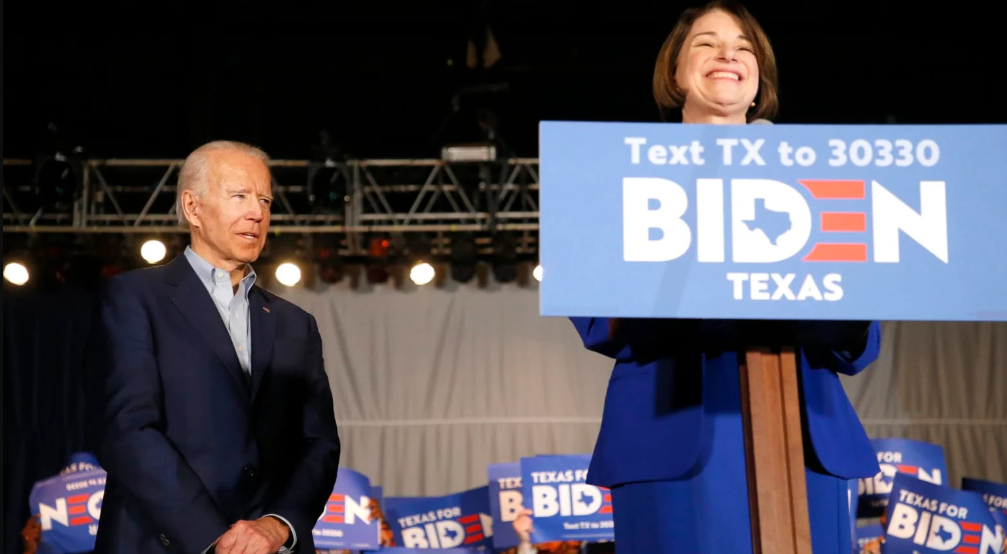 While Amy Klobuchar's Presidential campaign never really got off the ground, she was widely considered a frontrunner to be Joe Biden's running mate. That seems to have changed because of the incidents of this week.
The Daily Beast ("Team Biden on Klobuchar: 'We Need to Avoid Her'"):
In recent weeks, Sen. Amy Klobuchar has positioned herself as a leading contender in the race to join former Vice President Joe Biden on the Democratic ticket. But growing civil unrest in her home state of Minnesota in response to the death of an unarmed black man at the hands of a white police officer—and renewed scrutiny of her record as the top prosecutor in the state's largest county—appears to have severely hampered her ambition to be the Democratic Party's vice presidential nominee.

"Vertiginous," a campaign adviser said in a one-word text, describing Klobuchar's fall in the rankings of potential running mates.

The three-term senator's drop has been so swift that a planned Minnesota digital event with Dr. Jill Biden and coronavirus first-responders scheduled for Friday was pulled, according to a source familiar with the campaign's deliberations, "partly because we need to avoid her."
"Vertiginous" is an impressive word choice. But what happened?
As Minnesota's governor has called in the National Guard to quell the uprising and President Donald Trump has called for the "shooting" of looters who have damaged private property during the protests, criminal justice advocates have pointed to Klobuchar's seven-year tenure as Hennepin County attorney, when she declined to bring charges against numerous police officers who had been accused of police brutality. Instead, she preferred the use of grand juries to weigh charges, a process that usually obscured proceedings and tended to favor police.

Recent anger at Klobuchar has focused on a shooting of a civilian involving Chauvin in October 2006, months before Klobuchar would leave the Hennepin County Attorney's office for the U.S. Senate. On social media Thursday night, progressives seized on reports that Klobuchar declined to prosecute Chauvin in the case. Her successor, Mike Freeman, issued a statement Friday saying he, not Klobuchar, was responsible for Chauvin's prosecution, which resulted in a grand jury declining to charge the officer.
That's a bold move by Freeman but one unlikely to matter.
Appearing on MSNBC Friday, Klobuchar hit back against those reports, saying "this idea that I somehow declined a case, which has been reported on some news blogs and then sent out on the Internet, against this officer is absolutely false." She also bristled at questions from Andrea Mitchell about whether she should drop out of contention for the VP nod. "This is Joe Biden's decision," Klobuchar said. "He will make that decision. He'll decide who he's considering."
While none of this would matter in a race against Trump and Mike Pence, whose records on such issues are much worse, the fact is that African-American turnout is crucial for getting a Democratic ticket elected.
Rashad Robinson, executive director for the civil rights advocacy group Color of Change, has been critical of Klobuchar's record when she was running. He didn't say Klobuchar should not be considered as a nominee but told The Daily Beast her explanations this week of her record prosecuting police brutality cases have been "far too cute" and "have seemed to avoid responsibility at a time when we know DAs were not doing their jobs." 

"To look us in the eyes and pretend we don't know what's happening," said Robinson, "is a disappointment."
One wonders whether Kamala Harris, another frontrunner for the VP slot, isn't going to be in the same boat. Granting that she's herself African-American, she made her career as a prosecutor and has faced similar accusations. And, despite a very strong start to the campaign, she never attracted significant African-American support.
The piece mentions a candidate who had previously been quite a longshot but who might well benefit from all this:
Meanwhile, at a "Women for Biden" fundraiser on Friday afternoon, Jill Biden appeared alongside Rep. Val Demings of Florida, a former Orlando police chief and another contender for the vice presidential slot. Demings, a favorite of Jill Biden's who has been increasingly mentioned as a potential running mate, said during the event that the nation's police officers must "take a serious look at ourselves as law enforcement agencies, not just Minnesota but throughout the nation."
She had a blistering op-ed in the Post yesterday about the events in Minnesota and the broader issue of police brutality. While the House is not traditionally a platform for national office, a former police chief of a medium-sized city would have some credibility.